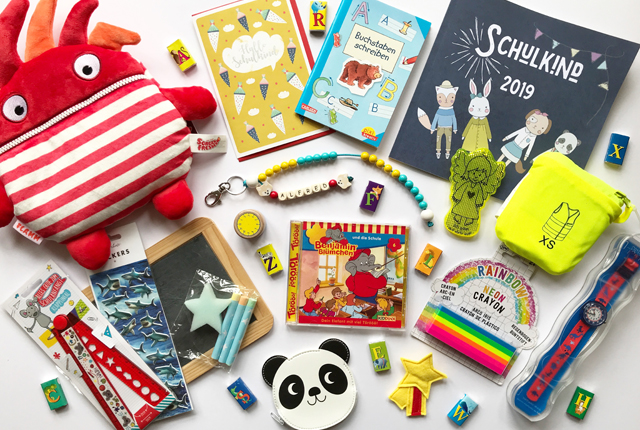 What to Pack in a 'Schultüte' (Vol.2)
Exactly one week to go! I can't believe it's come around so quickly and my youngest will be off to school so soon! As I've mentioned before, this milestone is celebrated big time in German tradition. We'll be having a little party for him this weekend, with friends and family, and yesterday I shared a tutorial for the 'Schultüte' I made for him – a giant cardboard cone filled with little treats and gifts that German kids receive on their first day of school. So today I thought I would share with you what's going inside.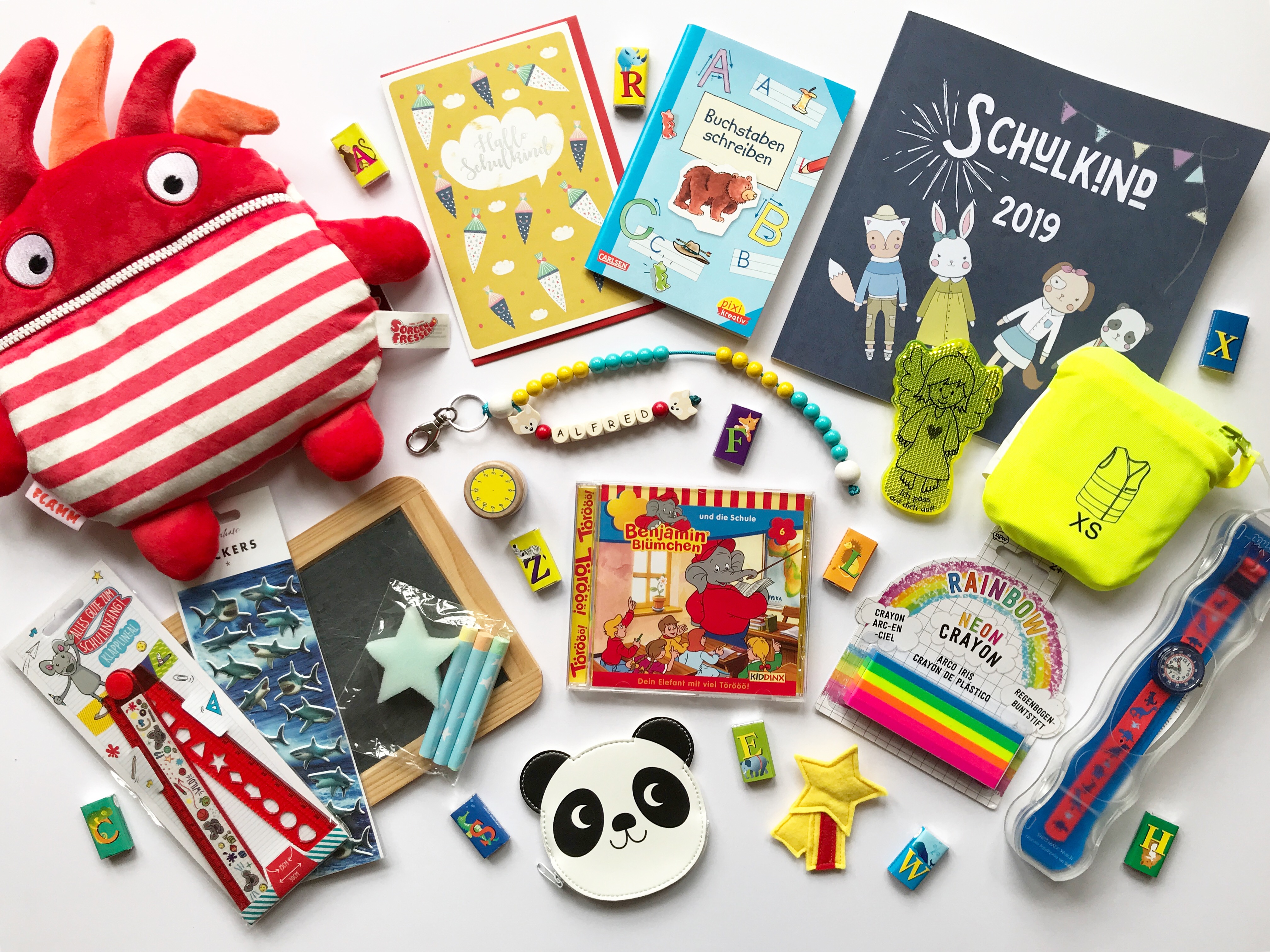 Sweets
Since we're still working our way through the last of the Easter chocolate (and Hallowe'en candy!) I've kept the sweets to a minimum. When we were on holiday in Germany last month, I found a bag of little chocolates with letters of the alphabet on the wrappers, which were perfect for the occasion (in fact, I got the same chocolates for his brother when he started school in Berlin three years ago). If you wanted to stay clear of sweets altogether, you could put some healthy snacks like muesli bars or boxes of raisins in instead.
School Supplies
In Berlin, we had a huge list of school supplies we needed to get. Here in Edinburgh, it's pretty much just a pencil case and some pencils for doing homework. We already have his pencil case sorted (check out my recent Back to School gift guide for the gorgeous personalised pencil case we were sent by Scamp), but you can't have a 'Schultüte' without at least *some* stationery. So I got him:
a little notebook for practising his letters ("Buchstaben schreiben")
a foldable ruler that also includes some cool stencils
some shark stickers to go with his shark themed 'Schultüte'
a little blackboard and chalk
a cute little stamp of a clock for practicing telling the time
and a rainbow coloured crayon
Small Gifts
You can add whatever gifts you like to a 'Schultüte'. For both my boys, I preferred to pick things that were actually related to school, but it's not mandatory. Though this time there's also a wee Transformer going in, but I hadn't yet bought it at the time of taking this photo. These are the other things I've ended up with:
A 'Worry Eater' doll (Amazon affiliate link). I already mentioned these in my recent Back to School gift guide. These are popular first day of school gifts in Germany. You can also get smaller keychain versions to attach to your school bag.
A little notebook for recording the first year of school, similar to the kind of books you get for recording babies' first year (Amazon affiliate link).
A handmade mini abacus key chain – I shared the tutorial for this last week!
A 'Guardian Angel' reflector badge (Amazon affiliate link), to hang on the back of his school bag, another typical first day of school gift in Germany.
A high vis vest (from Ikea) for better visibility on the school run in the dark months.
An audio book. The 'Benjamin Blümchen' series is very popular in Germany even since I was a kid. It's about a talking elephant who has lots of adventures. There is one episode set at school, where Benjamin steps in for a teacher, which is perfect for the occasion.
A wristwatch. I received my first ever watch in my Schultüte too, many moons ago!
A little panda purse for his first pocket money.
And, last but not least, a very special addition – a golden star!
These felt star badges are exclusively made for my friend Amanda's online bookstore Books & Pieces, and are based on the golden star from the Zog book by Julia Donaldson and Axel Scheffler. Amanda very kindly sent us one free of charge to include in this post. We have been doing a countdown to the first day of school, sticking a star sticker on a chart each morning, and this will be the special start he gets on the final day. It's a great addition to the Schultüte, but would also work for other kinds of rewards too. Head over to Amanda's website if you'd like to order your very own Zog's Golden Star badge! (and yes, that's me wearing the badge – because I think all mummies and daddies deserve a golden star too!)
So, if you are thinking about adopting the 'Schultüte' tradition, I hope that's given you some idea of the kinds of things to put inside. Of course, any of these would also make great Back-to-School gifts even without a Schultüte. For further ideas, check out my previous post from a couple of years ago, when I shared what went in to my eldest son's Schultüte. And if you have any other great gift suggestions that would be perfect for the occasion, let me know in the comments below!
[line]
Disclosure: This post contains Amazon affiliate links, as indicated, which means if you shop via these links I will receive a small percentage of the revenue – without any extra cost to you – which helps to keep this blog running. Thank you.