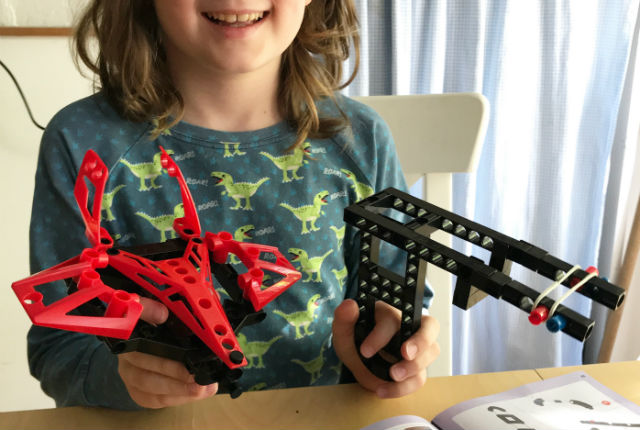 Review: Thames & Kosmos Engineering Makerspace [AD]
We've got a new product to share with you today, and it's a great little kit for any kids interested in engineering. The new Engineering Makerspace STEM range from Thames & Kosmos lets children age 8+ explore the physics of force, motion, energy, levers and more through play, learning as they build. There are several different sets to choose from with multiple models that can be built from each set, including Off-Road Rovers and Alien Robots (both 10-in-1 models), and Kinetic Machines and Geared-Up Gadgets (both 5-in-1 models). We were sent the Geared-Up Gadgets to test.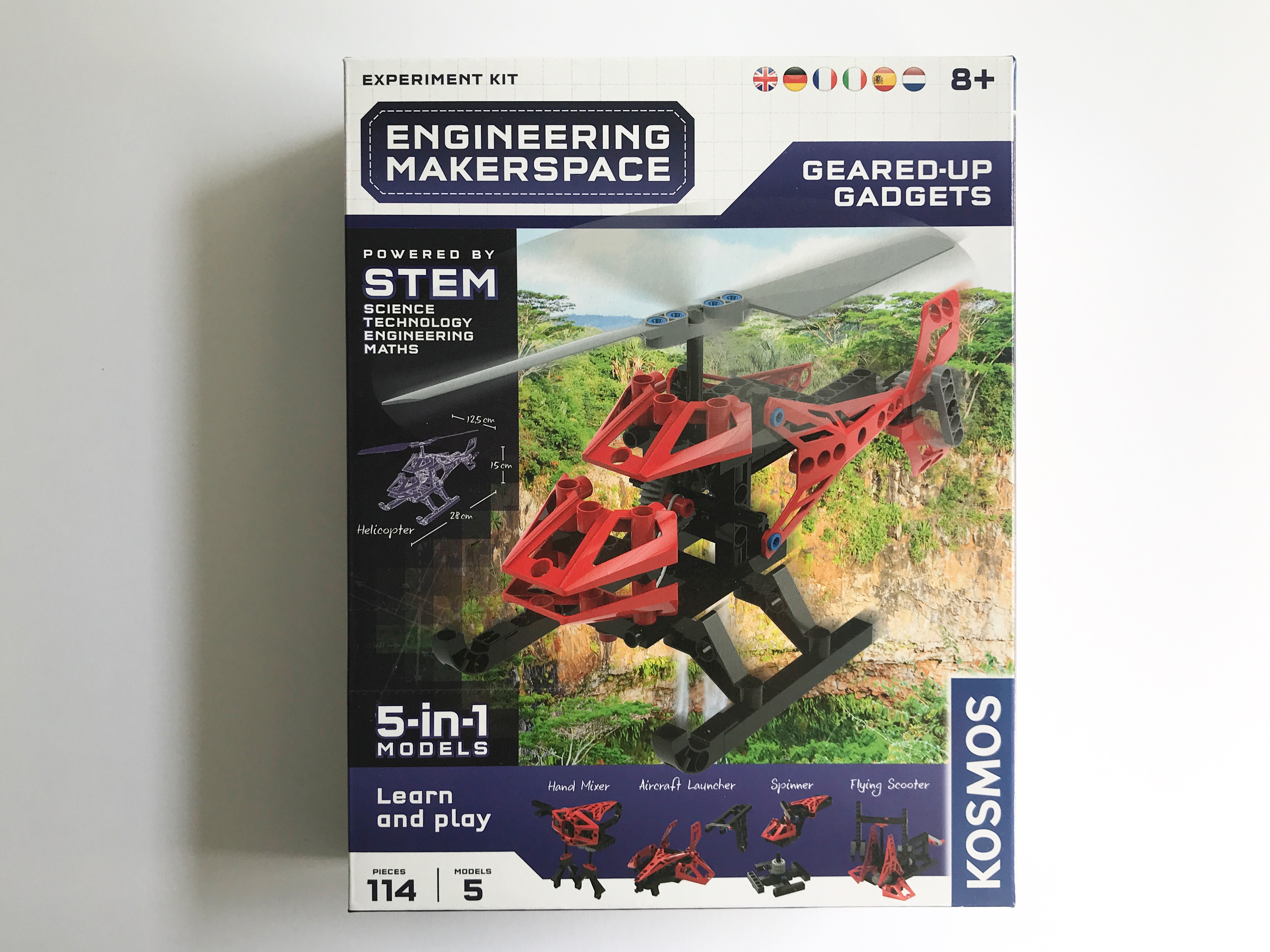 Disclosure: We received a free Thames & Kosmos Engineering Makerspace set  in return for an honest review. All images and opinions are our own.
What's in the box? The Geared-Up Gadgets set includes 114 pieces with which you can create five different models: a helicopter, a spinner, a hand mixer, an aircraft launcher and a flying scooter. Note you can only make one model at a time, you need to take it apart again to make the next one. There's also a manual, with step-by-step instructions for each model.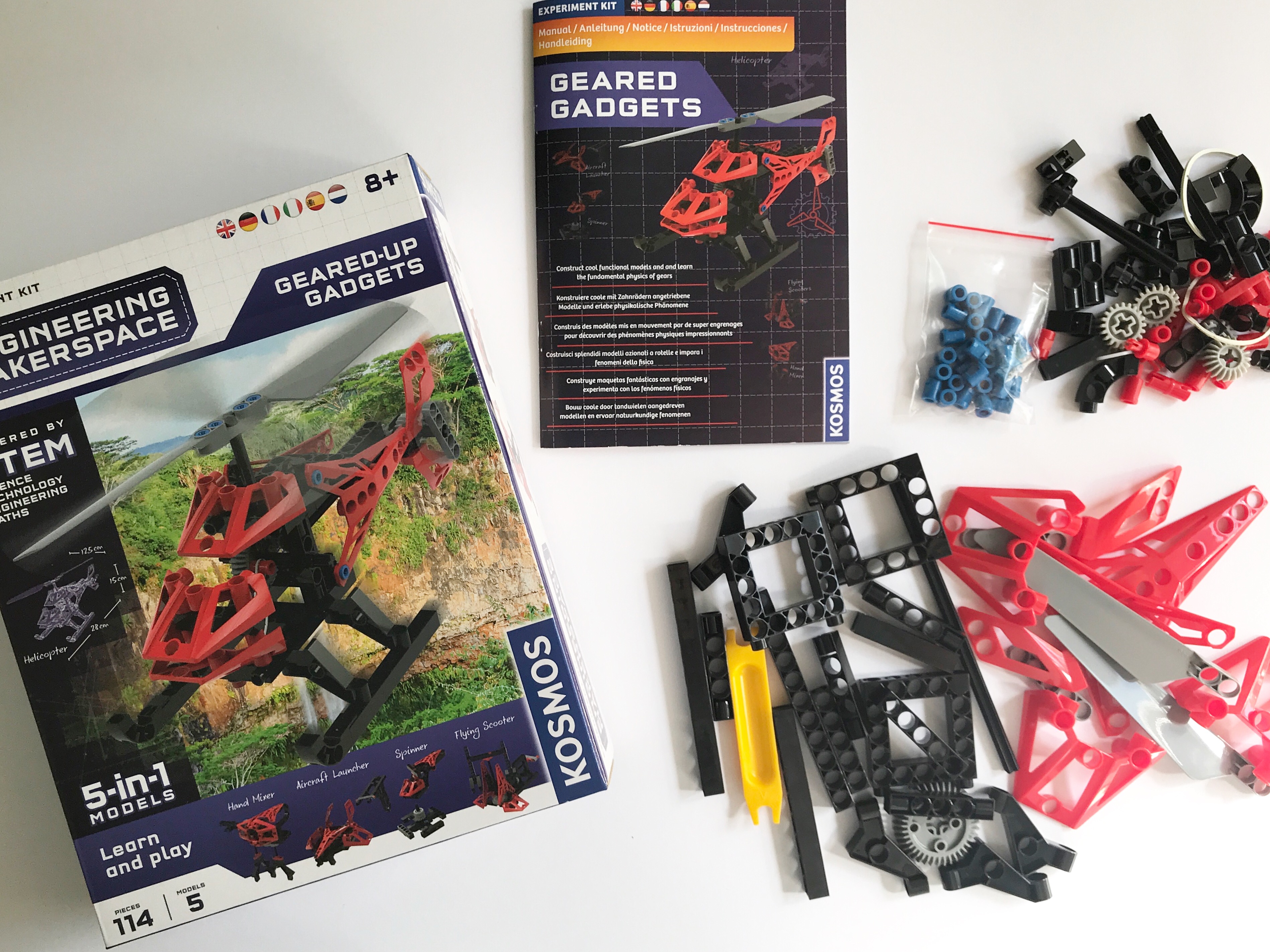 The manual also includes an introduction with a little experiment on gears, so kids can gain a better understanding of how they work before they get stuck in to making the models. And at the end of manual, once you've finished making your models, there's another little "amazing facts" bit about gear systems in nature, namely a real live insect with its own gear system. I though these additions to the manual were great in extending the learning messages of the set.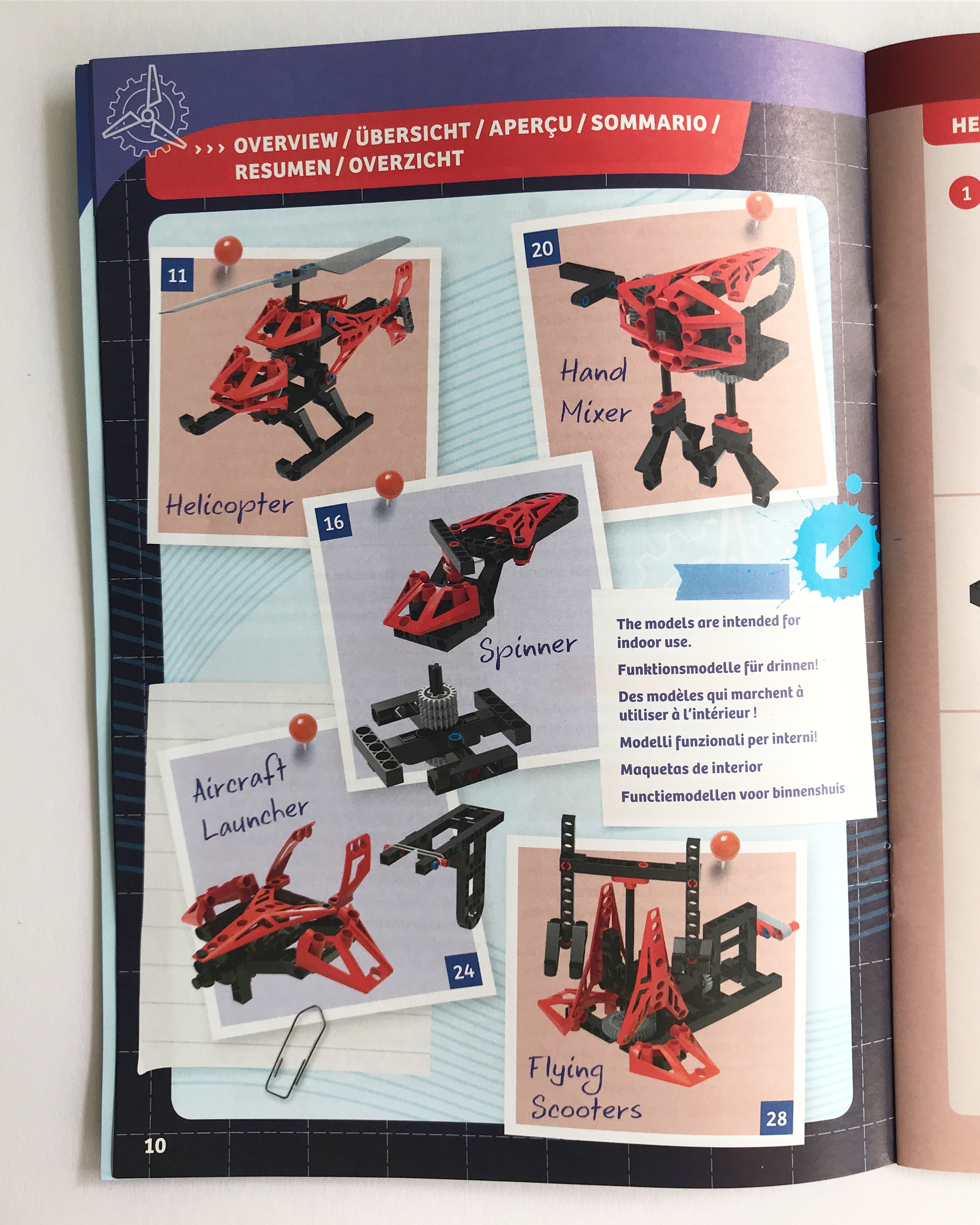 Oskar (who is age 8.5) was keen to get stuck in, and chose the hand mixer to do first. He easily followed the instructions on his own.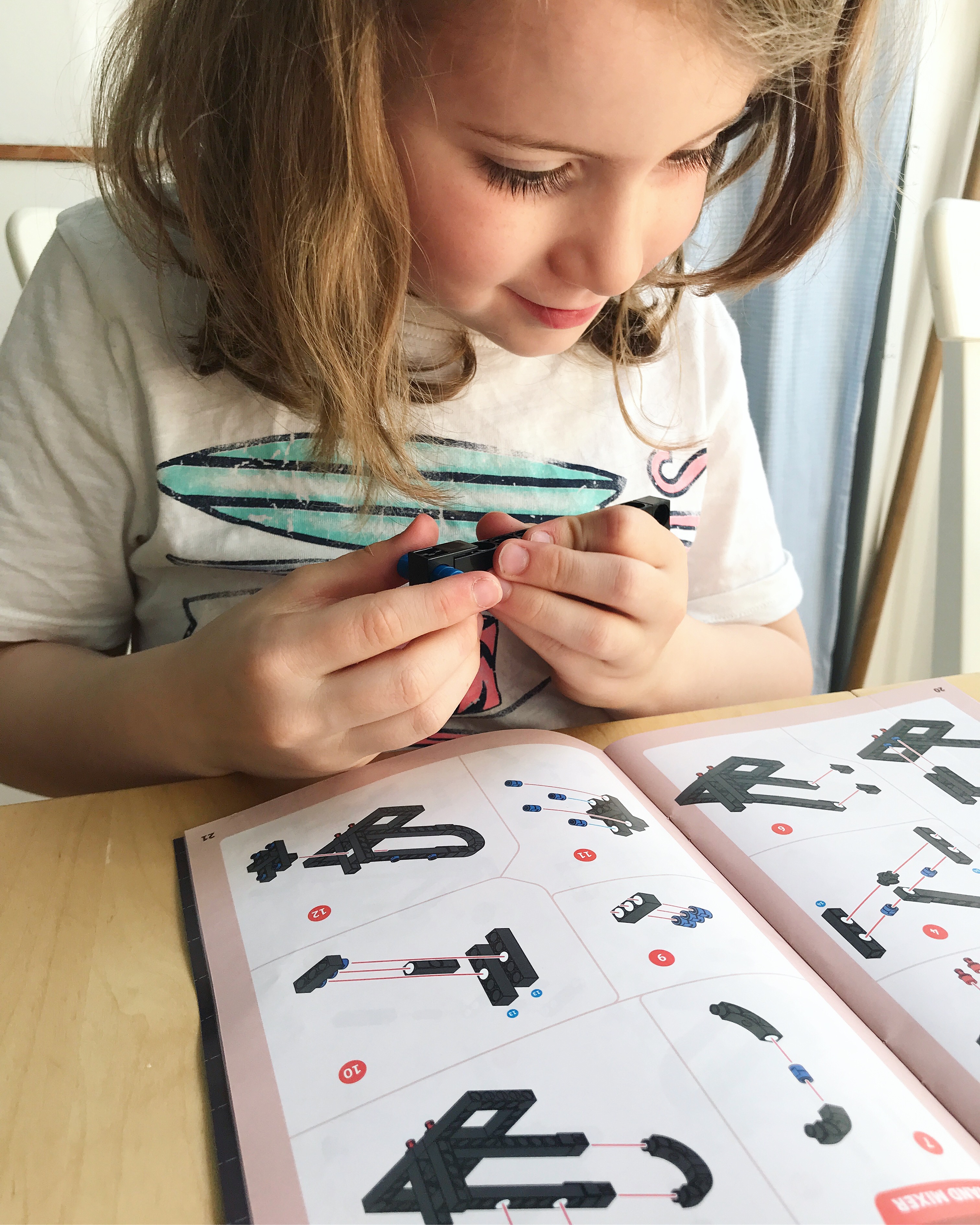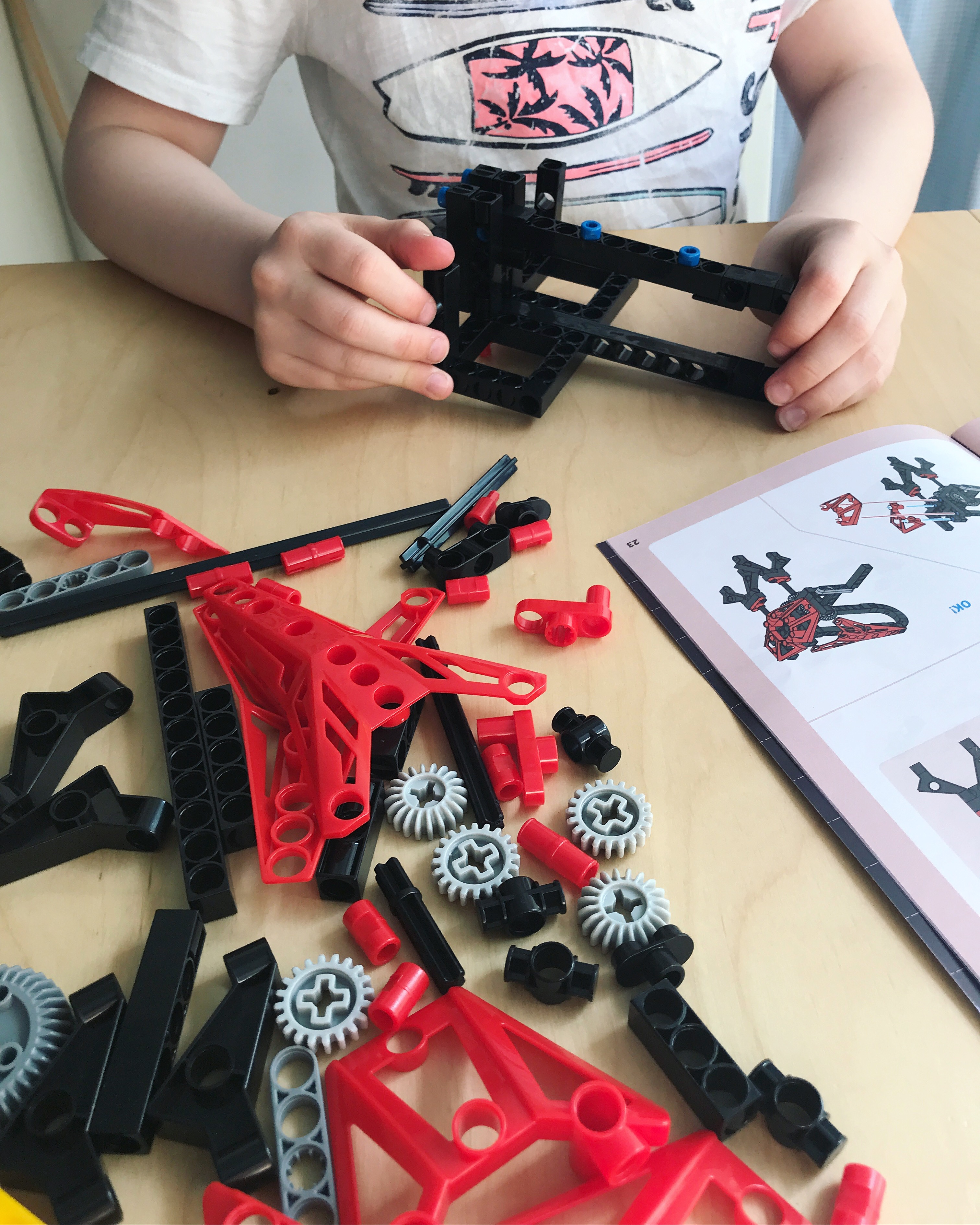 Some of the pieces were a bit stiff and hard to push together, so he asked for my help with that. I am hoping this is just down to it being brand new, and that once they have been put together and pulled apart a couple of times, the pieces will become less stiff.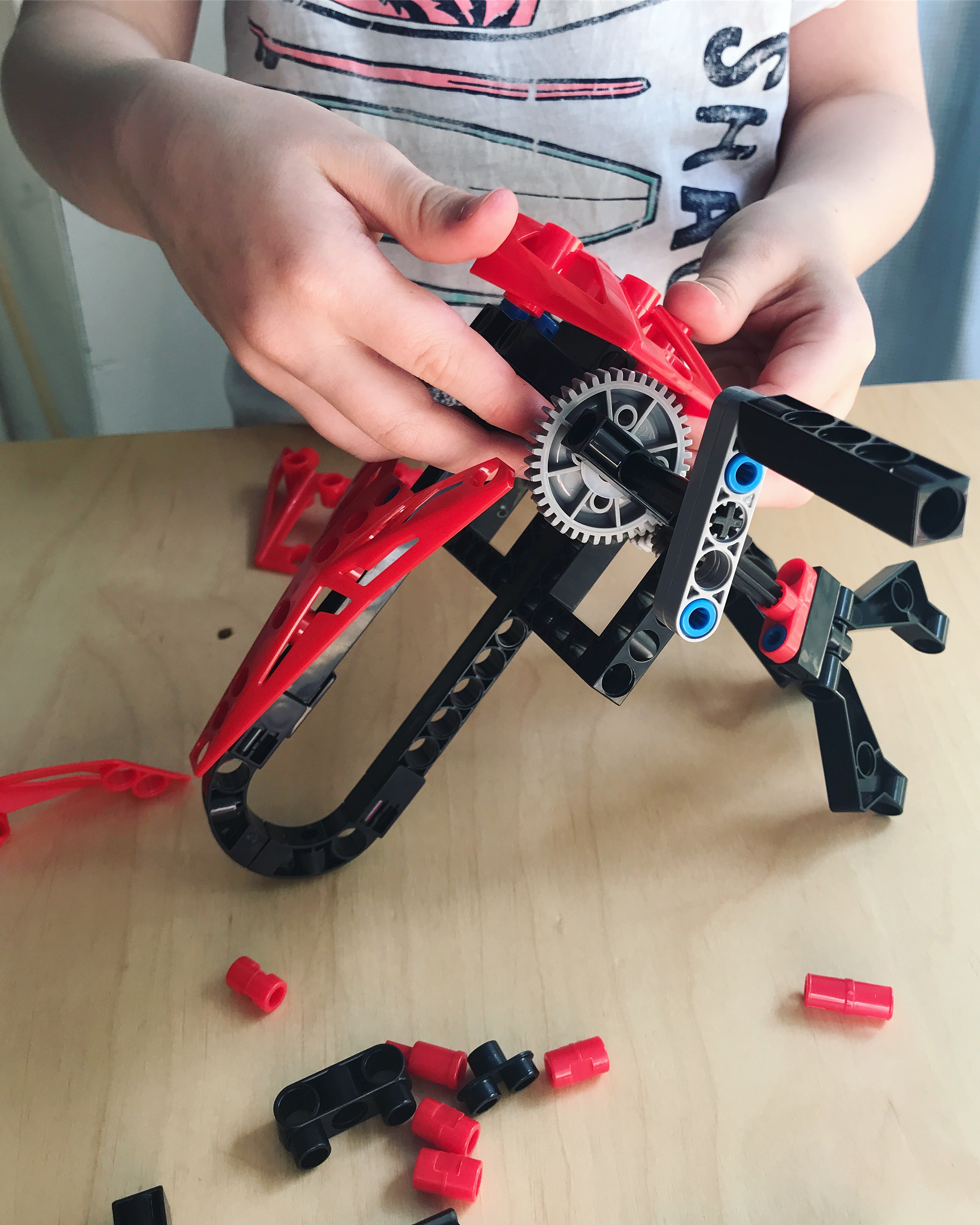 He had the hand mixer finished in no time, and was really excited to see it actually worked (though, sadly, not to bake cookies with….)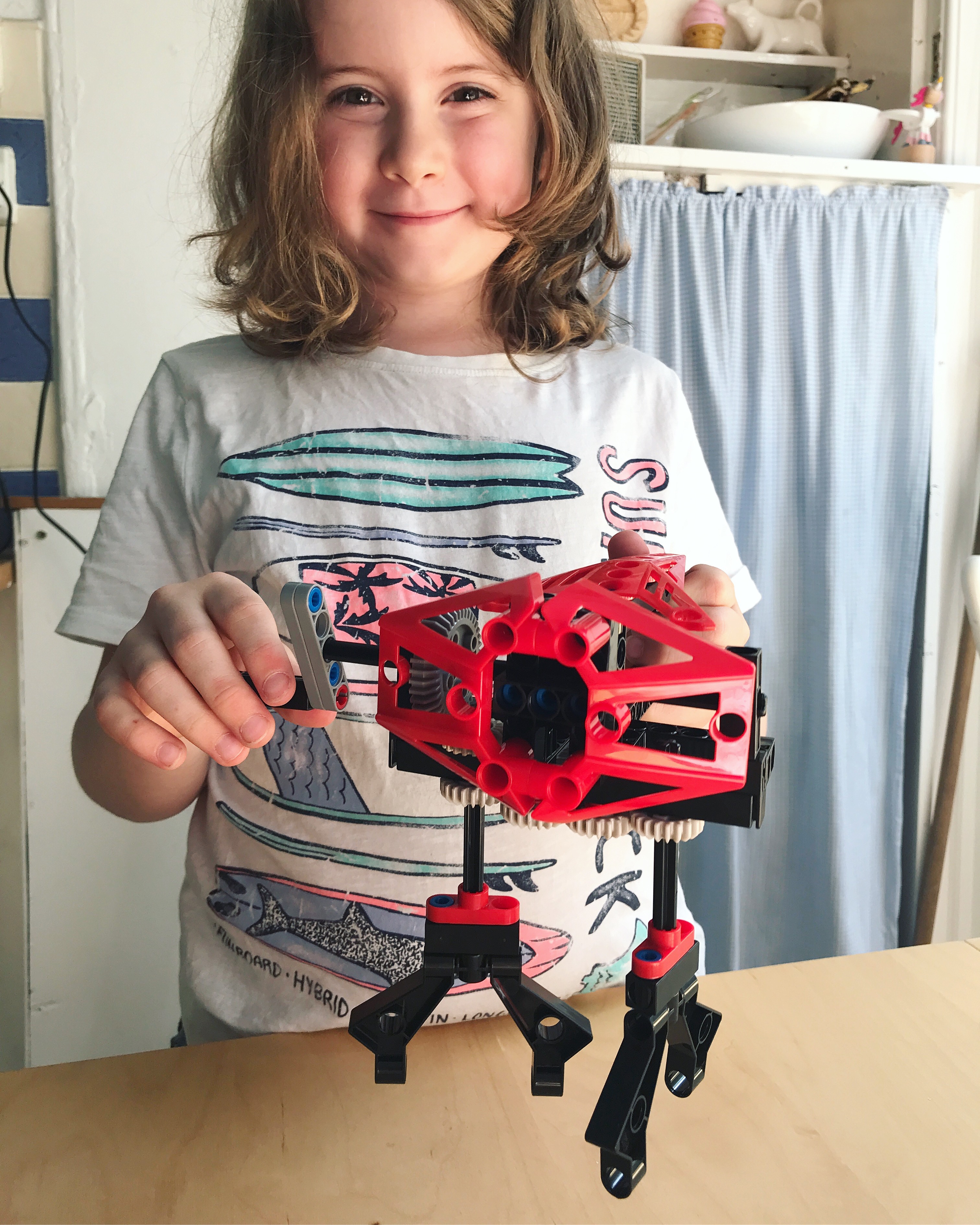 Here's a short clip of the hand mixer in action:
We left the hand mixer set up for a couple of days, then I suggested we try taking it apart to test how easy that is, and create one of the other models. There's a handy little, double-ended tool included which helps you prise the connections apart.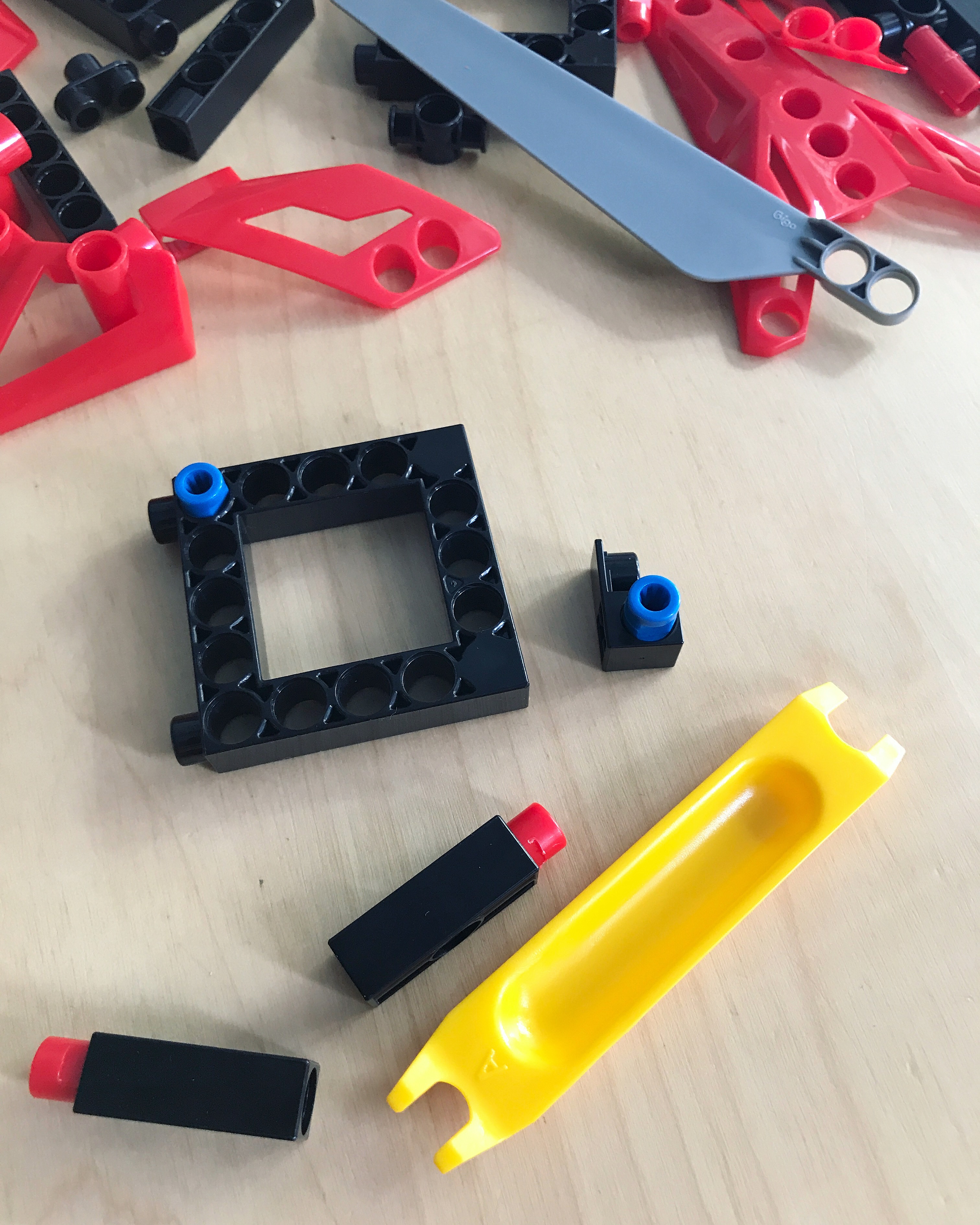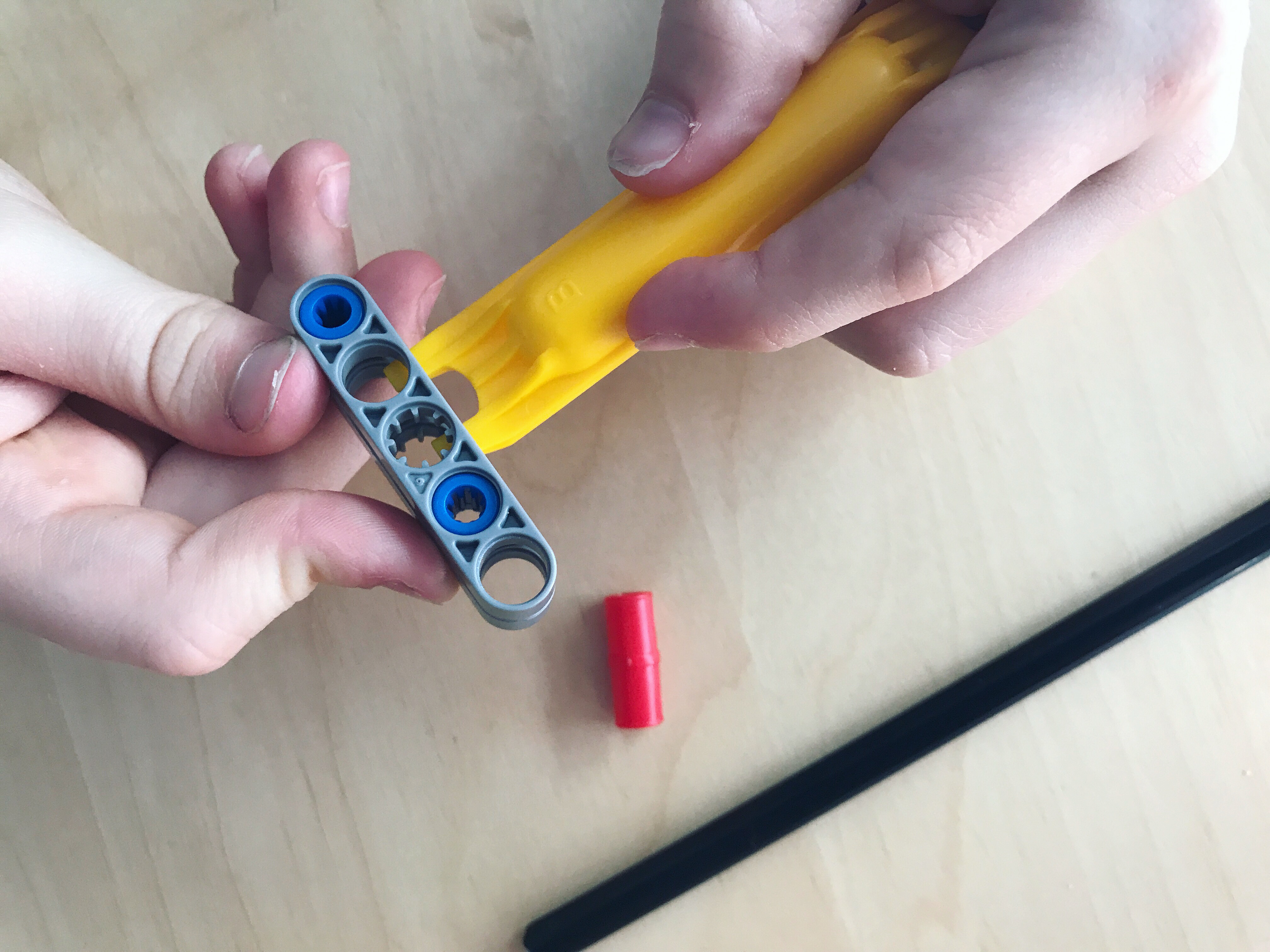 Again, some of the pieces were a bit stiff or fiddly to pull apart, but once he had the hang of it Oskar had it back in its initial pieces in no time. He chose to make the aircraft launcher next, and again put this together without much assistance, only asking for help once or twice with a couple of stiff pieces.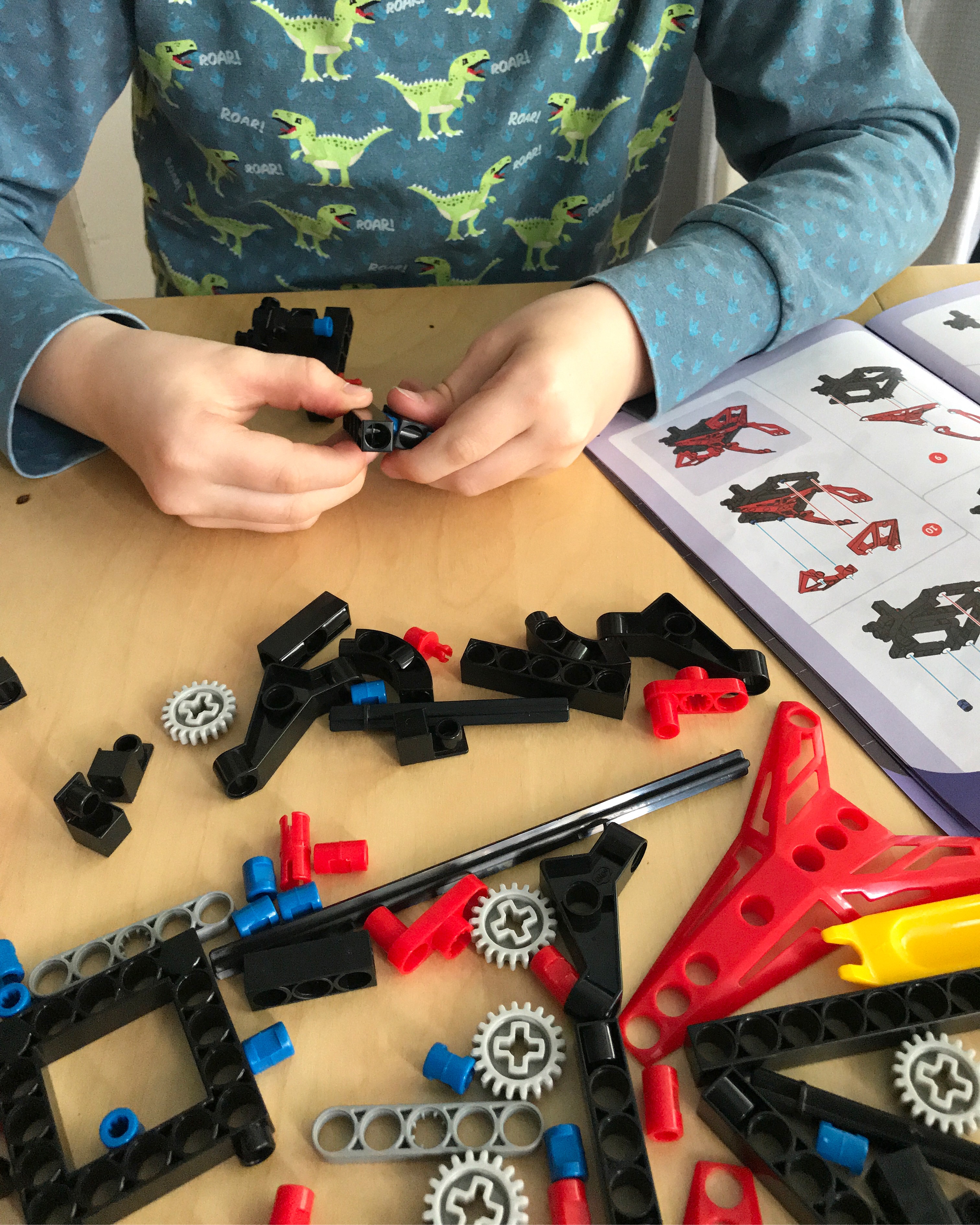 To launch the aircraft, you need to thread it on to some string (not included), so we strung up a line across the hall between two door handles. I don't have a video clip of it, because it was at a really awkward angle to film. We struggled a bit at first, because the aircraft kept getting caught on the launcher, but then we moved the cross-bar on the underside of the launcher back a couple of notches and it worked much better.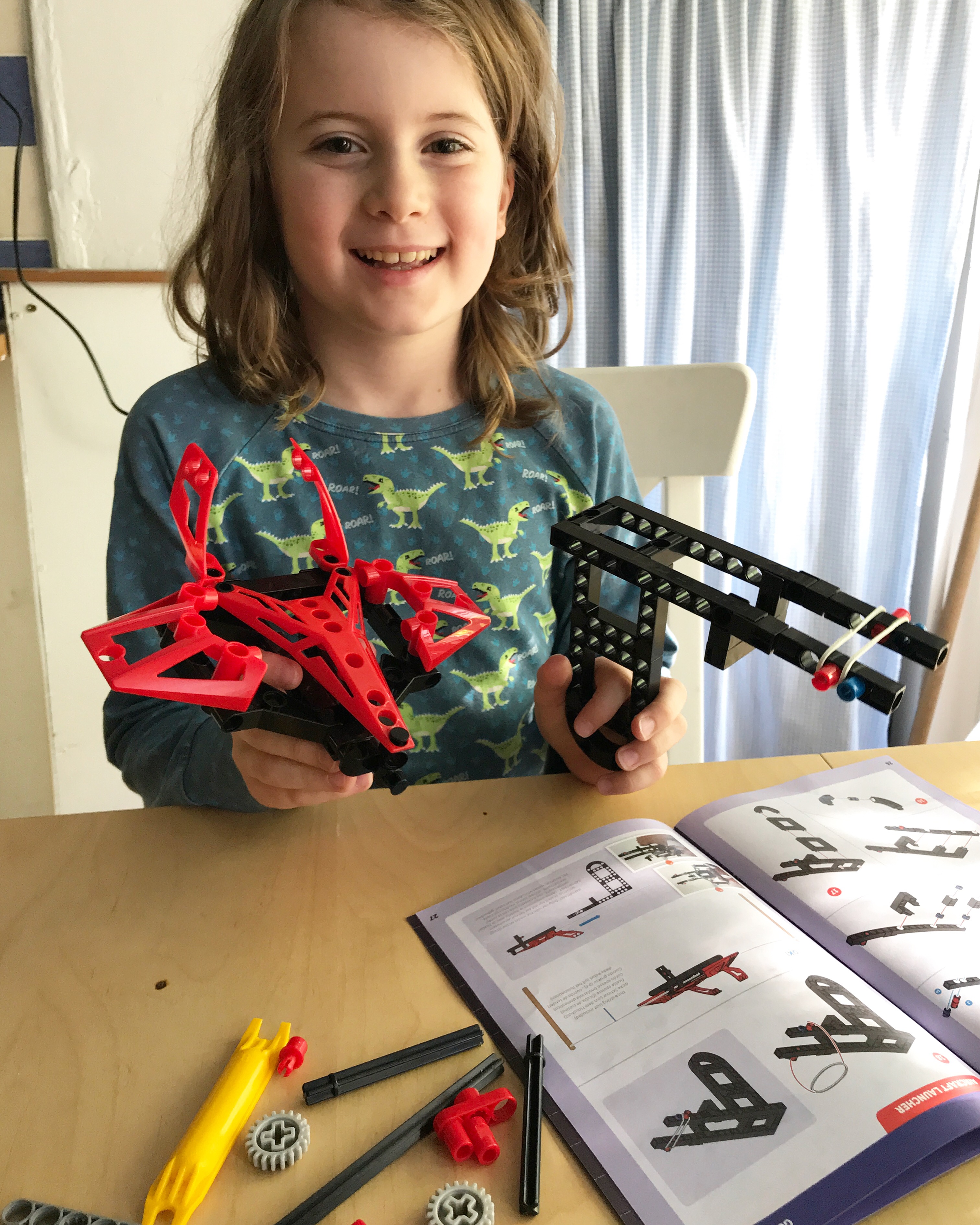 All in all, this was a great set and Oskar had lots of fun putting it together – and he still has three further models to make! It also got him really interested in how gears work, so it definitely met its educational goal in that sense. The 10-in-1 sets retail at £24.50 and the 5-in-1 sets at £16, and considering the amount of build and play time you get out of them I think that's a very reasonable price. Further details on all four sets are available on the Thames & Kosmos website.