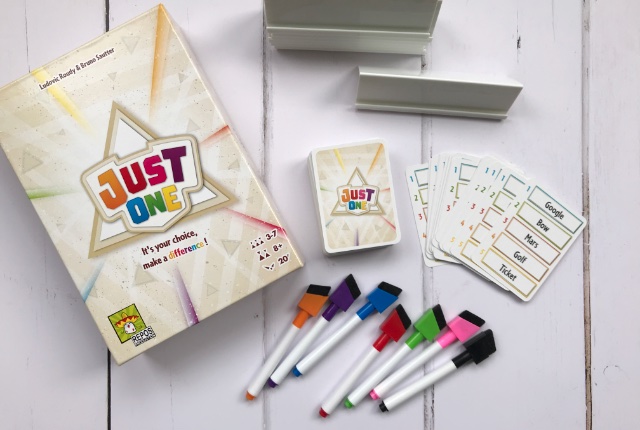 Review: 'Just One' Game [AD]
We have another great review for you this week, for any last minute shopping. It's our review for this month's Asmodee UK Blogger Board Game Club, whom we are currently working with. Asmodee UK is an established distributor of toys and games, and the Board Game Club works with bloggers by providing a free game each month in return for an honest review. This month we are reviewing the game Just One.
Disclosure: We received a free copy of Just One in return for an honest review. All opinions are our own.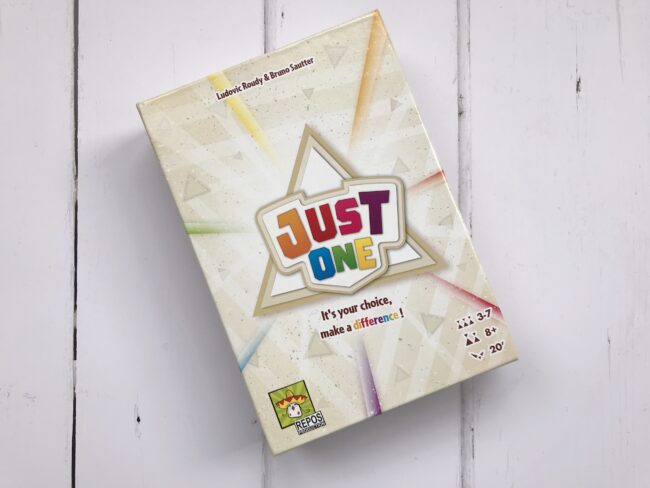 Just One is a co-operative party game, where everyone plays together to get the best score, so it's perfect for families to play together, or with a group of friends (once we are all allowed to visit each other's houses again). It's a word based game, where the object is for one player to guess a specific word from the one-word clues that the other players give. We love word guessing games, so this was right up our street.
What's in the box?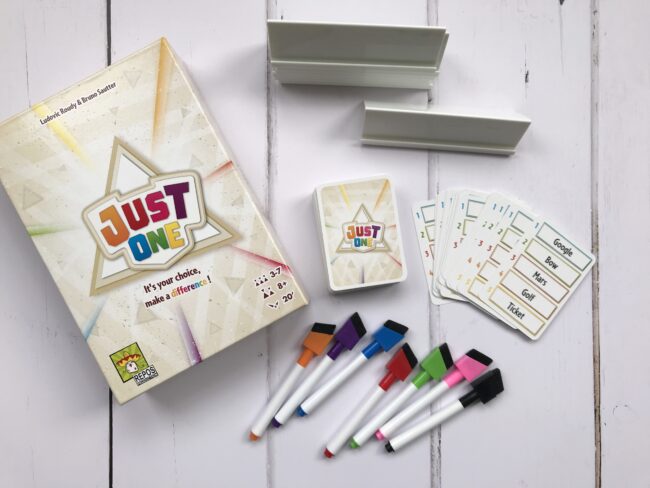 In the box you will find 100 cards, which each have five words on them (numbered from 1 to 5), as well as 7 little easels and 7 erasable felt markers. This immediately appealed to my boys, and they started writing messages on the easels before we'd even read the rules! Note that the easels have a little ledge on one side, which is for holding cards.
How to set up?
One of the beauties of this game, which makes it perfect to whip out at a gathering, is that it requires next to no set up. Every player gets an easel and pen, and you put the deck of shuffled cards face down in the middle of the table. That's it!
How to play?
Pick a player to go first at guessing. Their easel should be in front of them, with the ledge for holding cards facing away from them. Take the top card from the deck, and place it on that player's easel so that they can't read it but everyone else can see it. The player then says a number between 1 and 5, and that's the mystery word everyone else has to give clues for. In this example, the player chose number 2 so the clues had to relate to 'Vampire'.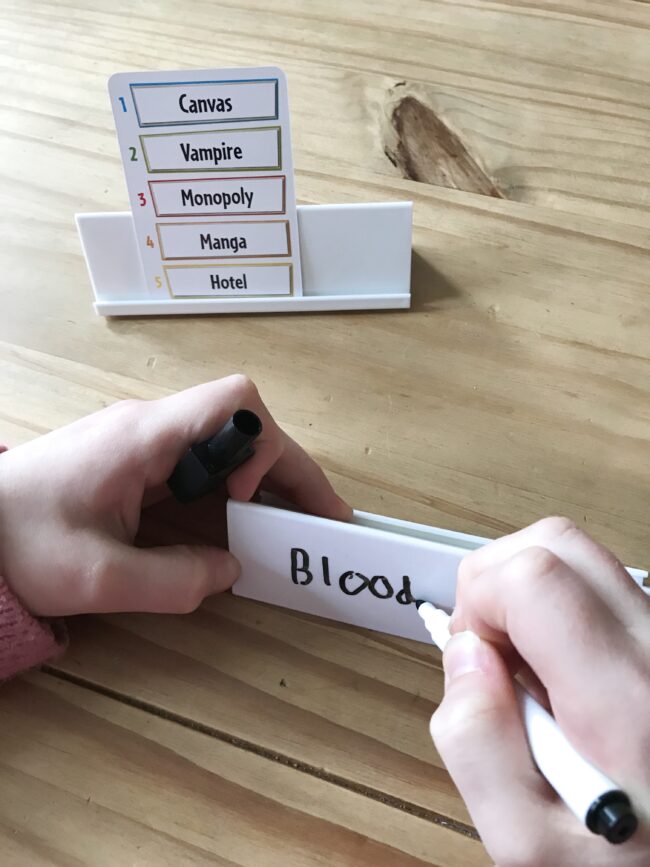 Everyone now has to write a clue on their easel which has to consist of a single word (hence the name of the game, 'Just One'). Sounds easy BUT you are not allowed to communicate with each other AND any identical clues are invalid. So the challenge is to think of a clue that isn't too obscure so that the player guessing can figure out the mystery word, but at the same time it can't be too obvious because then there's a higher chance someone else will choose the same clue. For our example with the vampire, there were two clues for 'blood' so they are both invalid, leaving the guesser with only the two remaining clues to go on.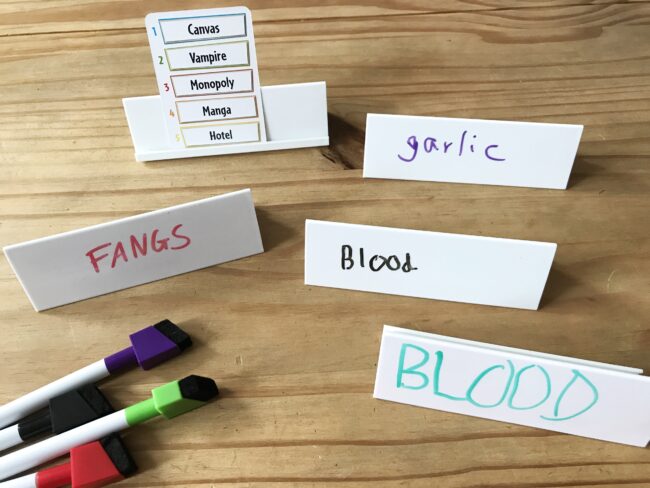 After everyone has written down their clues, the guesser has to close their eyes whilst the others compare what they have written and rule out any invalid clues. For the invalid clues, the easels are turned face down, and the remaining easels are turned to face the guesser. If the mystery word is guessed correctly, the card goes face up next to the deck. If it's guessed incorrectly, it gets returned to the box plus the next card of the deck. The game officially ends when the deck is empty. There is a score table included in the rules, and idea is that everyone is playing together to see how high they can score as a team – though my kids just want to keep the cards they guess correctly and see who can collect the most cards.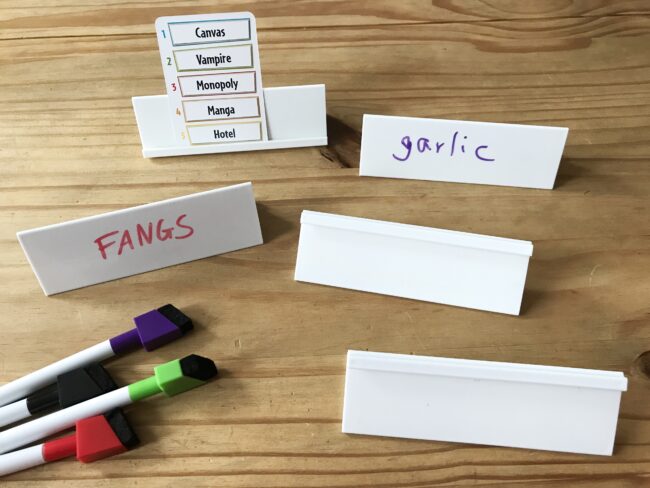 Our Verdict?
This game was great fun to play, and enjoyed by all of us. What we loved about this game – besides the fun of guessing – was that it takes next to no time to set up, and it was super easy to learn and quick to explain. We have a friend who is part of our extended household bubble, whom we played this game with him when he came to visit, and it literally took minutes to fill him in (and we're also going to try and play this with Granny on video call at Christmas, since she can't be with us). It's also great because you can be flexible on how long you play it – you could go by the rulebook and play through the whole deck, or just agree a number of rounds or length of time, which makes it a great filler e.g. before or after dinner. It's aimed at age 7+ but our 6 year old was able to join in too (with some liberties taken on spelling). You need a minimum of three players and it goes up to seven but you could also adapt it to more people, e.g. with two people sharing an easel and deciding on the clue together. All in all, we think this makes a perfect game for families or parties – and with 550 words to choose from, it will keep you going for a while. For anyone who hates playing charades at Christmas (I'm putting my hand up here) this will be a welcome alternative guessing game!
Just One available to buy from a number of toys and games retailers, as well as on Amazon (affiliate link).
If you enjoyed this review, check out all the other games we have tested and loved!
---
Disclosure: We are members of Asmodee UK Blogger Board Game Club and received a free sample game for the purposes of writing an honest review. However, all thoughts and opinions remain our own. This post contains an Amazon affiliate link. If you shop via this link I will receive a small percentage of the revenue, without any extra cost to you, which helps to keep this blog running. Thank you.