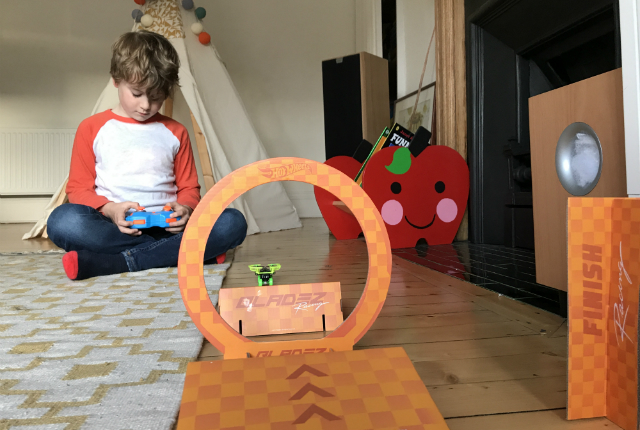 Review: Hot Wheels RC Bladez Drone Racerz [AD]
My boys love Hot Wheels cars. We have a house full of them. Oskar also really loves flying drones – he's had a go on a couple his dad has brought home in the past for work – and has wanted one of his own for a while now. But most of the good drones on the market are aimed at much older children, age 14+. So when I met Bladez Toys at the BlogOn conference in September, and heard they had taken on the challenge to design a flying toy to fill the large gap in the market for the 6 – 12 year olds, I was thrilled. I was even more thrilled, when we were later sent a review sample of the new Hot Wheels RC Bladez Drone Racerz, to test out.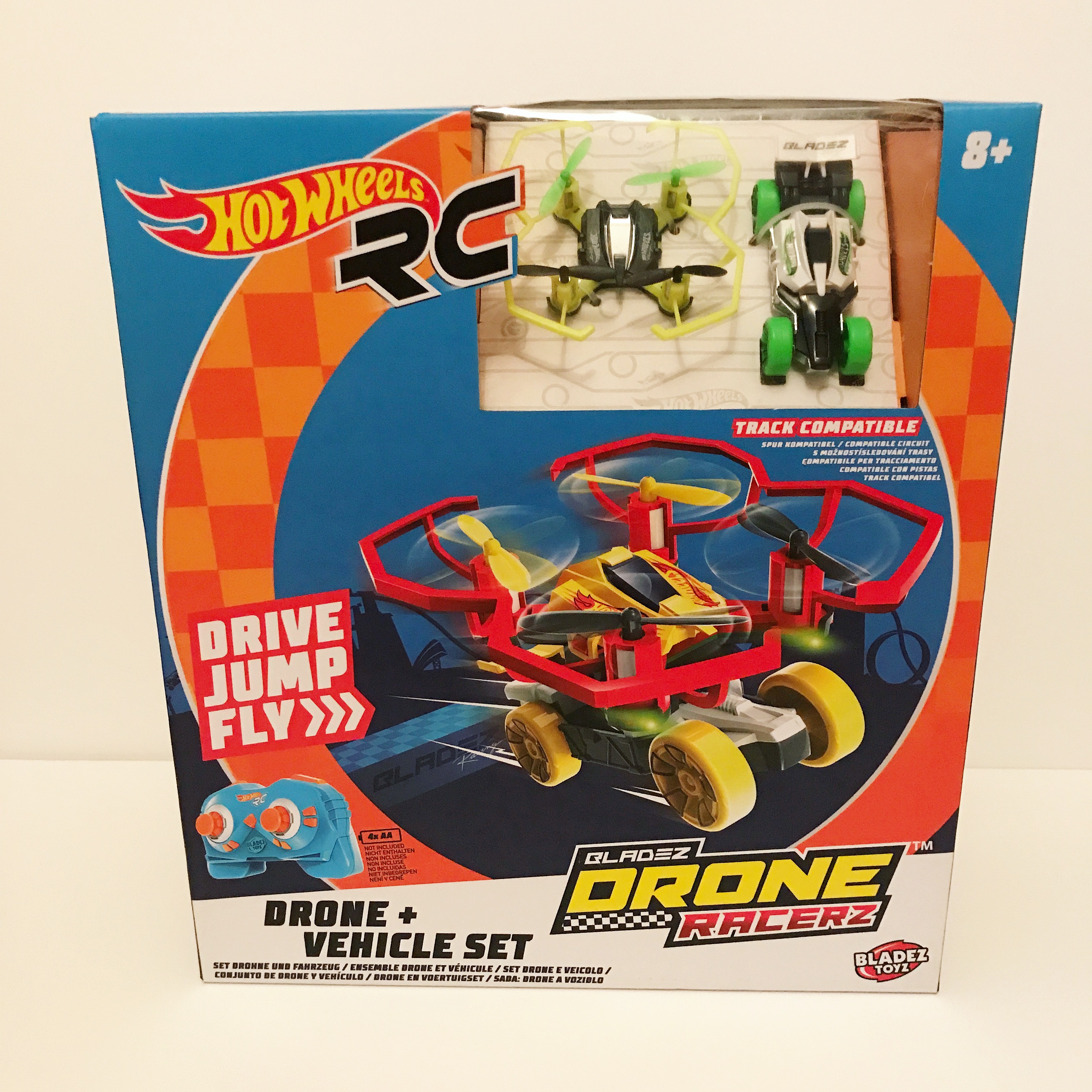 The set is actually marketed at age 8+, as that is recommend guide for drones across the industry. Oskar is only 7, but this is a good introduction drone to get younger children interested in flying, so with parental supervision a slightly younger child could use it too. Of course, this decision is down to the parent. We are happy for Oskar to use it under our supervision.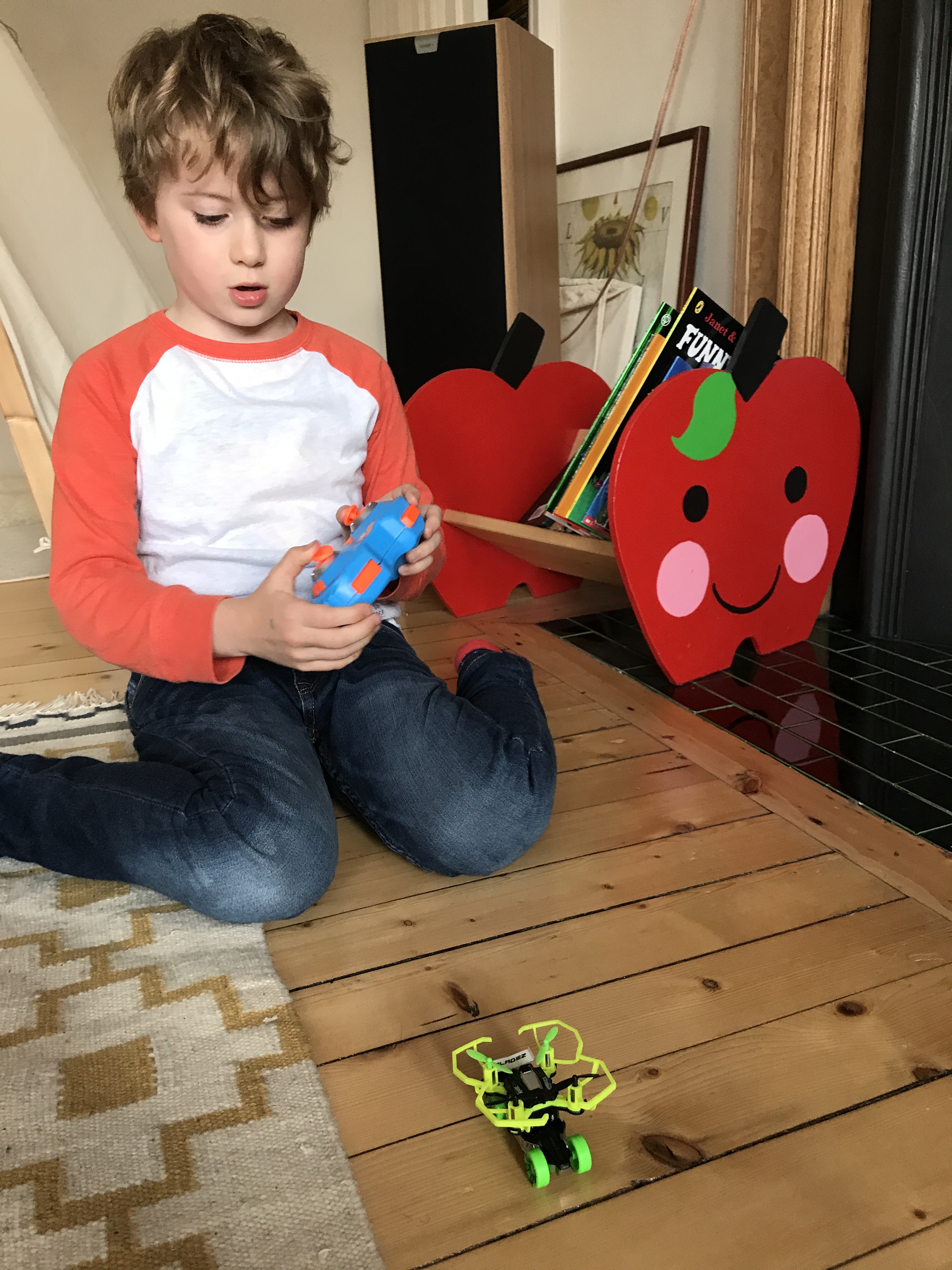 The Hot Wheels RC Bladez Drone Racerz is a 3-in-1 drone + vehicle set. You can fly the drone on its own, or clip it on to the exclusive Hot Wheels car chassis to drive, drive and jump. You can also just use the chassis on its own as a car, but note that it won't work with the remote control then as that is linked to the drone. The set is intended as a natural progression for Hot Wheels die-cast fans. The propellers have a protective edge around them, which means they won't get damaged straight away when younger, maybe still a bit inexperienced kids, inevitably fly them in to something, and also that they won't hurt themselves if they get too close to the propellers.
So, what's in the box?
The set comes with one 2.4GHz Drone with LED lights, 1 chassis, 1 controller, 1 spare body shell, 4x spare propeller blades, 1 USB charger, 1 screwdriver, a manual, and a stunt set consisting of 2 ramps, 1 gate, 1 checkpoint and 1 phone holder. There is also a second hoop, that you can cut out from the back of the box. The phone holder is great to record your stunts (note your phone won't fit in it if it's in a case), though I have a mini tripod which I used instead.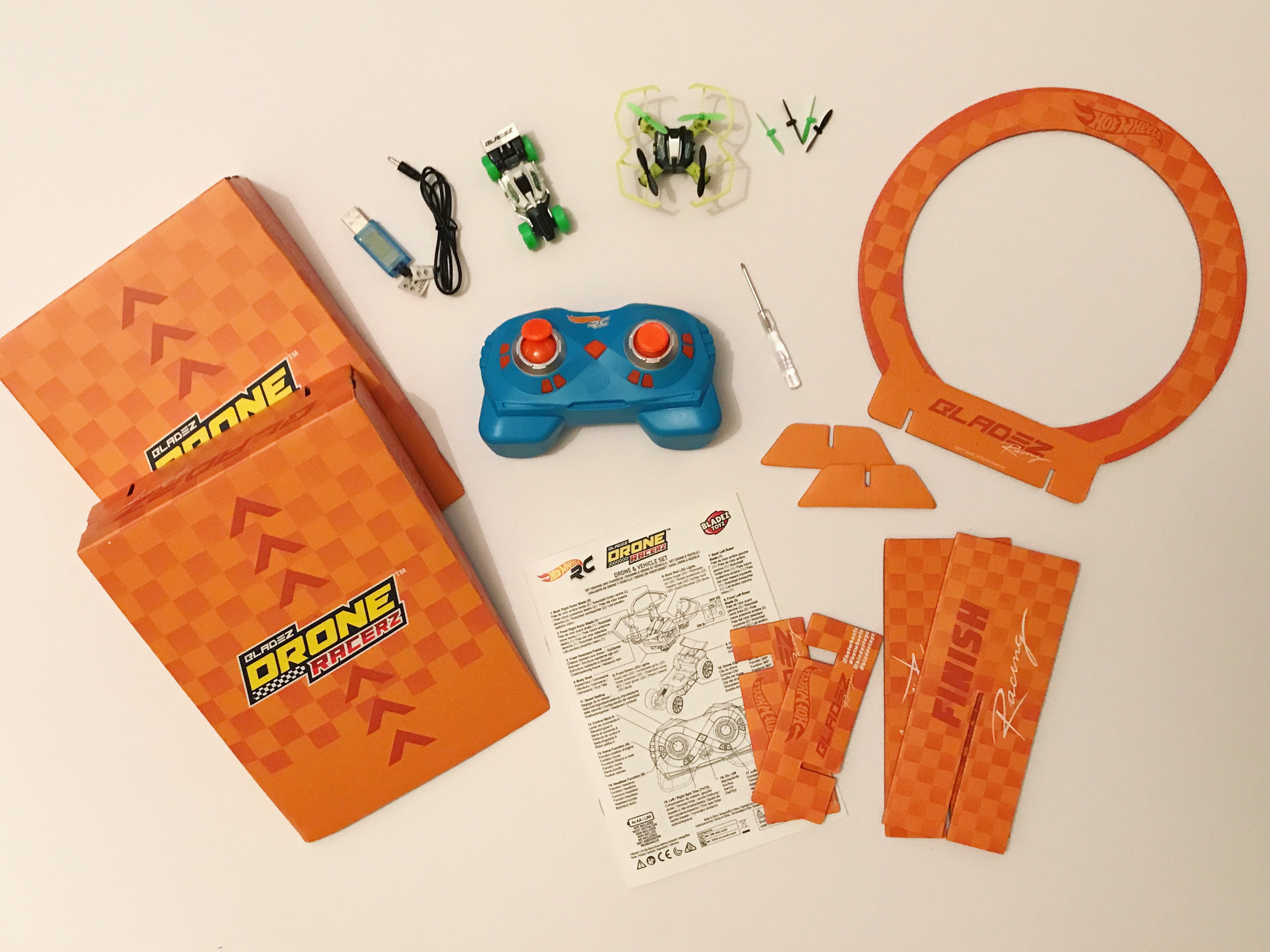 The drone itself charges via USB, which you can do either via your computer of via the integrated charger in the controller. You should not charge it directly from a power socket. It needs to be charged for 60 minutes before it's ready to go – be careful not to overcharge it – and it needs to be switched off during charging. For the controller, you will need 4x AA batteries, which are not included, but the included screwdriver is very handy to help you with this, in case you don't own such a tiny screwdriver.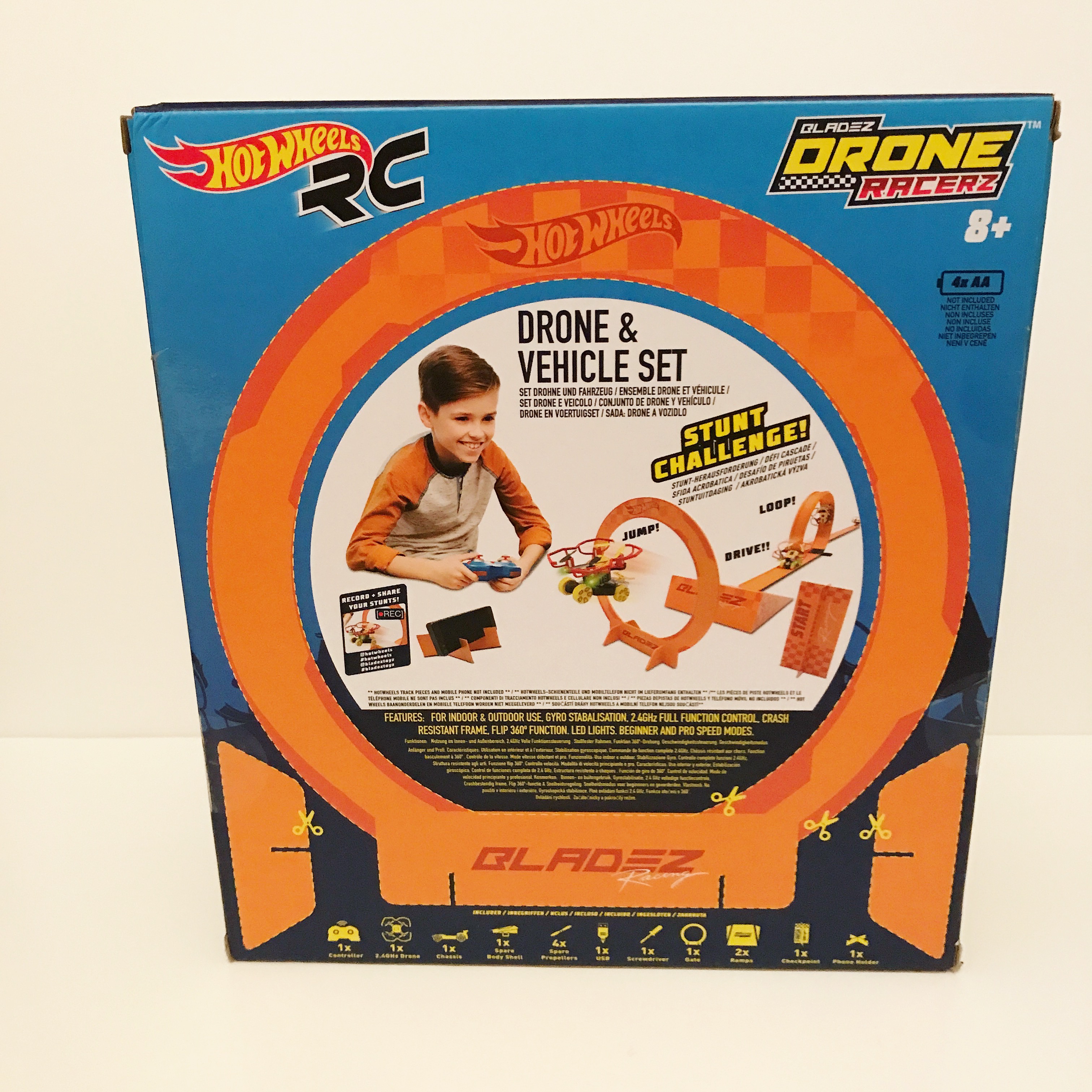 When connected to the chassis, the Racerz are compatible with any Hot Wheels tracks, which means you can build up on any collection you may already have, set up a parcours etc. We don't have any tracks as yet, but it sure is something we will be looking in to. On the back of the box, it actually shows an example of some tracks combined with the ramps and hoop, but note that those tracks are NOT included!
What did we think?
First of all, Oskar was super excited when the Hot Wheels RC Bladez Drone Racerz set arrived in the post. After we had charged everything up, he first tried just driving it around, to to get a feel for the controller.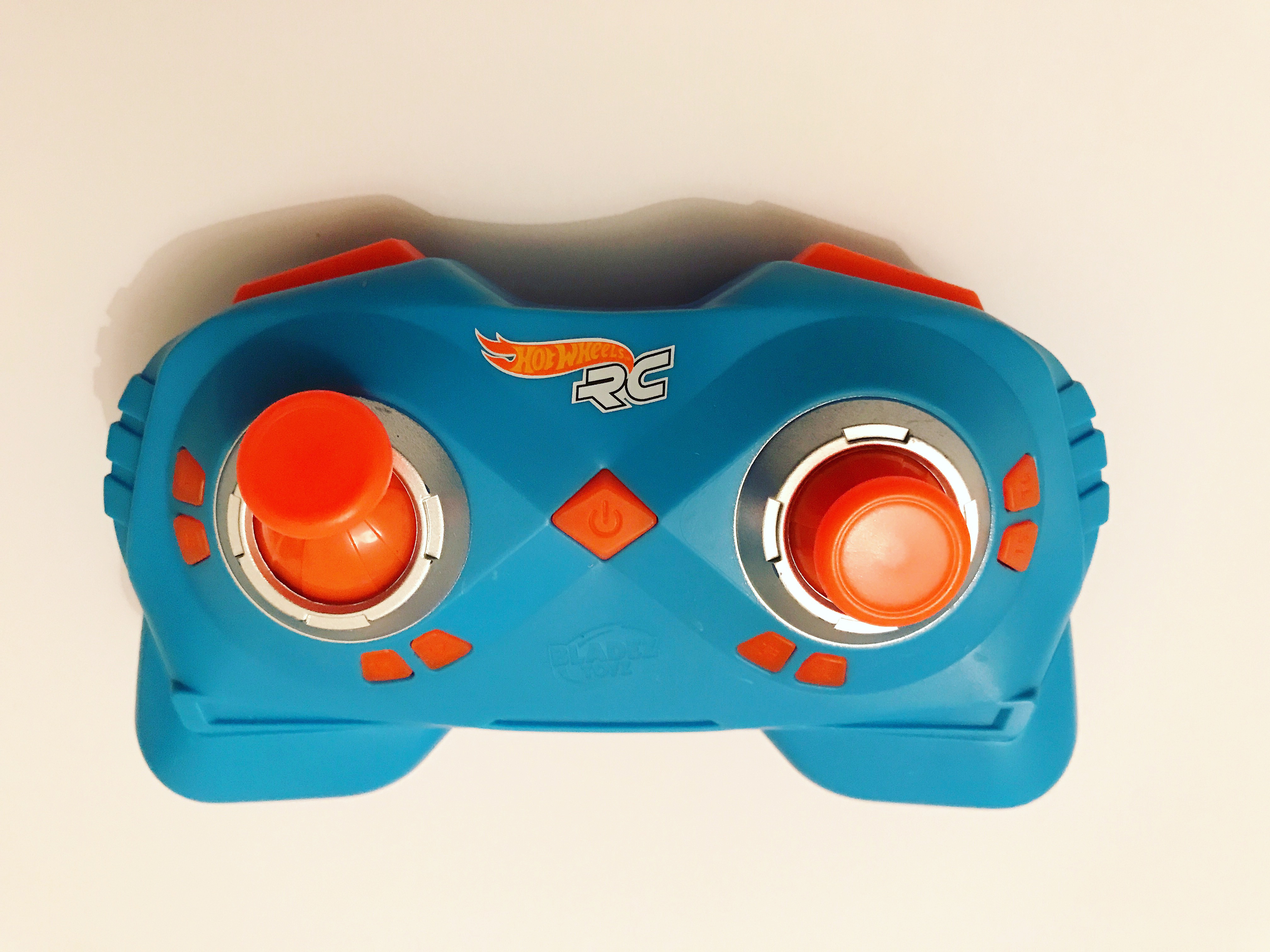 The controller has a lot of buttons, so takes a while to get your head around, but we went through them all one by one, learning how to use each button as and when needed. First, you actually need to synchronise the drone with the controller, but the manual talks you through all that, with helpful diagrams included. It also tells you how to a stability reset, if needed, and how to adjust the speed. As well as, of course, how to use all the other buttons.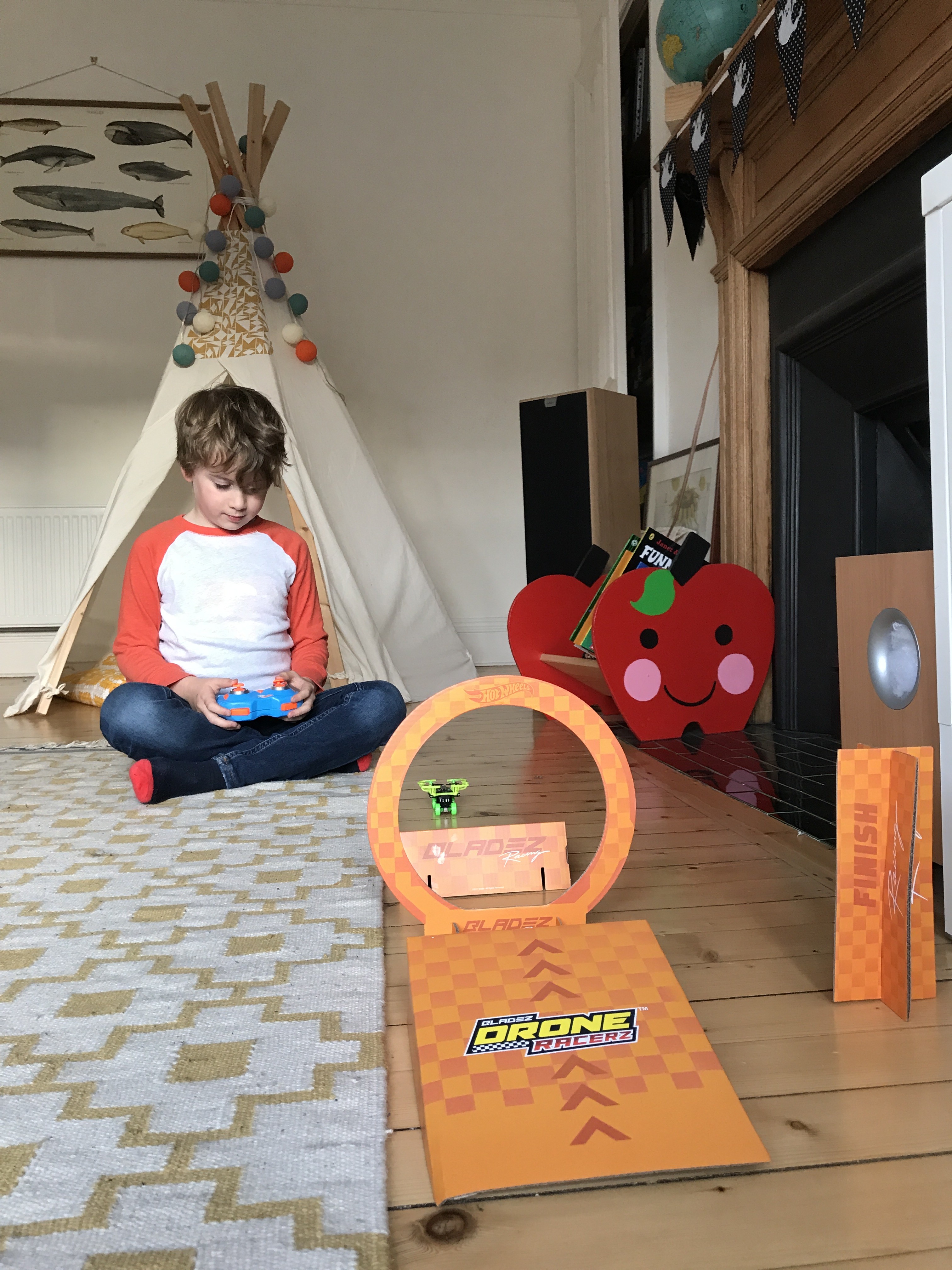 Once we were familiar with all the controls, Oskar decided to try his hand at some jumps, so we set up the ramps and hoops. This was a little more tricky than just driving, as you need to find the right balance of going fast enough to have enough 'oompf' to make it up the ramp and jump through the hoop, but not too fast or else you will just rocket through and crash. But after some practice he managed to make a few successful jumps, both with one and with both ramps. We made a little video to show you:
The final thing, of course, was to try just the drone by itself, which is again a little bit trickier. You not only need to find the balance between not to fast and not to slow, but you need to steer up and down as well as left and right. Oskar managed a couple of successful flights through the hoop (see video above), and is now practicing to manage a flight through both hoops as well as flying higher – his aim is to be able to fly steady enough and high enough to perform a 360 degree flip in mid air! It's good to have something to work towards.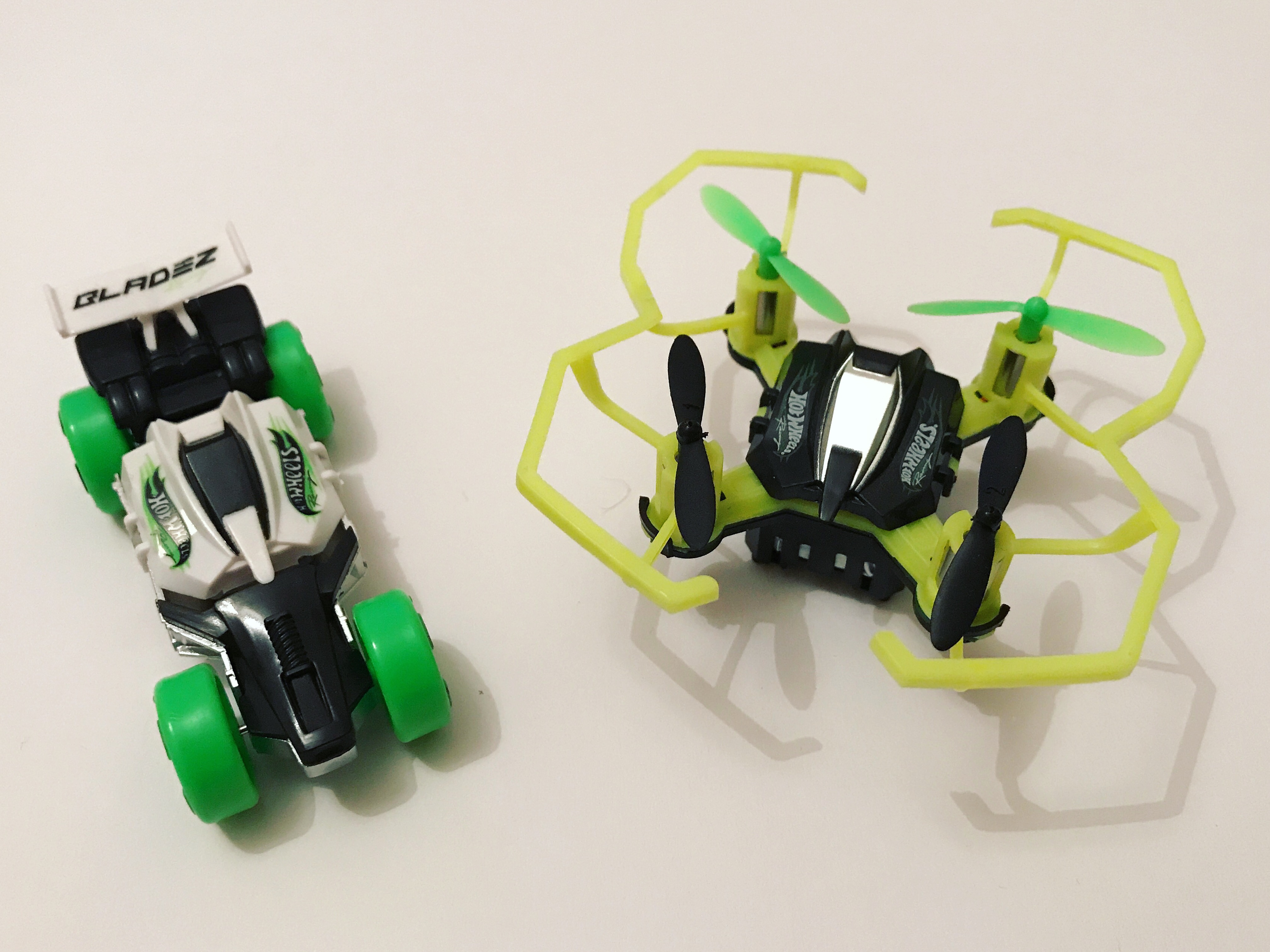 Overall, Oskar really enjoys playing with the Drone Racerz set, and it's a toy he keeps coming back to. It's great how multifunctional it is. My only criticism would be, that the charge time is quite short, under 10 minutes of drive/fly time for a 60 minute charge. This can be a little frustrating, when you are in the middle of trying to perfect a jump or a flight stunt and the battery runs out after just 6 minutes or so, and you then need to wait another whole hour to continue. On the plus side however, it means I can let him have a go e.g. before homework or dinner, knowing it will only last for a maximum of ten minutes and then we can go on to do the homework or whatever, without any "please, mum, just a little it longer" arguments. So despite the downside of the rather short drive/fly time, this is a toy I would definitely recommend for any kids interested in drones and racing cars.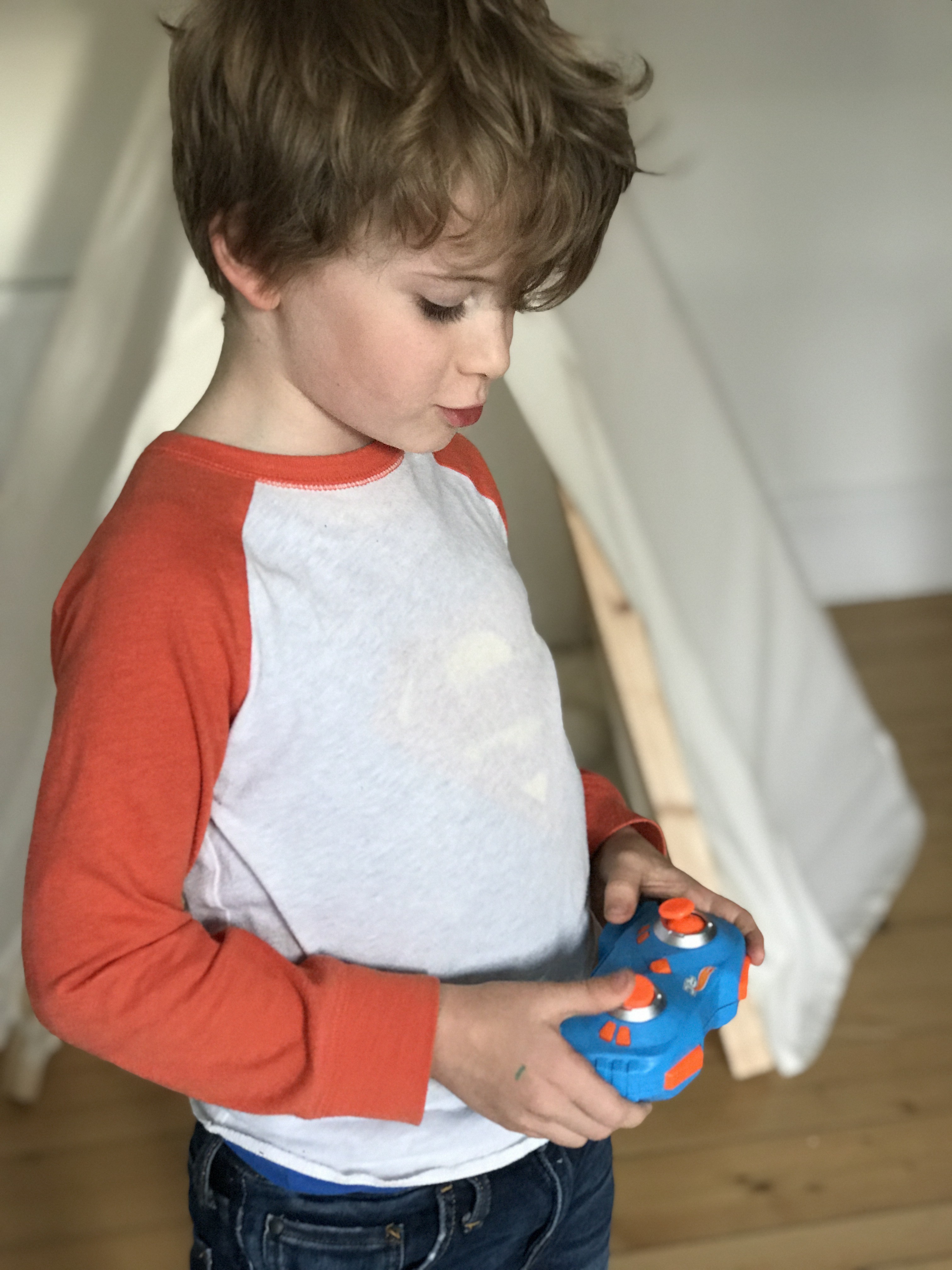 As mentioned above, the Hot Wheels RC Bladez Drone Racerz is marketed at age 8+ but is a good introduction drone to get younger children interested in flying so, with some parental guidance and supervision, could also be used by slightly younger children. Just keep in mind that the controls can be a little bit fiddly, so it requires a bit of patience. The recommended retail price for this set is £34.99, which considering everything you get with it I would say is a fair price. It's available from various high street stores, including Argos, Tesco, and ToysRUs, and some of them have been offering discounts so you may be lucky and able to pick one up at a reduced price.
Many thanks again to Bladez Toys for inviting us to test this!
Disclosure: We received a freeHot Wheels RC Bladez Drone Racerz from  Bladez Toys, in return for an honest review. All images, words and opinions are our own!