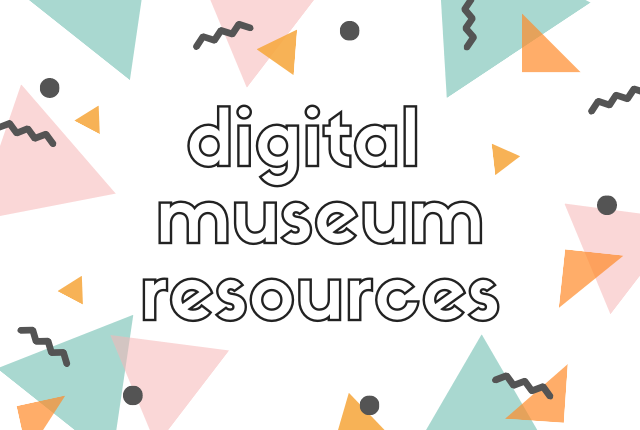 Favourite Digital Museum Resources for Kids
Happy Museum Monday! I thought I'd try something a little different for this week's museum musings. Due to the current situation with the worldwide Coronavirus pandemic, many countries have shut down their schools, as well as museums and other public places. Thousands of families have been left scrambling for ways to occupy their children at home. Well, if you can't take your kids to the museum, you can bring the museum to your kids, because there is a vast host of museums who offer online resources you can use at home – from virtual tours, exhibitions and videos, to apps and games, craft activities and more! A great way to entertain the kids and learn something new at the same time. So, I've rounded up some of my favourite resources here, covering everything from science, history and art to natural history and world cultures (which I'm also filing under "rainy day activites" for when this crisis is over…)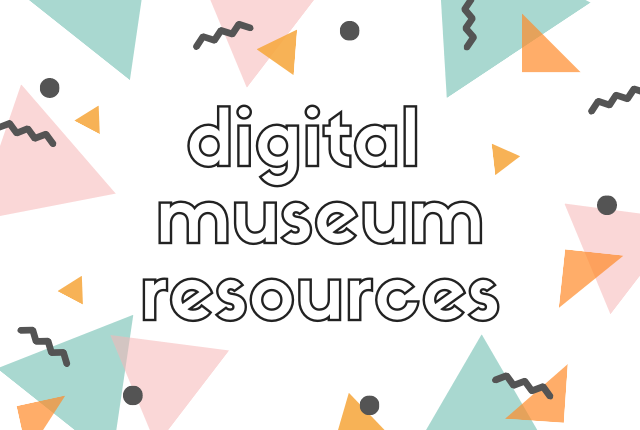 Google Arts & Culture
Google Arts & Culture lets you explore hundred of museums and collections from around the world. You an browse in different ways, e.g. by artist, by place, by collection, or – my personal favourite – by colour. You can save favourite artworks in your Profile, which is a great way to create your own little exhibition.
Museum YouTube Channels
There are lots of museums out there with YouTube channels. Two favourites I have introduced my boys to, that they particularly like are the Field Museum of Chicago's quirky channel The Brain Scoop, and the channel of the Shedd Aquarium, also in Chicago (yes, I know an aquarium is technically not a museum, but who's keeping score…) For the Shedd Aquarium, in particular check out their playlist 'Sea Curious: Kid Questions, Animal Answers!
Science Museum
The London Science Museum has a good collection of games and apps on their website. My personal favourite is Launchball, where you have to navigate a ball through various obstacle courses. And once kids have mastered all 30 levels, they can create levels of their own to master or to send to friends.
Exploratorium
Another great science museum with online resources, is the Exploratorium in San Francisco. In the Science Snacks section, you will find lots of hands-on science activities that have been tested by teachers and use cheap, readily available materials. There are over 20 page worth of activities to browse, so that should keep you busy for a while!
National Museums Scotland
I couldn't pull together a list of museums and not mention one of my favourites. National Museums Scotland has a huge selection of online resources and ways to explore their collections. You can search by theme, by subject, and by type of resource which include stories, films, games and others. Play a robot game, compose some music, learn about Morse code or Ancient Egyptian hieroglyphs, build a pyramid or an Iron Age roundhouse, download some colouring sheets or mask templates, learn how to draw a wooly mammoth, and lots more!
Tate Kids
For fun with art, Tate Kids is the museum website to go to. In MAKE you will find dozens of suggestions for art activities, including painting and drawing, collage, and sculpture. In GAMES & QUIZZES there are loads of quizzes to play, such as 'Which Are Animal Are You?', 'Which Artist Should Design Your Bedroom?' or 'Which Arty Snack Should You Eat?' Games include things like 'Art Detective', 'My Imaginary City', 'Art Lab', 'Street Art' and more! And in EXPLORE you can find out more about dozens of artists, from famous faces to lesser known names. Each artist profile comes with questions to think about and ideas for follow up activities, and includes links to related activities in the MAKE, QUIZ and GAMES sections.
[line]
This is just a selection of some our favourite online museum resources for kids and families. For further links to cultural portals, virtual tours and online exhibits, E-learning resources, online collections, and Digital Archives & Libraries, check out MCN's Ultimate Guide to Virtual Museum Resources, E-Learning, and Online Collections!