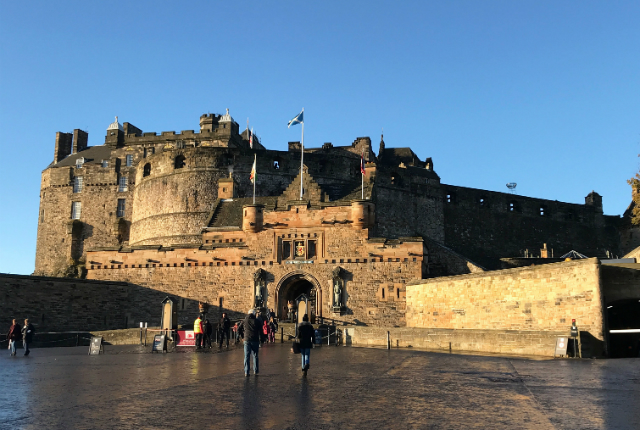 Edinburgh Castle with Kids
I've been asked quite a few times recently for recommendations of things to do in Edinburgh, from people planning a holiday there this year, which reminded me I've been meaning to tell you about our trip to Edinburgh Castle last November!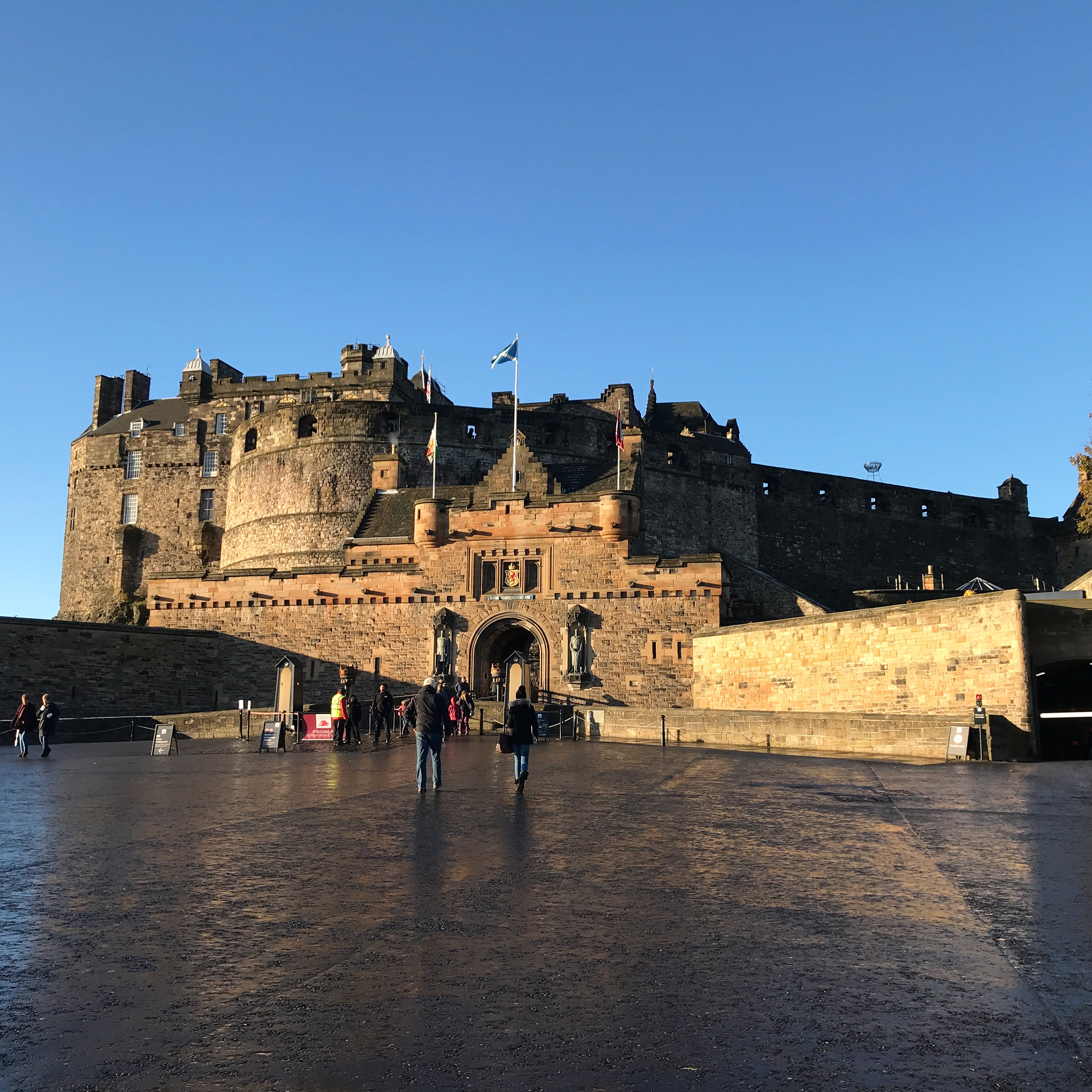 A trip to Edinburgh Castle doesn't come cheap, but I'd still say it's a 'must see'. If you are planning to visit more than once within a year, or perhaps tour some more of Scotland, you could also consider getting a Historic Scotland membership to save yourself some money. There are several other Historic Scotland sites in and around Edinburgh or just a short train ride away, so I'm considering getting us a family membership this year to use on day trips in the surrounding area. But last November, we actually managed to snag ourselves some free tickets for the St Andrews Day open day. You need to apply for them, and they go pretty quickly, so something to keep an eye out for.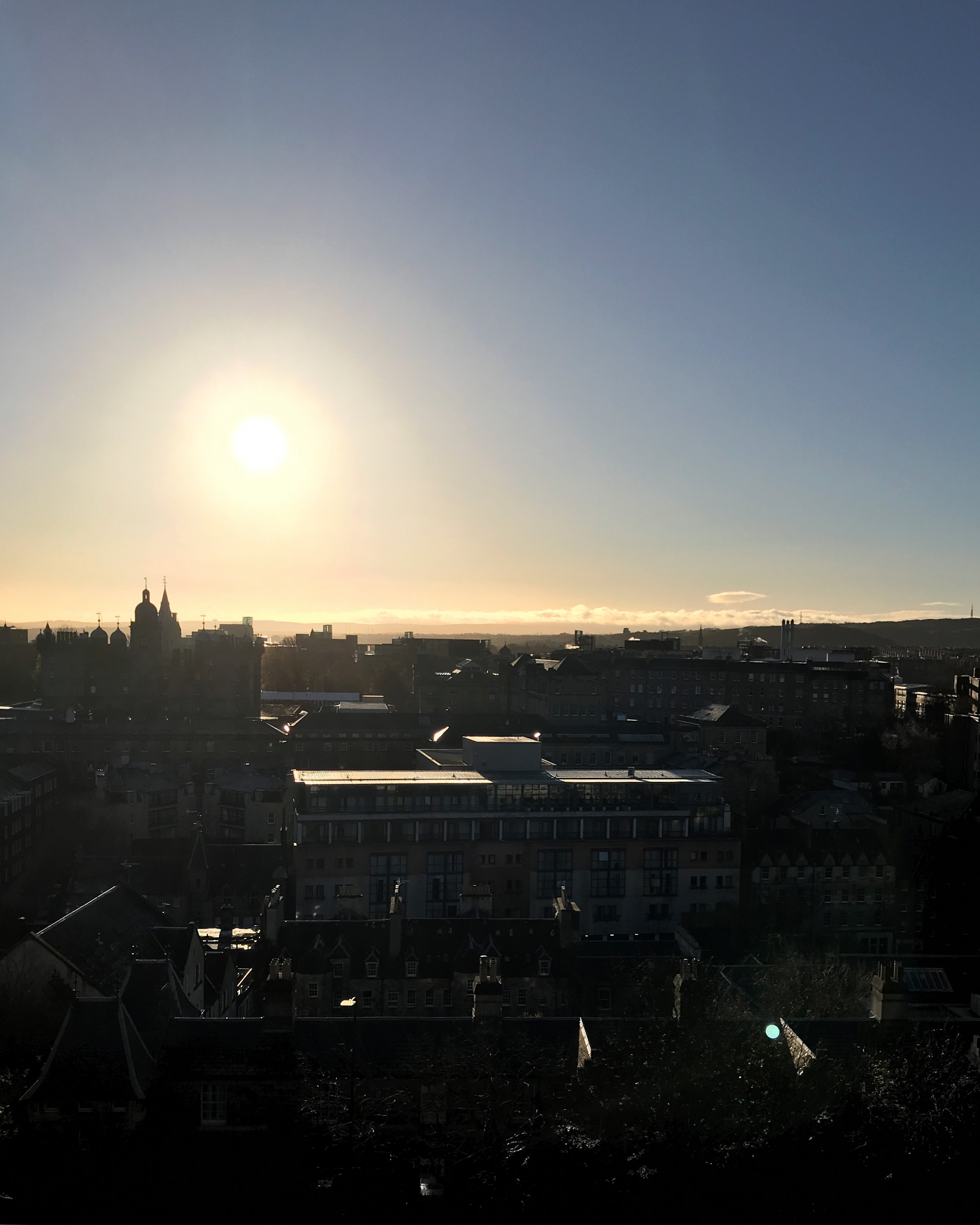 Before we even entered the Castle, we spent some time enjoying the view over Edinburgh from the Castle Esplanade (see above). And taking some cheesy 'we were here' photos in front of the Castle, though Mr Fox was not very on board with this, lol.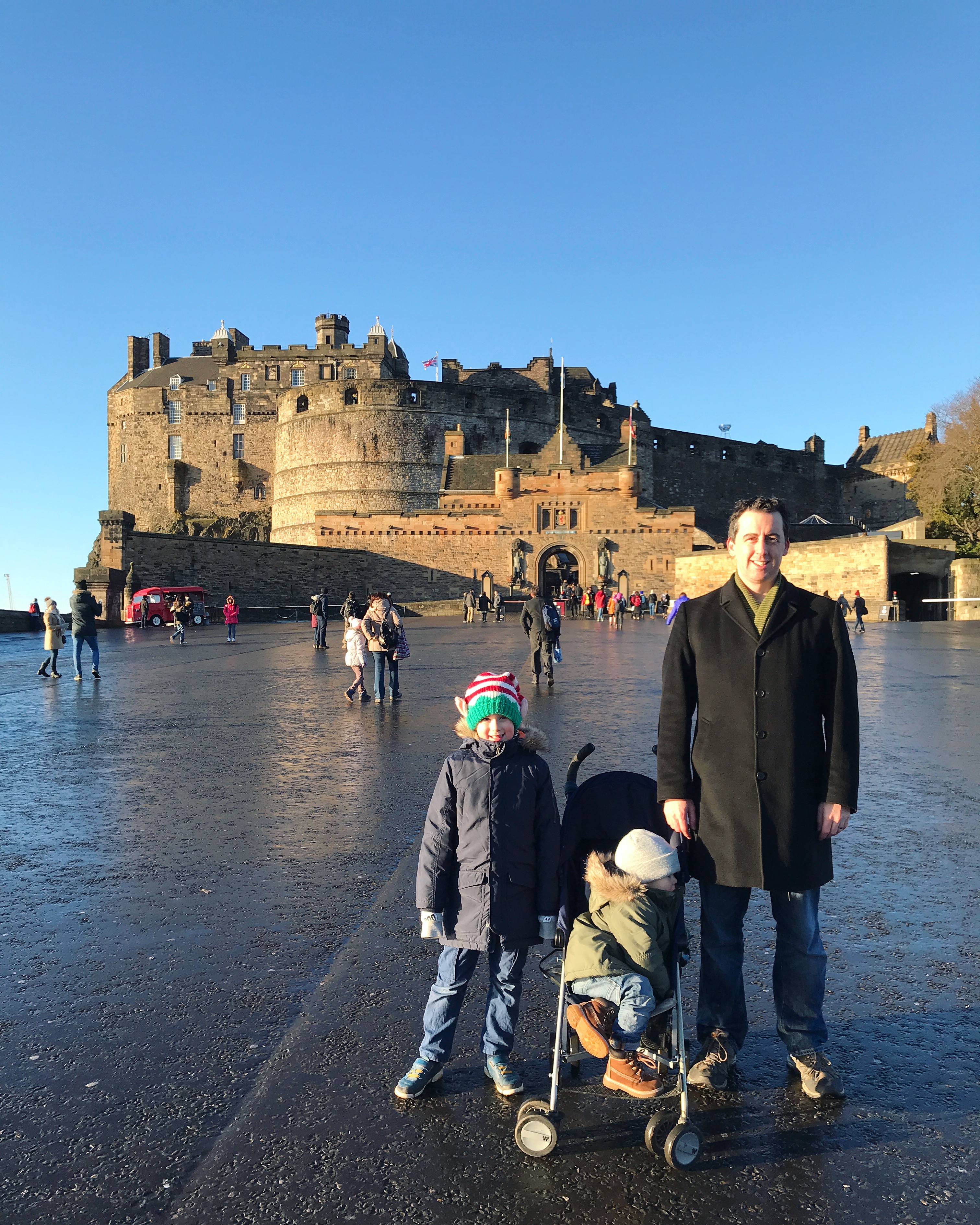 When you come in the main entrance, the ticket desks are round to the right, but since we already had our tickets we could proceed straight ahead to the ticket checkpoint. Oskar, my 7 year old, was really excited at walking in to "a real castle" and under the Portcullis Gate.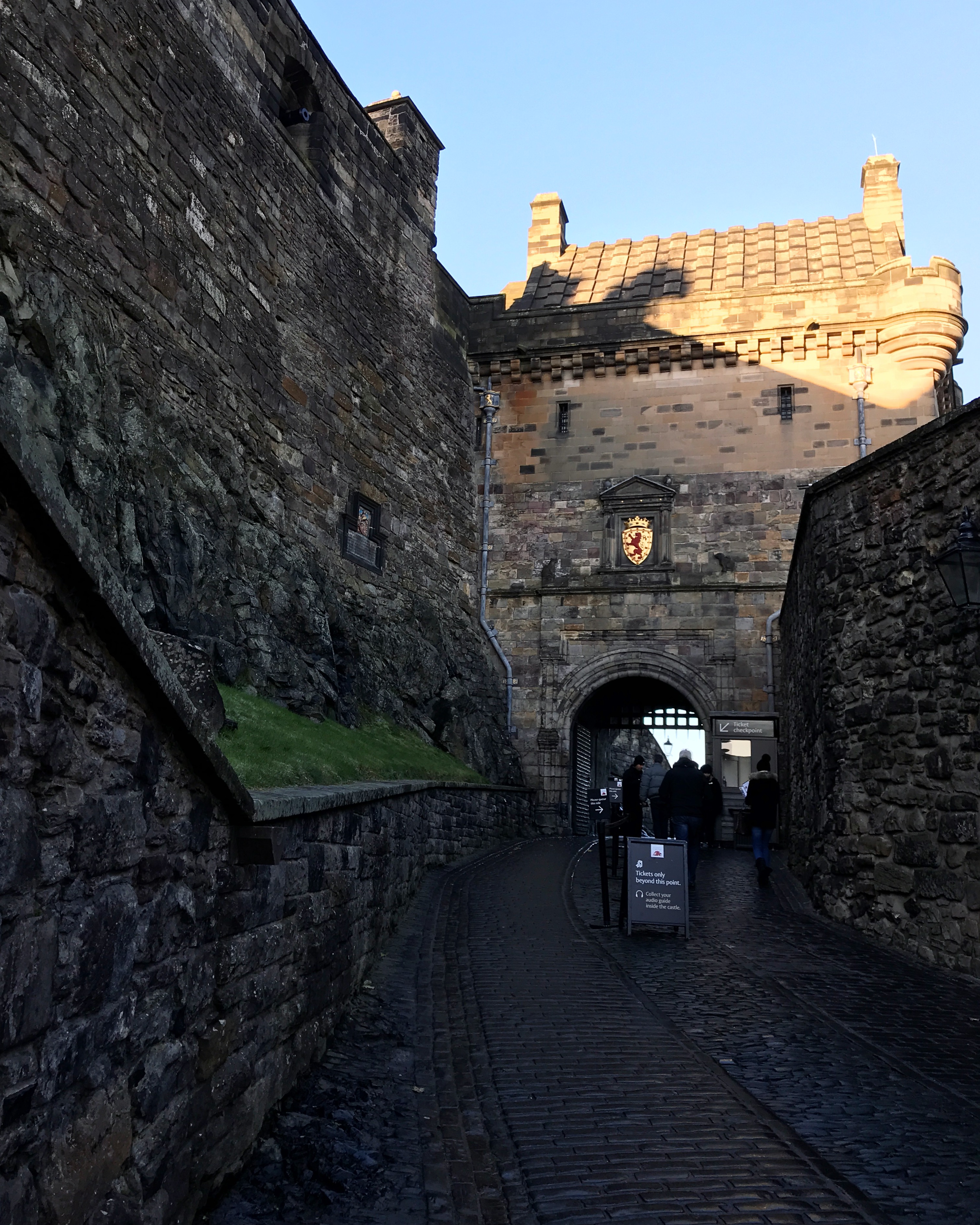 We headed to the Castle first thing in the morning before it got too crowded, and straight to see the Crown Jewels since that is one of the most popular things and we didn't want to end up standing in a long queue. Known as The Honours of Scotland, they are displayed in the Crown Room, and you walk through an accompanying exhibition first to get to them. There is no photography allowed inside the Crown Jewels display, so unfortunately I can't show you what it looks like, but both boys were suitably impressed.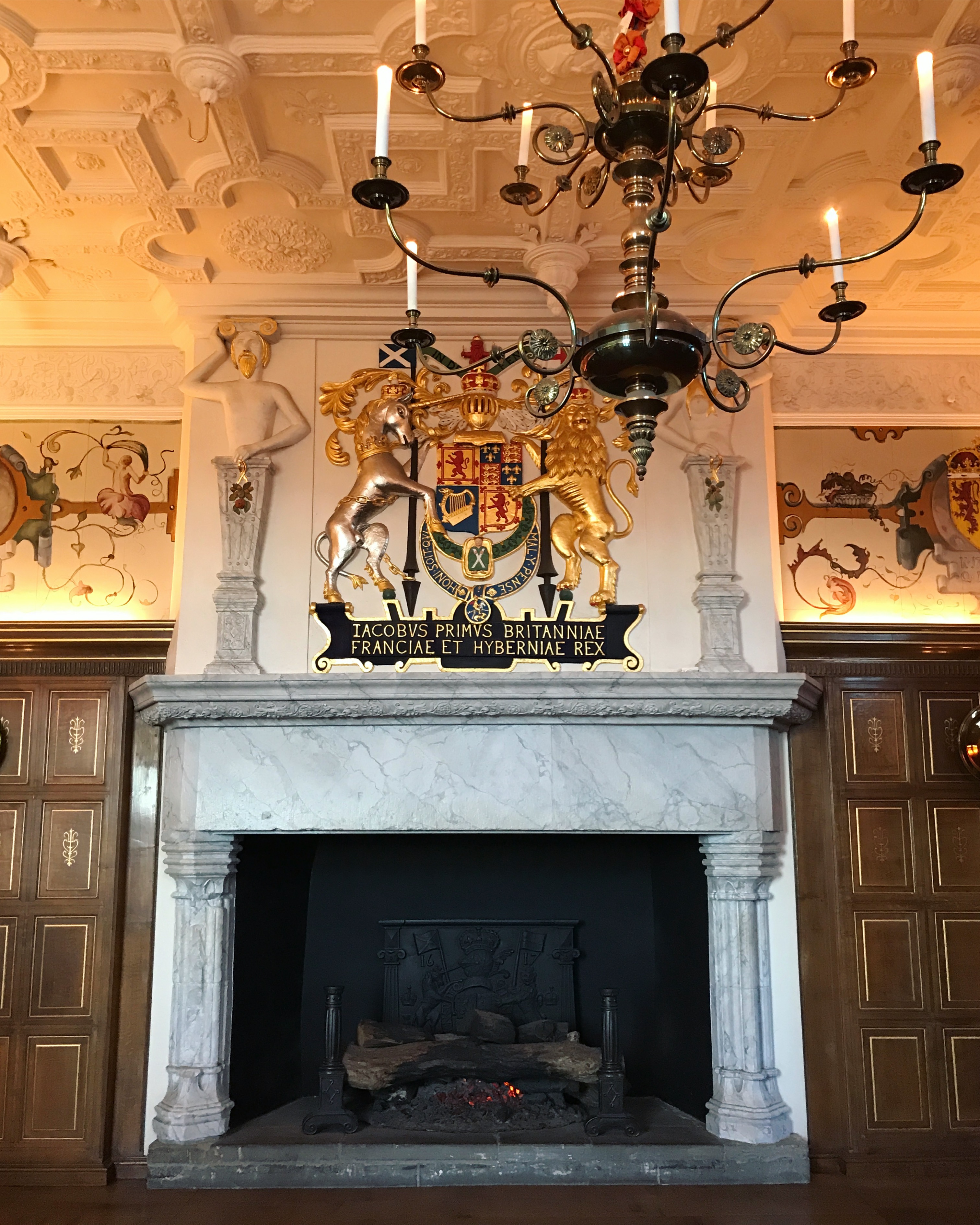 We were, however, allowed to take photographs in the Royal Palace rooms, which include the birth chamber of King James VI, who united the crowns of England and Scotland in 1603.  We had great fun imagining how we would furnish the rooms – such as setting up two 8 ft tall Christmas trees either side of the fireplace above!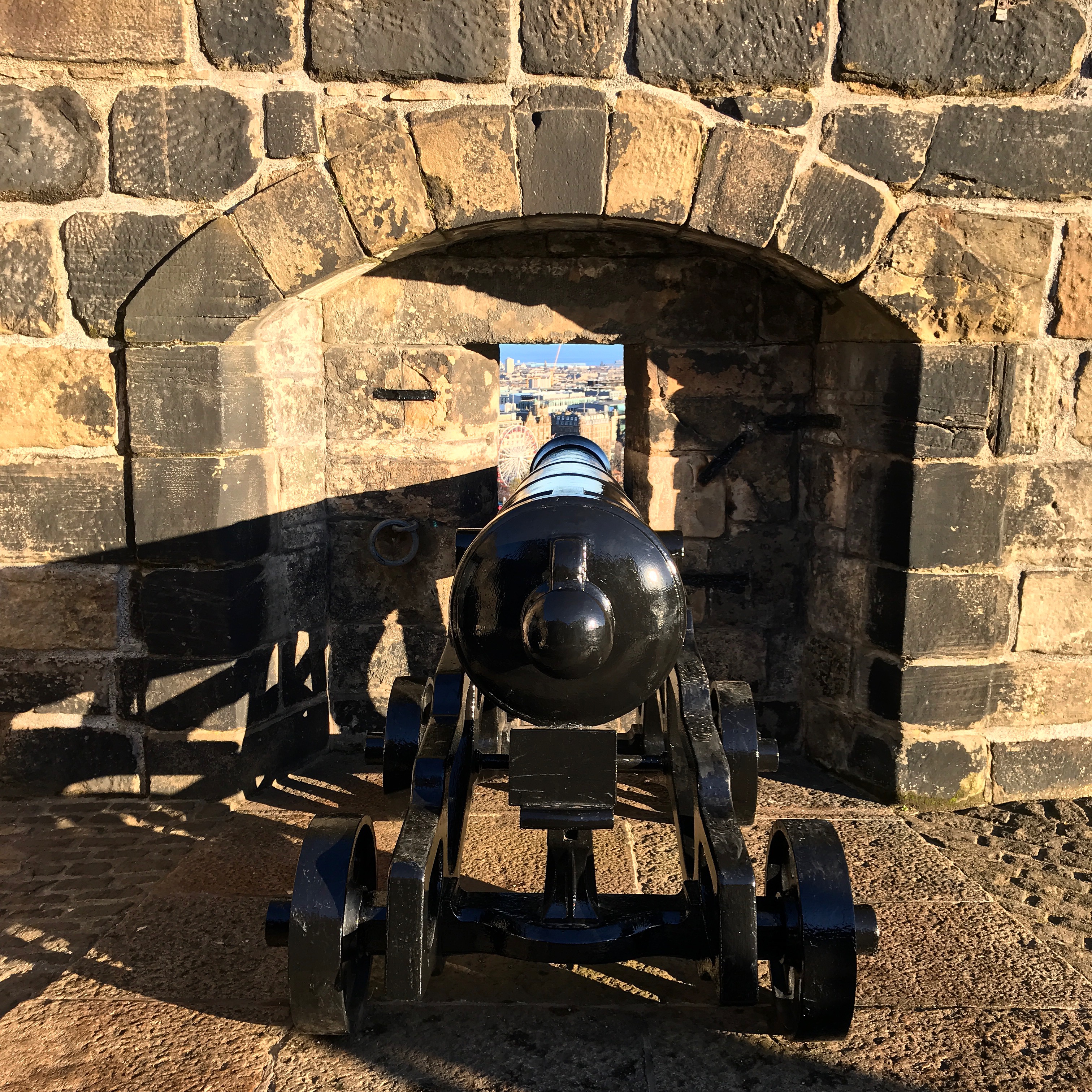 We then spent some time on the half moon battery, on the eastern side of the Castle overlooking the entrance, exploring at all the canons. My boys thought it was quite fun peering across the top of them to see what they would be shooting at – bloodthirsty lot! We also went to see 'Mons Meg', which is situated a bit further away from the other canons, pointing north (yet I failed to remember to take a photo of it…) At the time, Mons Meg was at the cutting edge of military technology, and one of the greatest medieval cannons ever made. Cue a big 'WOW!' from the boys.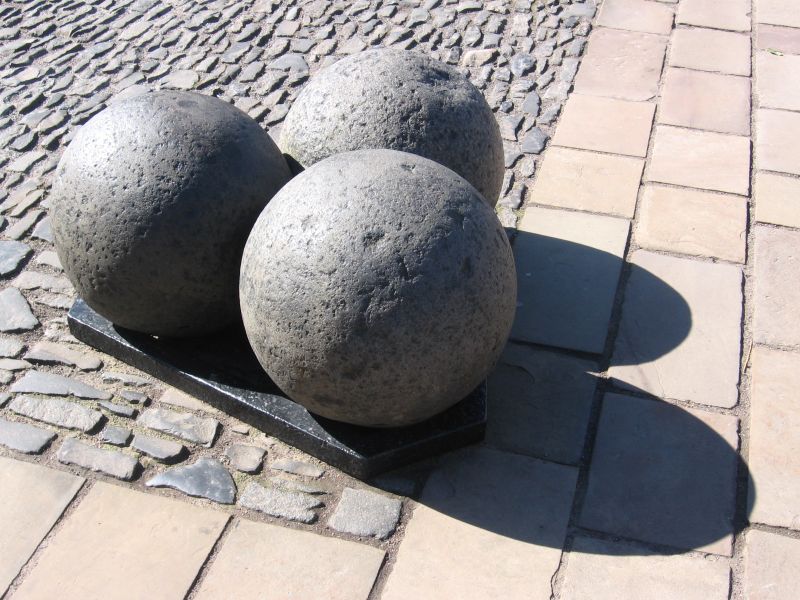 Near Mons Meg, is also the Dog Cemetery. You can't go in to it, but you can look down on it. This little patch is where the dogs were buried, that had been adopted by army regiments and joined their masters to fight in wars around the world. Unless, of course, you are Bob the dog, in which case you get to be a taxidermy exhibit in the museum (see below)! Note that this photo of the cemetery, as you can maybe tell from the blooming flowers, was taken on one of my earlier visits.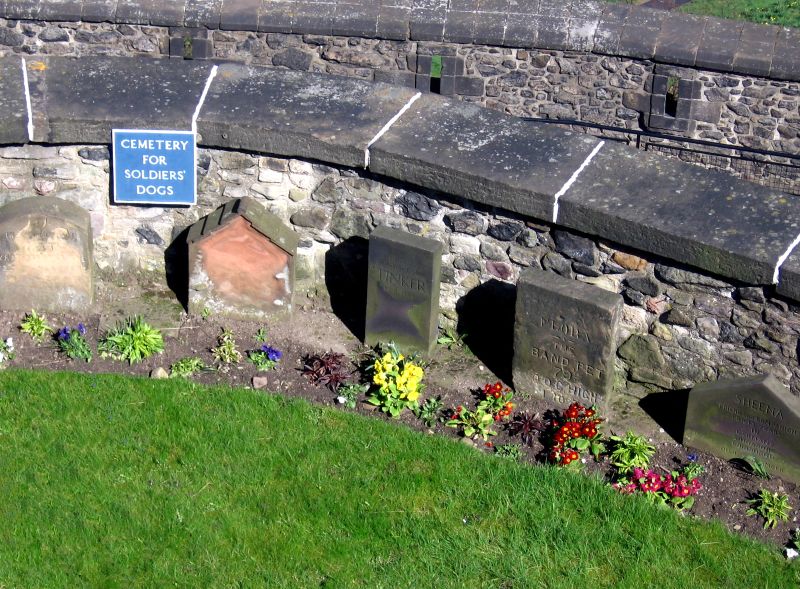 Since it was bitterly cold on the day of our visit – below freezing – we decided to retreat indoors at this point, and check out the National War Museum. Since I used to work for National Museums Scotland, which the War Museum is a part of, I actually know it quite well, but it was a first visit for the rest of the family.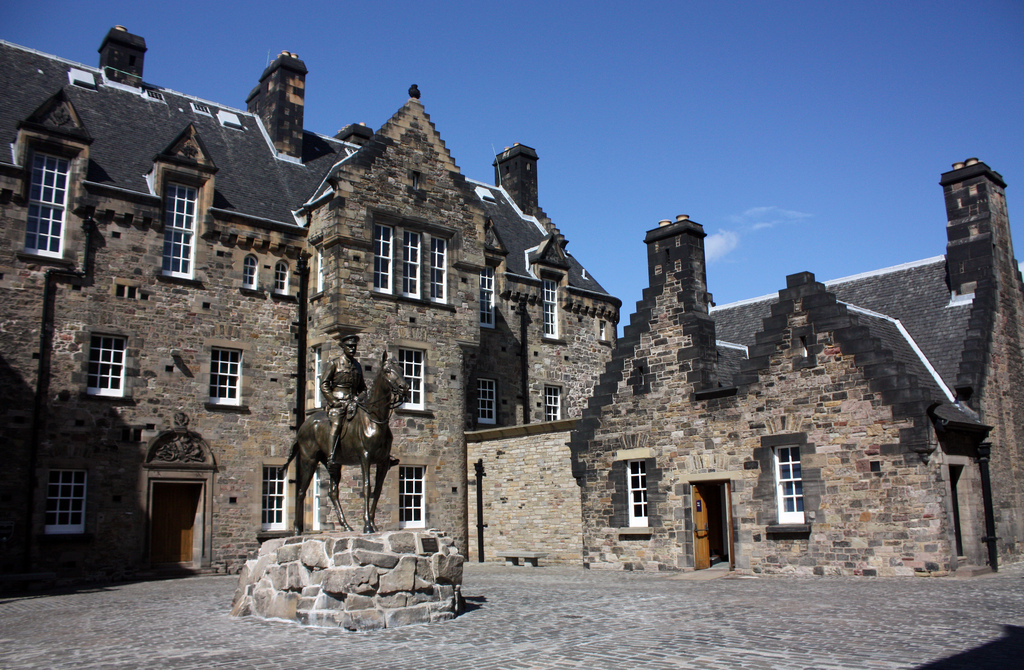 The National War Museum tells the story of Scotland's military history, through military artefacts and personal treasures. The boys particularly loved the military kilts (they are quite fond of wearing their own kilts), all the weapons, and of course Bob the dog. There are also two further museums located in the Castle – the Royal Scots Museum, and the Royal Scots Dragoon Guards Museum, but we didn't go to see either of them on this ocassion.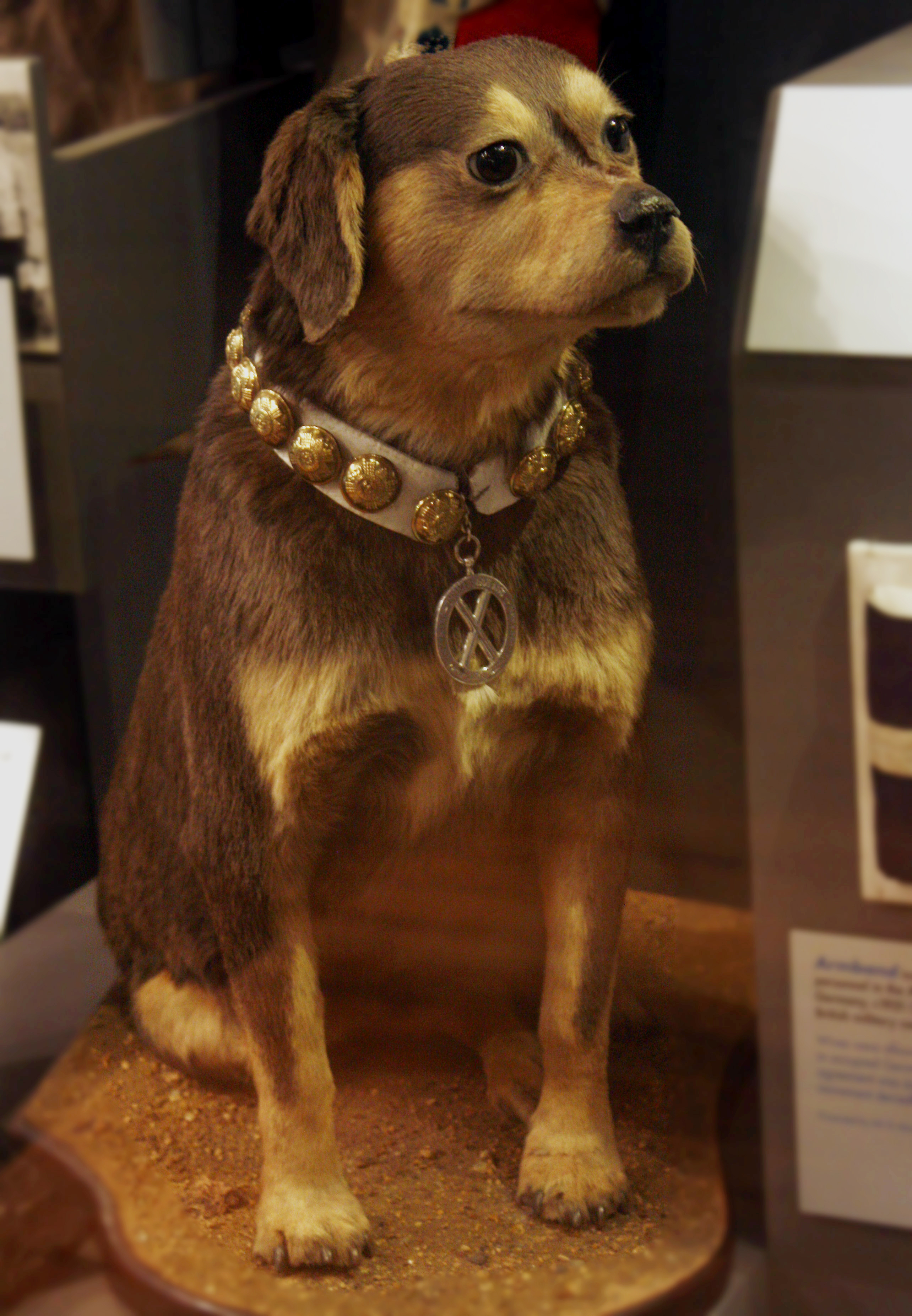 After about two hours in the Castle, we decided to call it a day as the boys were getting tired and still feeling a bit cold, and it was almost time for lunch. The Tea Rooms, and the Redcoat Cafe are two venues on site where you can get snacks, meals and drinks, but we opted to head home for lunch instead. So, after once last look at the stunning views over the city from the Argyle Battery on the north side of the Castle, we bade our farewells. There is still so much we haven't seen yet though – including the Great Hall, the Prisons of War exhibition, the Scottish National War Memorial, and the other two museums, that we will definitely be back. And next time we will try not to come on a Sunday, as that's the one day of the week the One o'clock Gun (Edinburgh's famous time keeper) does not get fired, which the boys are keen to see in action!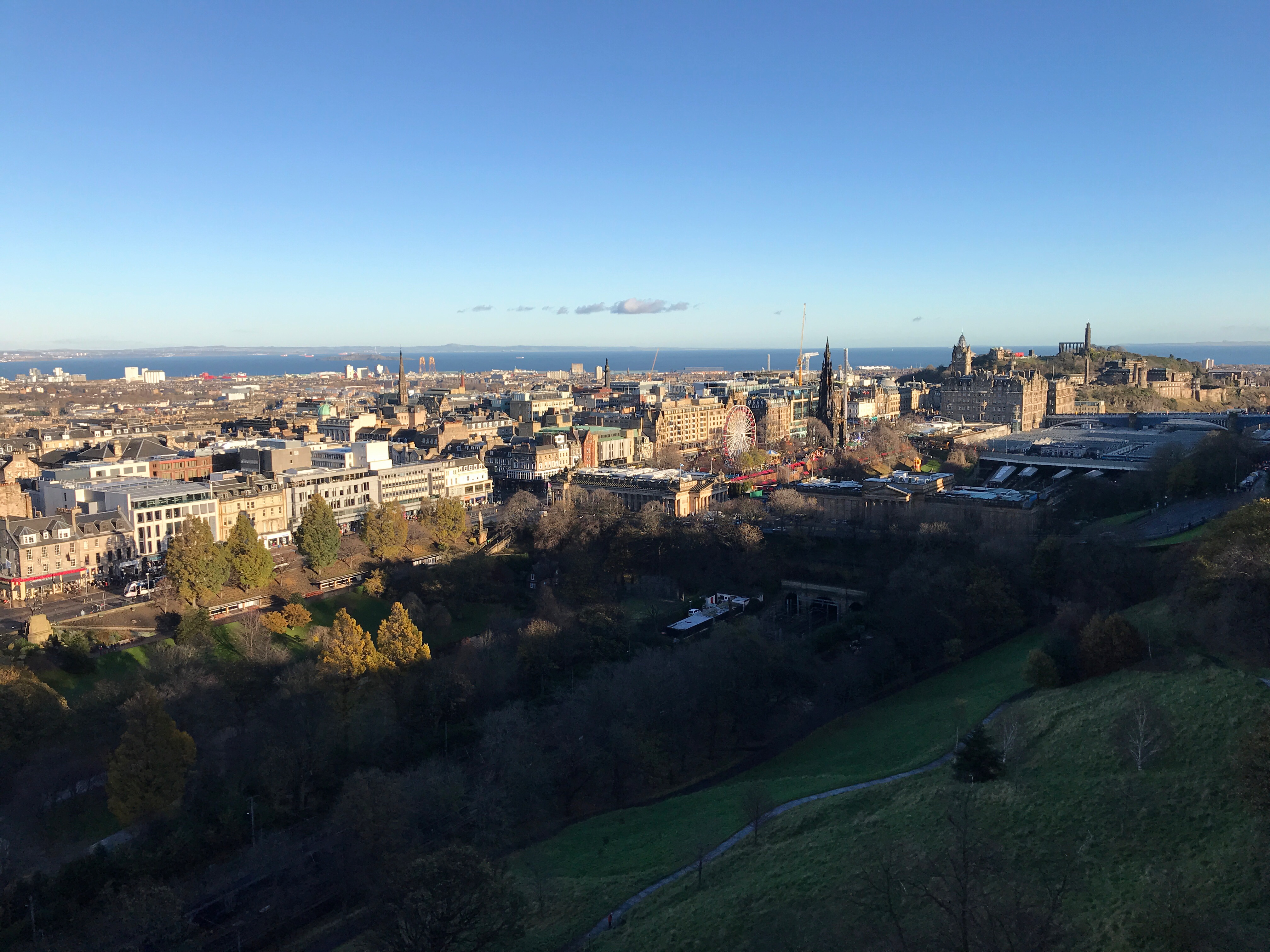 Overall, I think everyone enjoyed our visit to the Castle, and if it hadn't been so bitterly cold we would have stayed for longer. So if you want to make a day of it and see everything, then you would get quite a lot for your money. You can find all the info about admission times and prices on the Edinburgh Castle website, and they also offer a list of suggested itineraries, including one for families, which I found quite useful. And another thing I only discovered after our visit, is the Explorer Quiz for kids, which you can print out in advance or pick up at the Castle's audio guide booth. We will definitely be trying this out on our next visit!