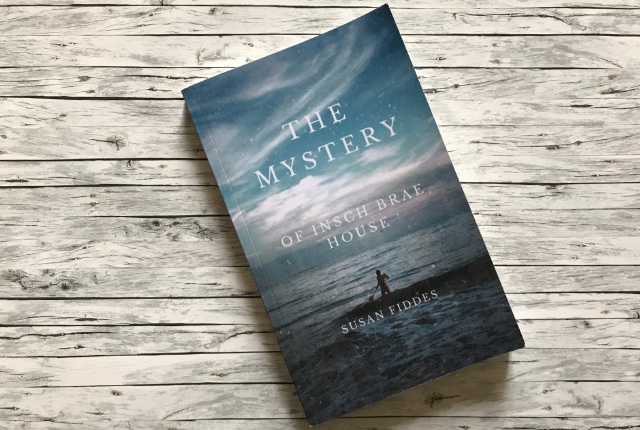 Chapter Book of the Month: The Mystery of Insch Brae House
It's been a while since we've done a chapter book of the month, but we were recently sent a book for review by a local Scottish author and Oskar loved it so much that he wanted to make a video about it.
The Mystery of Insch Brae House is the debut adventure children's novel by Scottish author Susan Fiddes. Here's Oskar to tell you what it's all about:
The Mystery of Insch Brae House contains strong contemporary themes around bravery, bullying, tenacity, honesty, respect, friendship, family and forgiveness – themes that all young readers and their parents can relate to. It's a perfect book for middle grade readers to read by themselves, or for grown ups to read to younger children. Oskar (who has just turned 10) started reading it by himself, but then his little brother – who turns 6 soon – wanted to hear the story too, so I took over and read it to both of them at bedtime over several nights.
Susan's professional background is in energy/commercial law. After having her two children,  and finding it virtually impossible to find a family friendly job without a long commute, she began doing some bits and pieces of freelance work, including as a columnist for Glasgow's Westender magazine. These days Susan is focusing on developing her various creative writing projects, as well as her part-time role on the board of directors at the Eastgate Theatre and Arts Centre in Peebles. Susan kindly agreed to let Oskar interview her, so I emailed her some questions that he had come up with.
Oskar: How did you come up with the idea for the book?
Susan: Growing up in Aberdeen and holidaying in North Berwick every summer means that the seaside has always been a huge source of fun and fascination for me. The storyline itself came to me about ten years ago when I was living (yes living) in a hotel in Edinburgh for three months as part of a work project.
It was a bitterly cold spring and, it would be fair to say that, the novelty of hotel room life wore off fairly quickly. One of the benefits was that I could visit North Berwick very easily as it was only half an hour on the train; and so it was whilst walking along the stormy seafront looking at the huge, imposing houses that have now been turned into expensive apartments, that got me thinking about how spooky and mysterious it might have been to have lived in one in the olden days.
Every night after that day, I would return to my hotel room from work, open my laptop and type for hours – it was an amazing creative vent during an otherwise fairly miserable time.
Why did you choose a seaside town for your story?
I love being by the sea. It isn't done so much these days but way back when foreign holidays were less common and pollution was so much worse in cities, my grandparents used to tell me about how people who had been unwell often used to go and stay for a period at the Scottish seaside to recuperate and get back on their feet.
The idea was that walks in the fresh air, sea water, vitamin D and, of course, the occasional ice cream (!) was the best medicine.
In fact, I read only recently that a study had been undertaken which concluded that those who live by the sea have happier lives and benefit from better mental health in general. I completely believe in these findings and always feel my shoulders dropping and relaxing as soon as I arrive at the seaside whatever the weather.
Is Moreland based on a real place in Scotland?
My main inspiration was North Berwick; however, just for the record…I think North Berwick High Street is way nicer than Moreland's!
Do you live in a seaside town?
I was born and grew up in Aberdeen, which is a large coastal industrial city in the North East of Scotland. Although it is very different to small town living, there are plenty of seaside towns to visit up and down the coast nearby, and so there are always plenty of ice cream shops on hand to get my fix!
These days, I am lucky enough to Iive in the gorgeous river town of Peebles, near Edinburgh, with my husband and two children. Funnily enough, North Berwick and Peebles have quite similar High Streets in terms of the range of fantastic small independent shops and cafes.
Have you ever explored any secret tunnels yourself?
The closest that I have probably come to tunnelling is visiting the former cold war "Secret Bunker" attraction near St Andrews. Being really deep underground wandering around in a huge decommissioned nuclear bunker is a slightly un-nerving feeling and so my characters, Muriel and Christopher were very daring and brave to explore the tunnels of Insch Brae…definitely not one to try at home!
Are you going to write any more books about Muriel's and Christopher's adventures?
The feedback I have been getting from my readers and their parents has been so amazing and I feel that there is definitely scope for them to have another adventure or two.
I'm working on a couple of other writing projects at the moment and so Muriel and Christopher are on my "to do" list for 2021. I already have a few ideas bubbling away in mind for them so watch this space!
I enjoyed reading the book as much as my boys, and we are all keeping our fingers crossed that Muriel and Christopher will make a reappearance. You should be able to order The Mystery of Insch Brae House from any local bookshop, or failing that it is also available on Amazon (Affiliate Link*). We think it would make an excellent stocking filler! You can also follow Susan on Facebook and YouTube for all her latest updates.
Find us on Twinkl's TBR list of best books and bookish bloggers! And check out our other Chapter Book of the Month recommendations too.
**********
Disclaimer: We were provided with a free copy of The Mystery of Insch Brae House, in return for an honest review. All opinions are out own. The Amazon link in this post is an affiliate link. This means if you buy anything via this link, I receive a small percentage – at no extra cost to you – which helps to keep this blog running. Thank you.