At this time of year, we've just finished mourning the passing of the colourful Autumn foliage, and are starting to deck our houses out in winter greenery and perhaps a few poinsettias to add a spot of colour. Spring and the thought of fresh buds and blossoms seems a long time off. That's why St Barbara's Day and its 'Barbara Zweige' (Engl: Barbara branches) is one of my favourite traditions in the German Advent season!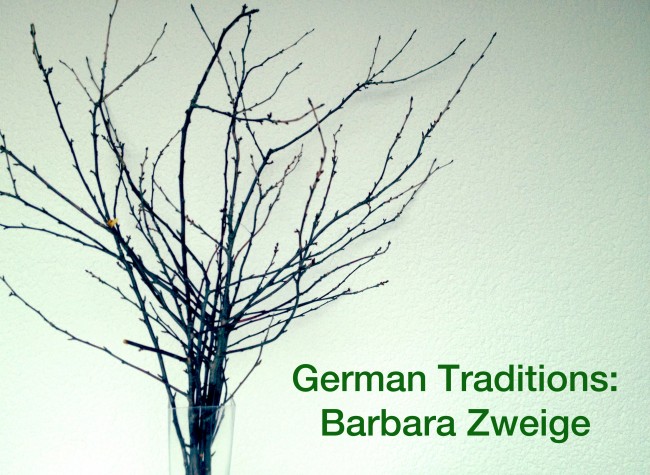 Who is St Barbara, you may ask? And you can be forgiven for not having heard much about her. Between St Martin and his colourful lantern processions in November, and St Nicholas and his gift bringing habits just a few days away, poor old St Barbara doesn't get as much of a mention, even though she is still celebrated in many regions of Germany today.
Barbara was the daughter of a rich merchant in Asia Minor, who died a martyr's death in the 4th century AD, allegedly beheaded by her own father after being cruelly tortured for refusing to renounce her Christian faith. On the 4th December, her feast day in the Western Christian church, people would go out and cut branches of cherry trees or other fruit trees, such as apple or plum, and stand them in vases of water in a warm place inside their home. If you don't happen to have an orchard or fruit tree near by you can cut, then these days you can also buy 'Barbara Zweige' in many florist shops. I usually get ours at at our local florist for around 2-3 Euros.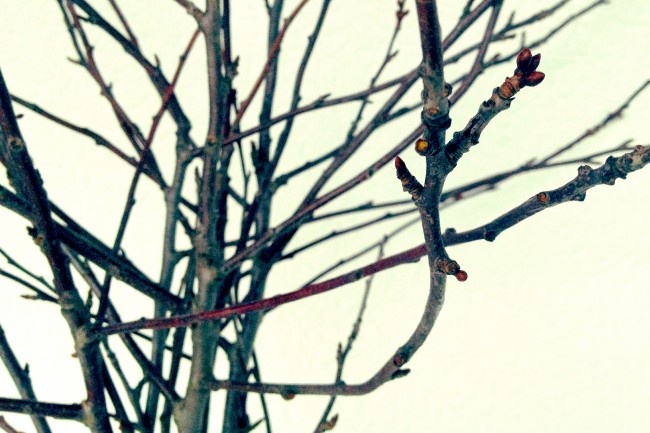 "A shoot will come up from the stump of Jesse; from the roots a branch will bear fruit". (Isaiah 11:1)
According to legend, Barbara's father shut her away in a tower, hoping that isolation would make his daughter see sense. On her way to her tower prison, she supposedly caught her robe on a branch. She broke off the branch and took it with her, standing it in a vessel full of water, where it blossomed exactly on the day she was later sentenced to death. It is thought to be a symbol of good luck for the next year if the buds on your 'Barbara Zweige' blossom by Christmas Eve. The blossoms are also a reminder of the prophecy from the biblical verse Isaiah 11:1 "A shoot will come up from the stump of Jesse; from the roots a branch will bear fruit". I think it is such a beautiful tradition. And so far we've always been lucky, and our branches have bloomed!