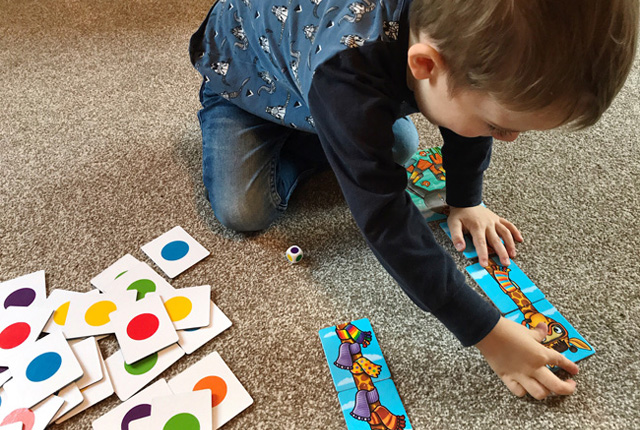 Review: Giraffes in Scarves Game [AD]
If you've been following my blog for a while, you'll know that as a family we love board games. A lot! We love them all year round, but no more than during the gloomy later Autumn and Winter months, the perfect time to cosy down at home over the weekend for a board game marathon. So we were very excited when we were sent another fun game from Orchard Toys to review.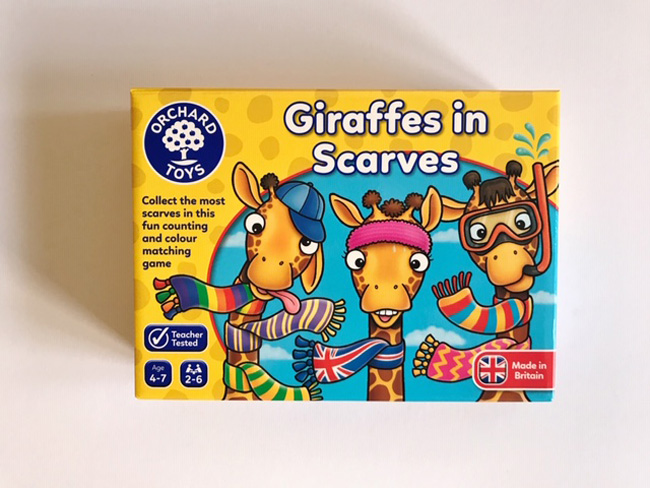 The name alone had my boys in giggles: Giraffes in Scarves! It is aimed at ages 4 to 7, so perfect for my younger boy who is just about to hit his 4 year milestone, but his big brother, who has just turned 8, with us too. And as it's suitable for up to six players, not only can all four of us play it together, but it means Granny can join too when she next visits!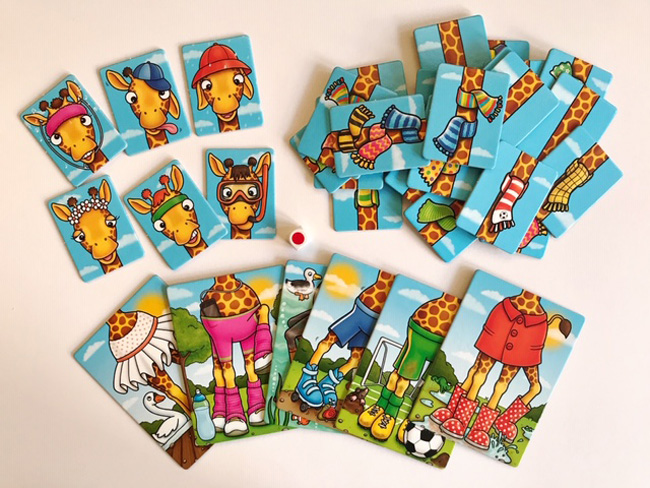 So what's in the box? There are 6 bodycards, 6 head cards, 24 neck cards, and one coloured die. And a set of instructions.The body and head cards all match up to six giraffe characters, including a football player, a ballet dancer and a diver. The cards are all nice and chunky, and of the robust quality we have come to know and love from Orchard Toys.
Before you start playing, each player chooses a body card and matching head (there's a reference guide in the instructions if you can't work it out), the remaining body and head cards are taken out of the game. Next, each player places their body card on front of them, and the matching head cards alongside all the neck cards – which all have coloured dots on the back – are placed face down in the middle of the table (or floor) and given a good shuffle.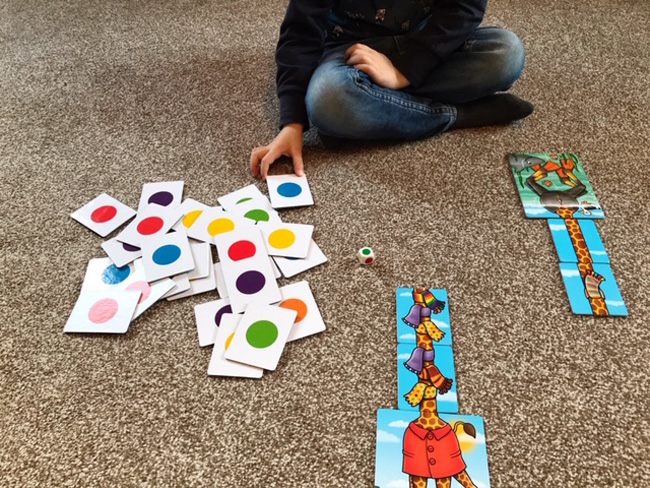 When it is your turn, you roll the die and turn over a card with the matching colour of dot on the back. If it's a neck card, you get to add it to your giraffe's body and the game passes on to the next player. If, however, you turn over a head card several things can happen: Depending on whether it's YOUR giraffe's head or someone else's, and whether you or they have already added some neck cards to the giraffe or not, the head card either gets added – and the giraffe is thereby finished – or the head card gets returned face down back to the middle. It may sound a bit complicated at first, but don't worry, it's actually fairly straight forward and after you've played a couple of rounds you'll easily remember without having to refer back to the instructions.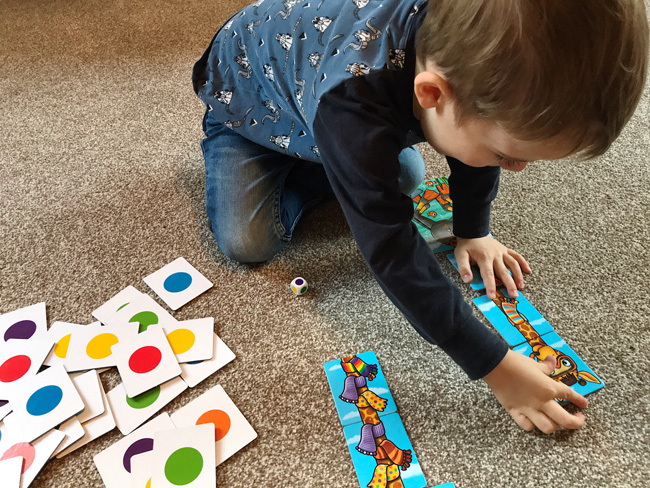 The game continues until all player's giraffes are finished. The winner is the player whose giraffe is wearing the most scarves at the end. Yes, that's right, it's the giraffes with the most scarves that wins NOT the giraffe with the longest neck. Since the neck cards all have anywhere between zero and three scarves, it means you can still win even if your giraffe's neck is shorter than the others. I really love this little twist on the game, as it makes it a lot more interesting.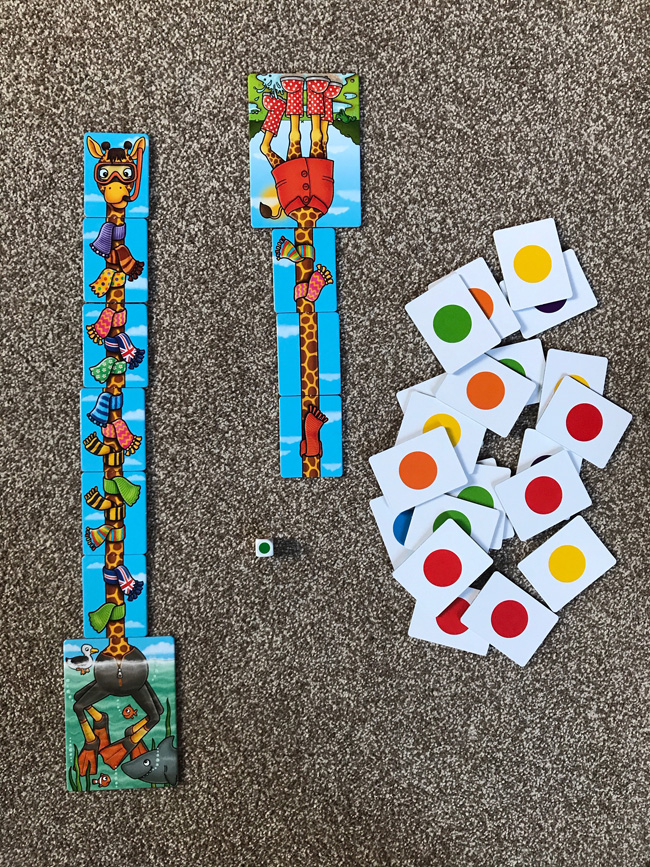 We've had this game for a few weeks now, and my boys really love it, especially my younger boy. The idea of giraffes wearing scarves never ceases to amuse him! Besides being fun, the game also reinforces colour matching skills and adding up the scarves at the end of course encourages his counting skills, both of which are great as he has just moved up in to the pre-school group at his nursery and is starting to prepare for starting school next year. If you're looking for a fun counting game that's a little bit silly as well as being educational at the same time, then you definitely can't go wrong with Giraffes in Scarves. It gets a big thumbs up from both mummy and the boys!
Giraffes in Scarves is available from the Orchard Toys website, and retails at £7.75
---
Disclosure: We received a free copy of Giraffes in Scarves from Orchard Toys, in return for an honest review. All images, words and opinions are our own.