Berlin's Long Night of Museums
I still need to tell you about Berlin's 'Lange Nacht der Museen' (Long Night of Museums) that Oskar and I attended last weekend! You may or may not know, that Berlin was where the whole 'long night of museums' idea started – museums all across the city open their doors all through the night, many of them putting on special events just for the occasion. And one ticket gets you in to all of them! It's been going since 1997, and I've attended quite a few since we moved to Berlin. Last year, Oskar accompanied me for the first time and we had a ball together, so this year he couldn't wait to join me again. I let Oskar choose which museums we should go to, and he chose three museums. In fact, he chose the same three museums as last year. But hey, it's all about having a good time and he clearly knows what he likes. Both years, these have actually turned out to be excellent choices, so if you're looking for tips, take note! And three seemed to be the right number for the evening with a kid that age too.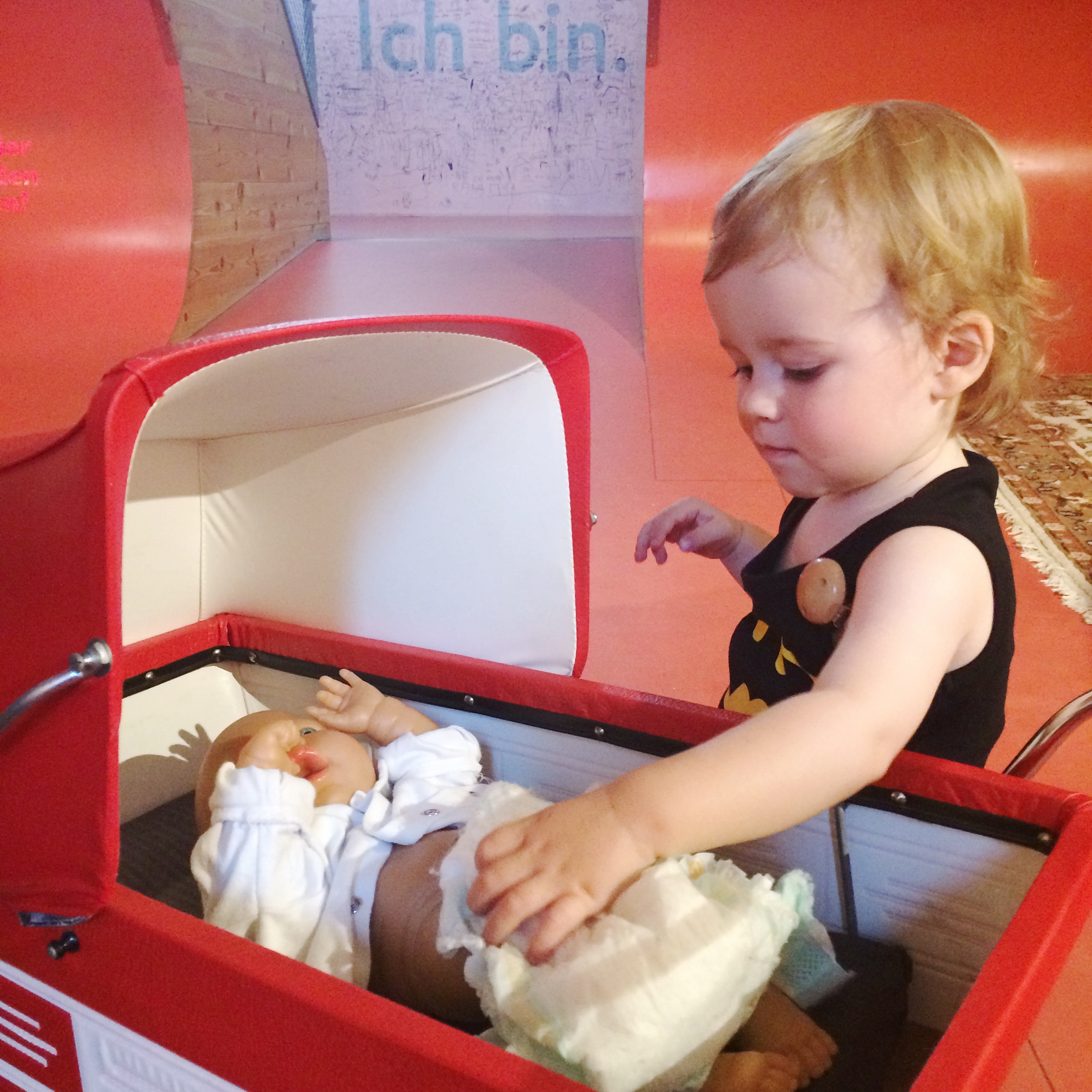 We actually started out the Lange Nacht der Museen with all four of us – after winning some free tickets at last minute, my husband and Mr Fox joined us on the first leg of our evening. The MACHmit! Museum for Children already started their programme at 3pm, three hours ahead of the official start, which gave us a good amount of time before the little one had to go home for his dinner and Oskar and I had to jump on the train to get to the other side of town in time for his 6pm choice.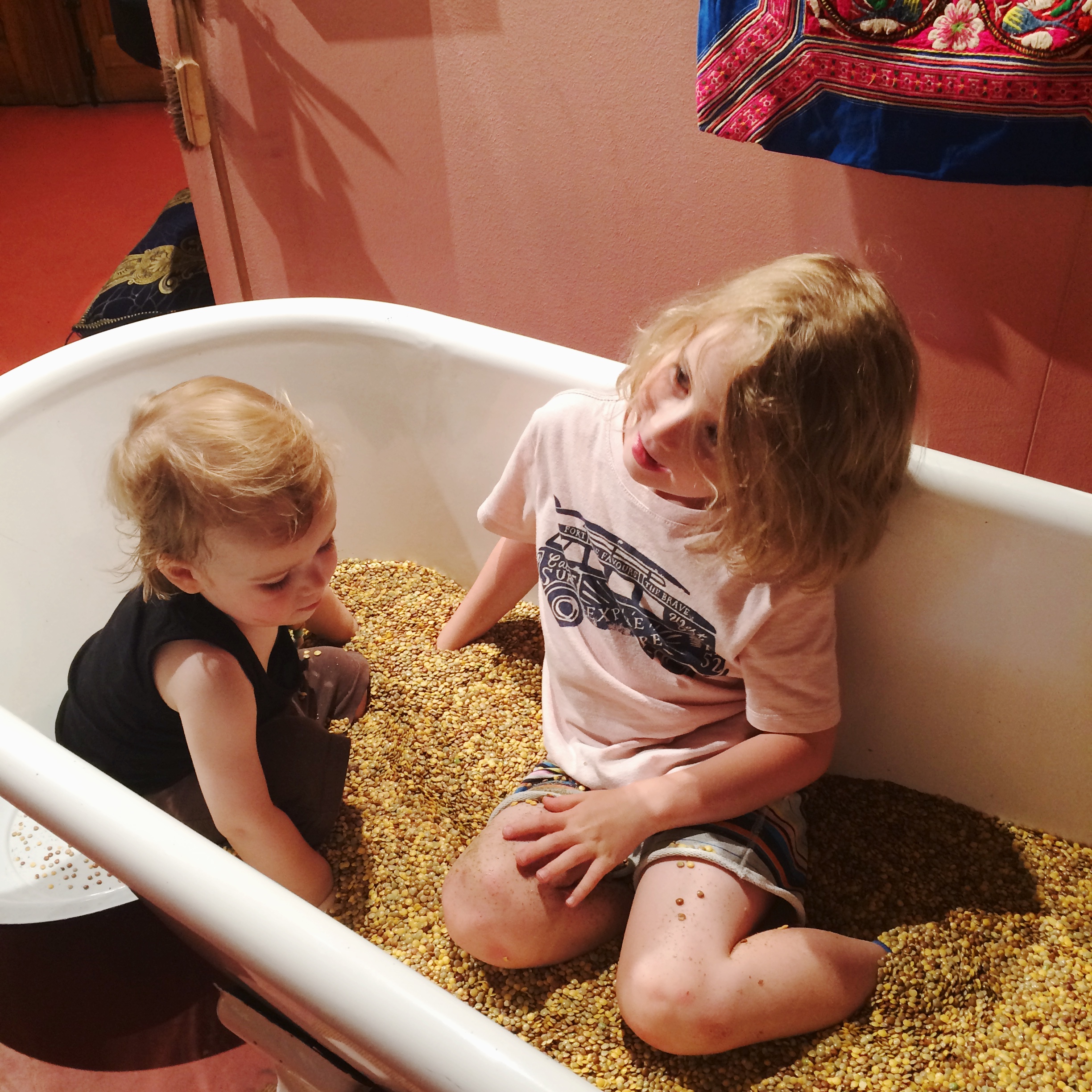 The MACHmit! Museum for Children's current exhibition is all about babies and birth rituals. Both boys had loads of fun dressing up, playing in a bath full of lentils, running through the mirror maze, and playing with the baby dolls. Mr Fox was very focused on giving all the baby dolls new nappies! And we had a round of ice lollies for everyone from the museum café, before it was time to move on. It was so great to have the whole family there for the start of the evening!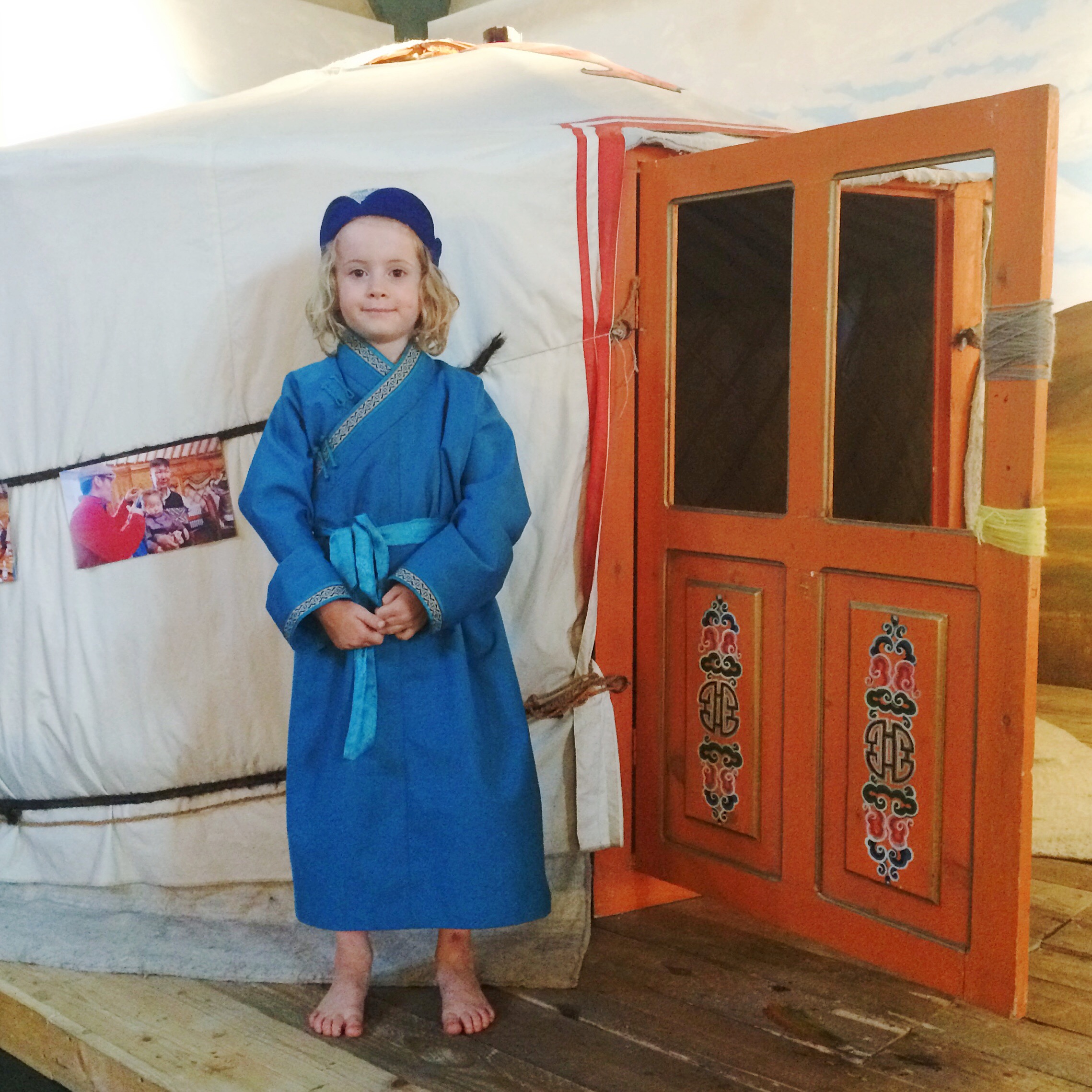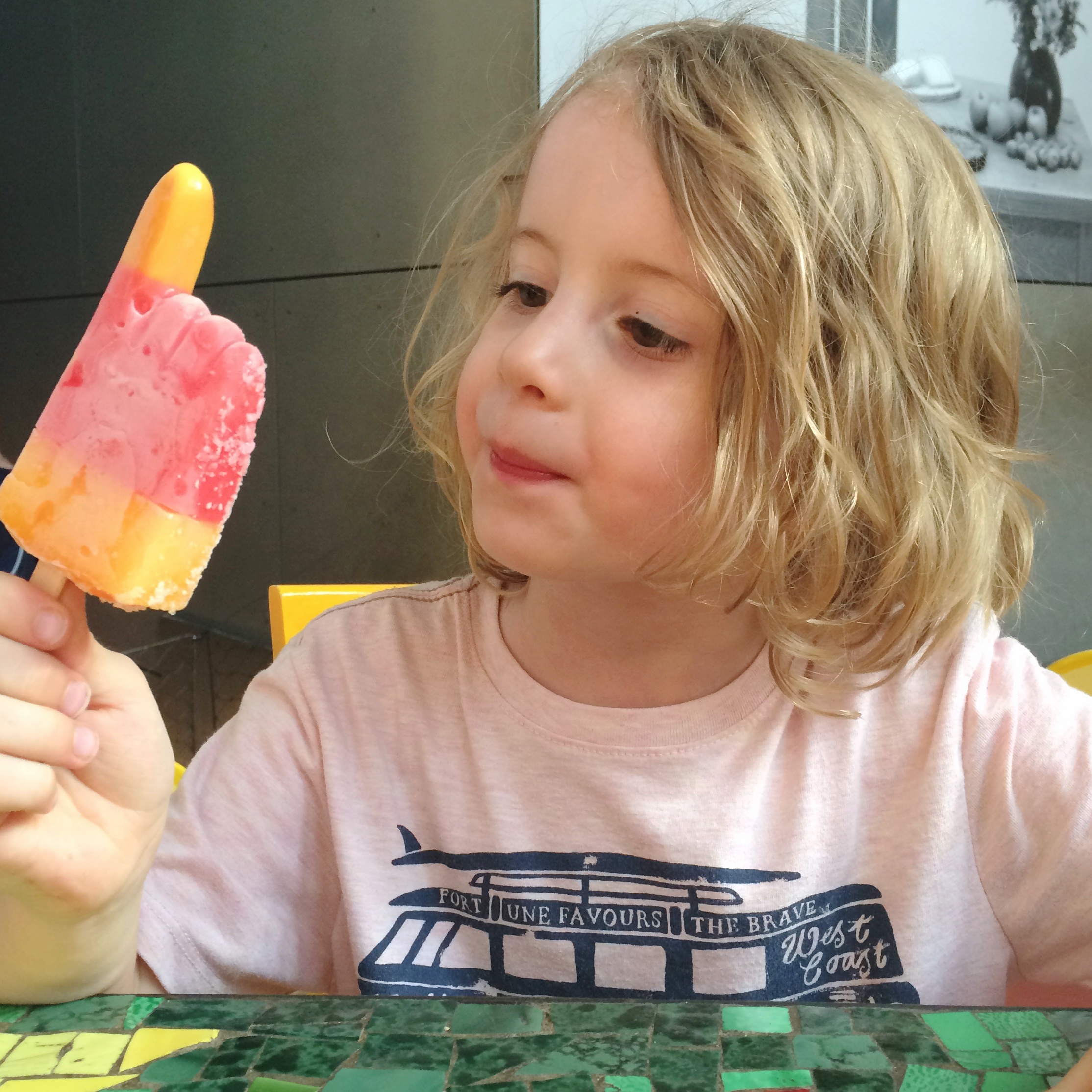 Once we had parted ways, Oskar and I took the train all the way out to Alt Treptow to the Archenhold Observatory, where building rockets was on the programme. Last year we arrived a little later, and it was totally crowded, so this year we planned to get there for 6pm sharp and this time we were one of the first families to grab a space at the rocket making tables. We actually made two rockets, so we could launch one each. This would turn out to be a good idea…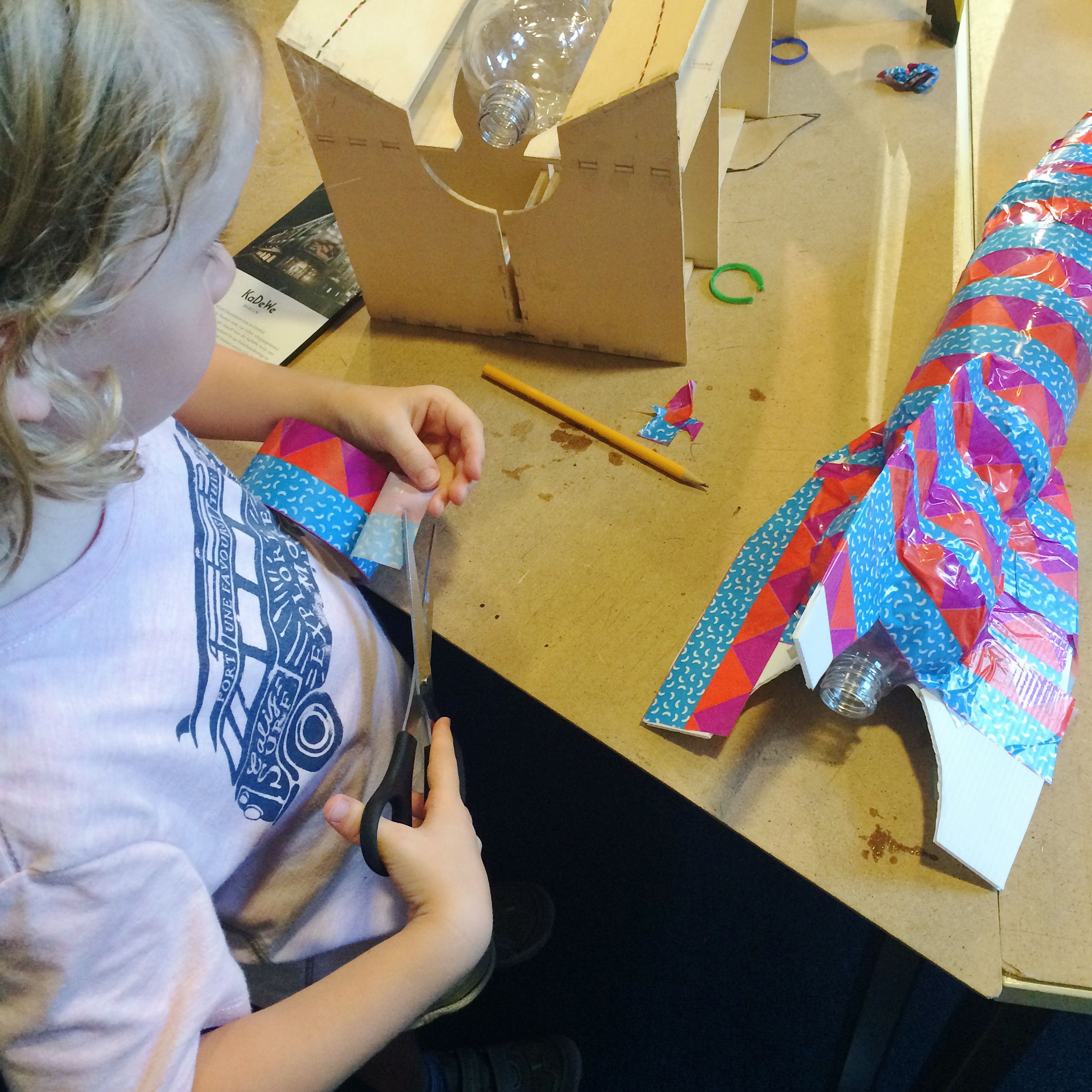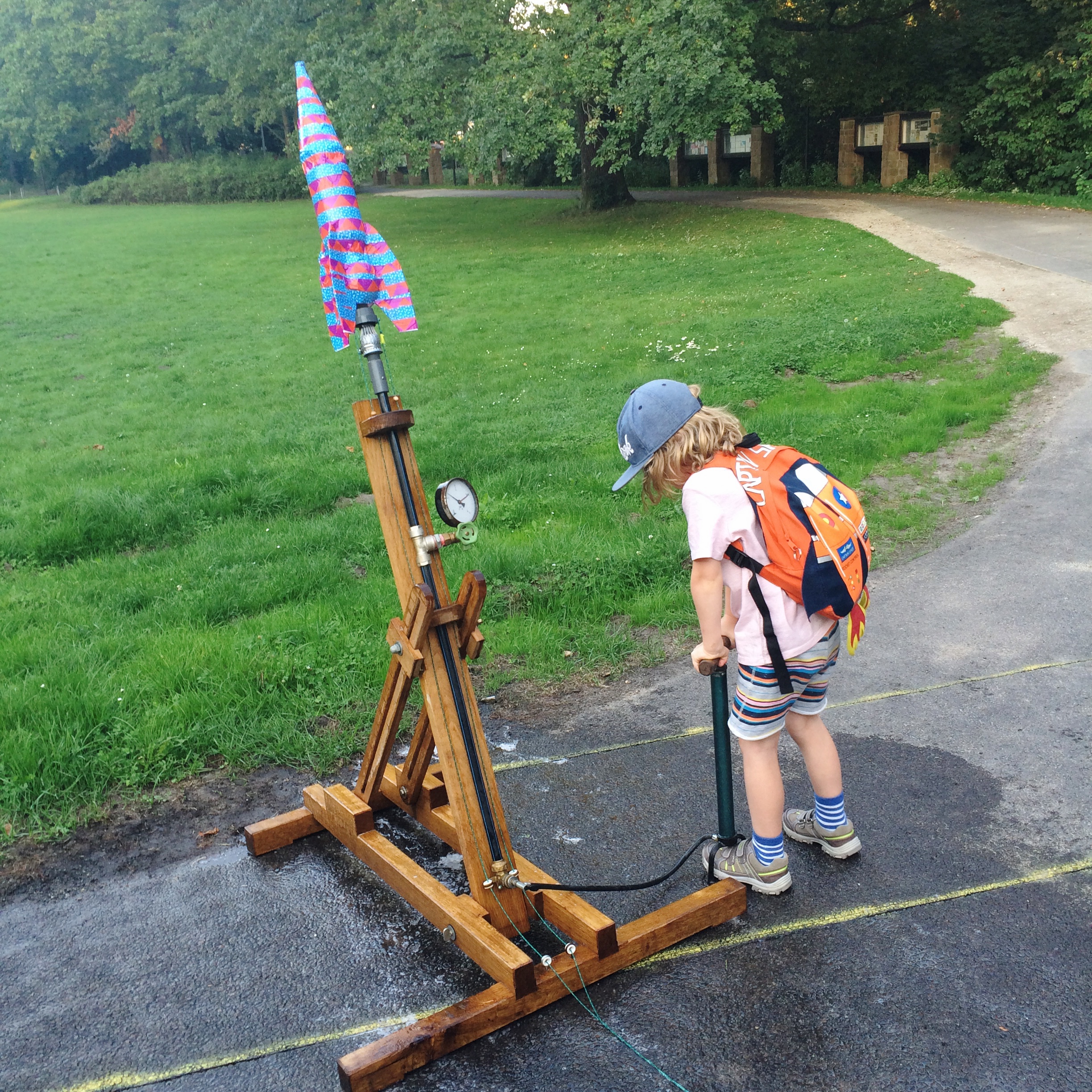 Here is Oskar setting up his water rocket for launch, in the amazing contraption built by one of the museum staff. So far, so good. What followed, marked the tragic low point of our evening. The rocket flew well. It flew very well indeed. It flew so well, that it landed in the highest tree imaginable – and didn't come back down again. Below, you can see the tree, and Oskar sitting next to it on a bench, for scale. A lot of tears flowed. I was not allowed to launch my rocket, for fear it too would get stuck in a tree and he would be left with no rocket to take home (thank goodness me made one each!) Furthermore, we had to go back to the craft room and recover *my* rocket in exactly the same tape he had chosen for *his* rocket. In the end, we compromised and I recovered the top half only, because the bottom half was a huge pain to cover in the first place. And so we had a rocket that was 'half mummy, half Oskar, which he seemed okay with. The whole thing set us back about half an hour. There is nothing as heart breaking as a five year old boy losing his hand made rocket up a tree. One of the museums staff gave him a free pen and postcard though, to cheer him up, which I thought was a really lovely thing to do. Thank you!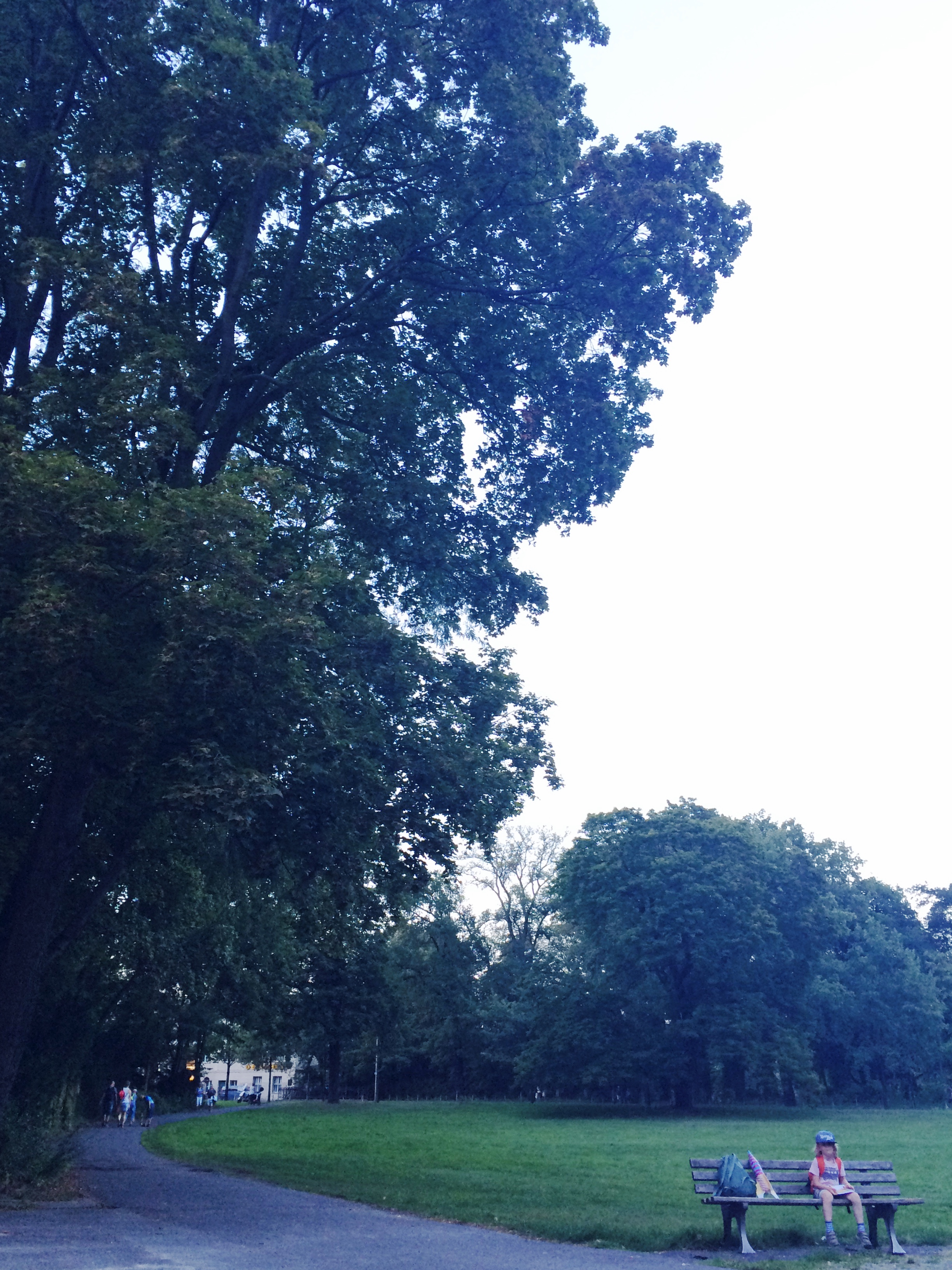 So, after eating our sandwiches, which we had packed for dinner, on the bench under the scene of the crime, we headed back in to town, to the Museum für Kommunikation (Engl: Communition Museum).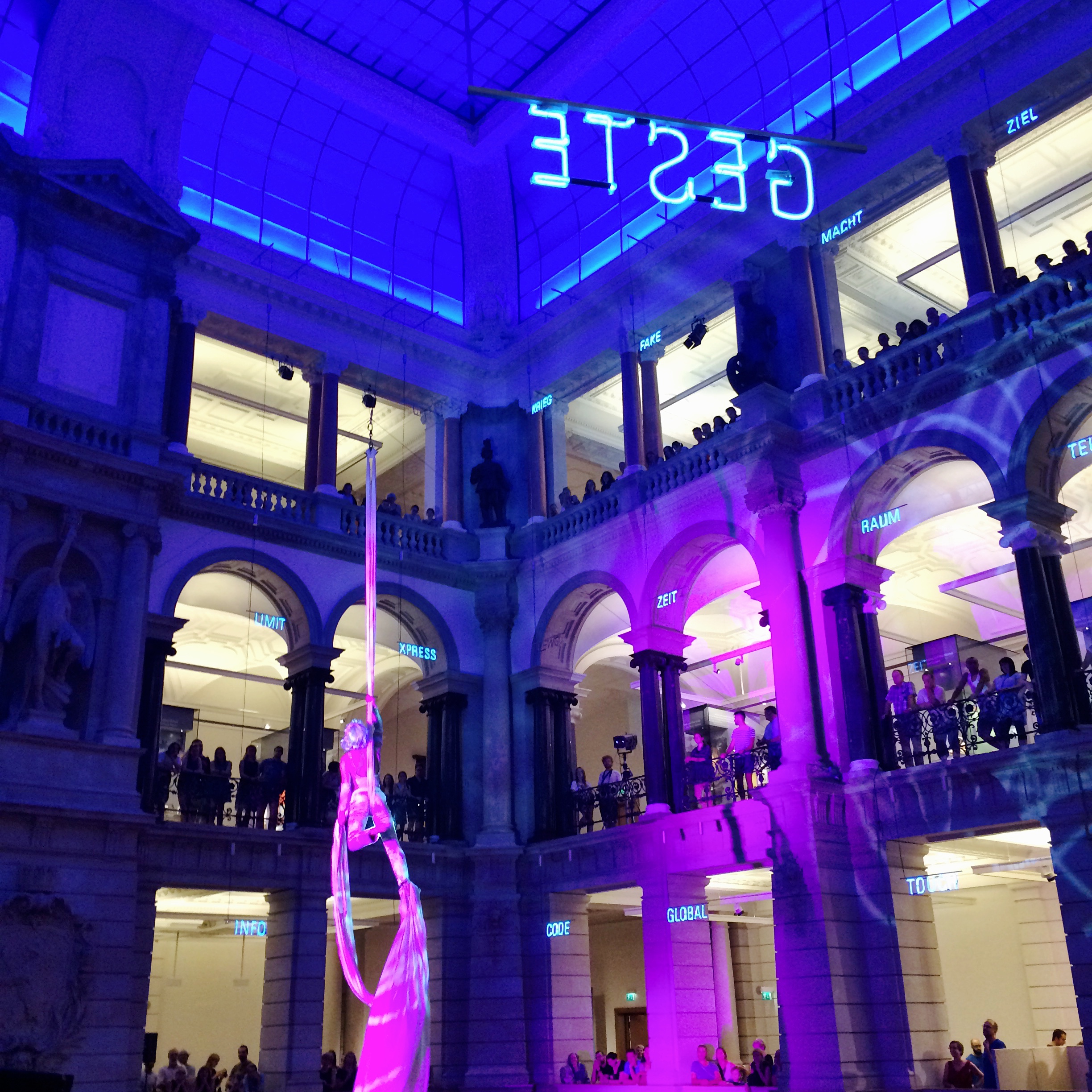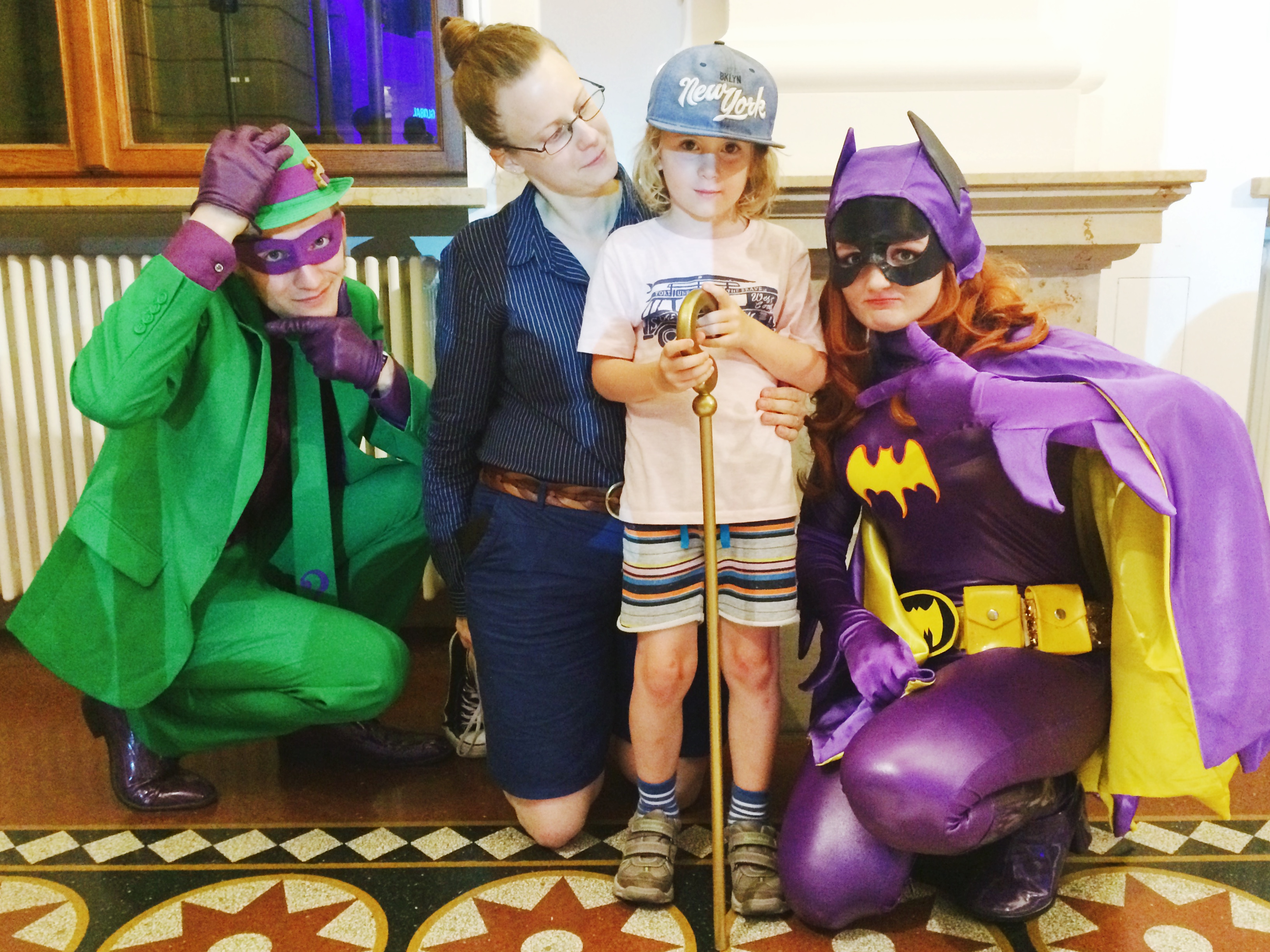 The theme for the night was superheroes, and we got off to a good start when we bumped in to Bat Girl and The Riddler – we posed for photos, and in return for tweeting our picture we could even then pick up two free tickets from the info counter, for a future visit. Nice!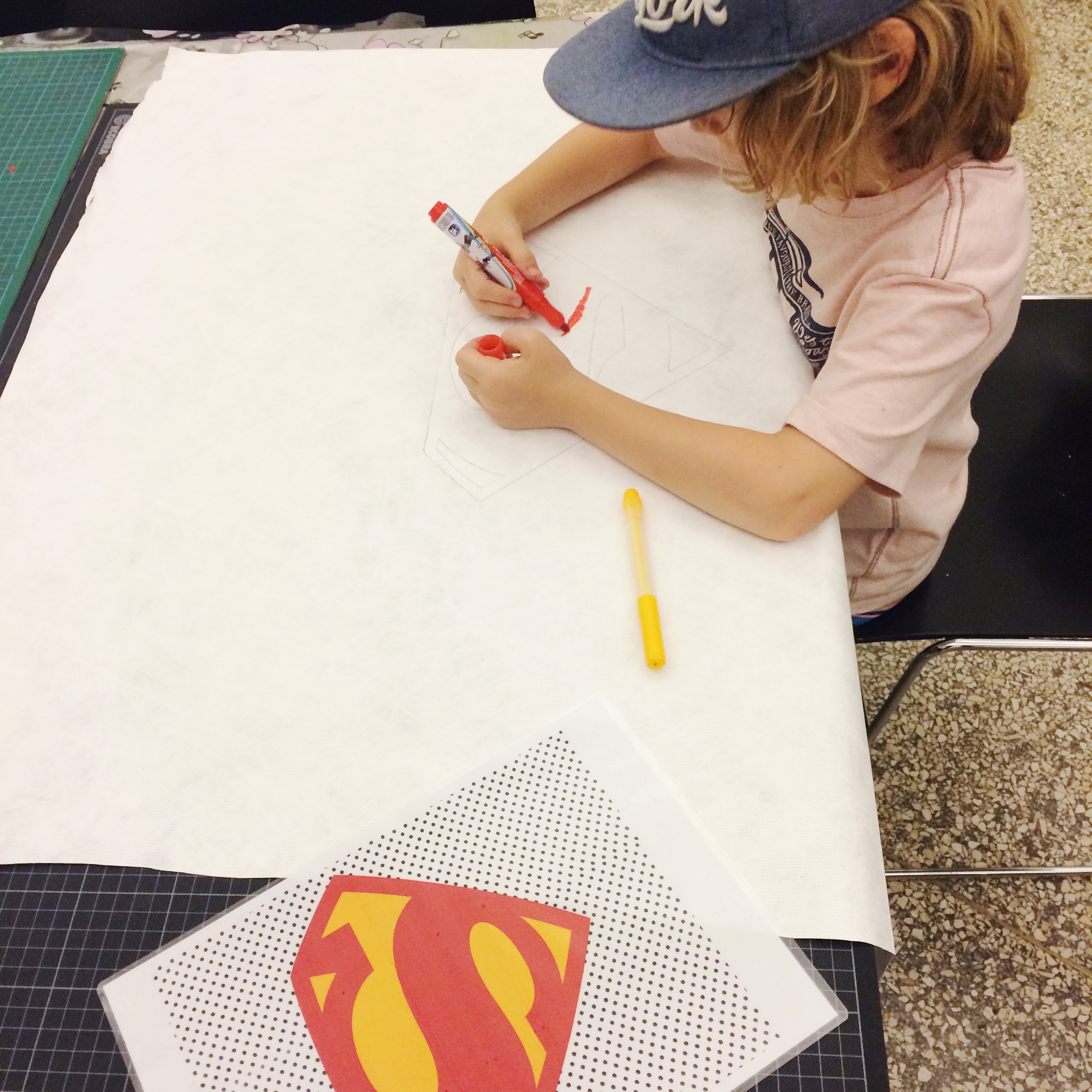 Then Oskar made his own superhero costume. He chose Superman's S logo, but then later added the name 'Super Car' (his superhero name) to the cape. That boy is such a motorhead! Clad in his new costume, we headed up to the top floor where he expertly worked his way around the 'superhero parcours', passing tests in smelling, feeling, agility, strength, and some others too. I loved the little scene they had set up for the 'flying' test, with a stool for parents to climb on and take a photo from above. I've always wanted to do something like that, but never gotten round to setting it up. Though I think my favourite photo of the whole evening, is the three way photo of 'Super Car' in the museum lift!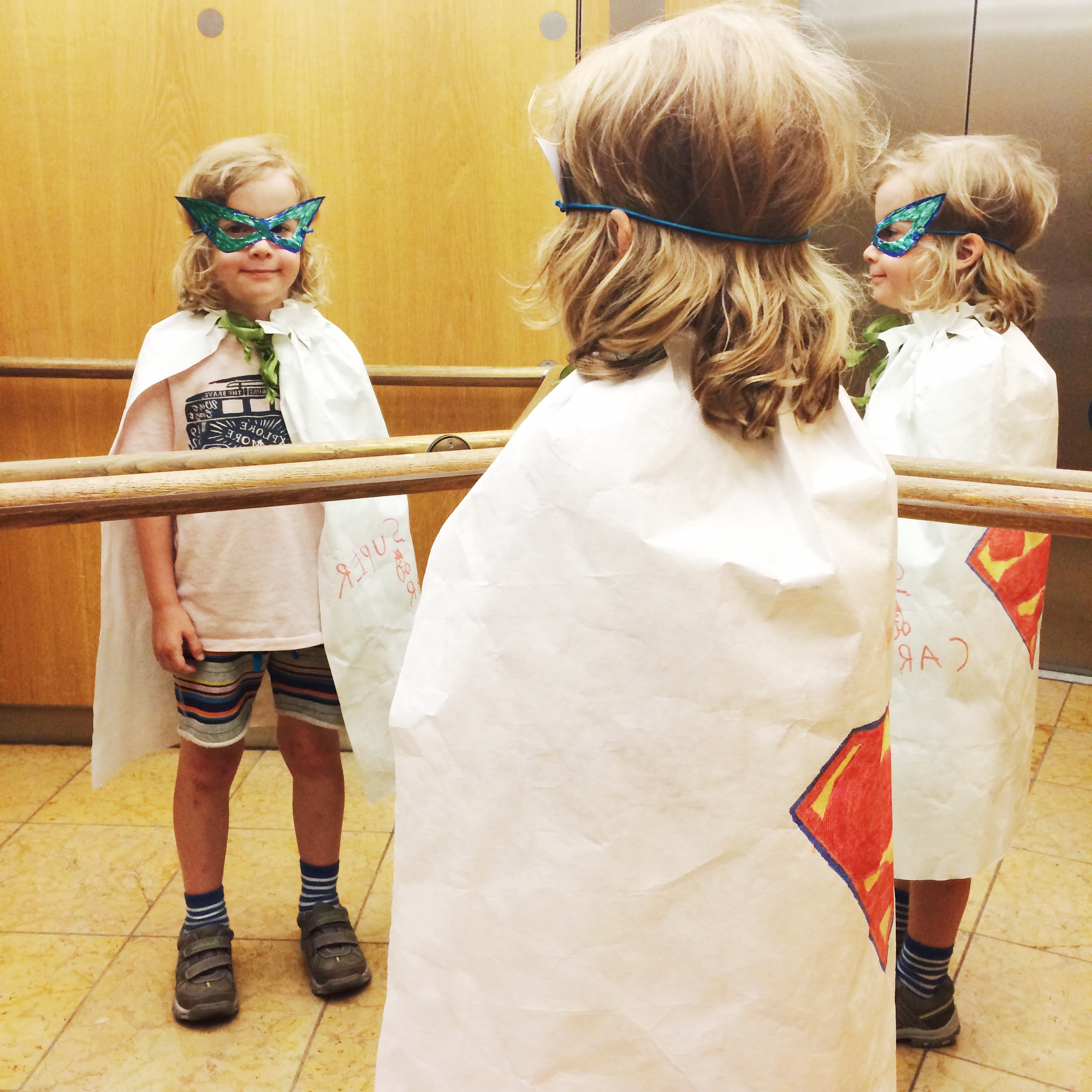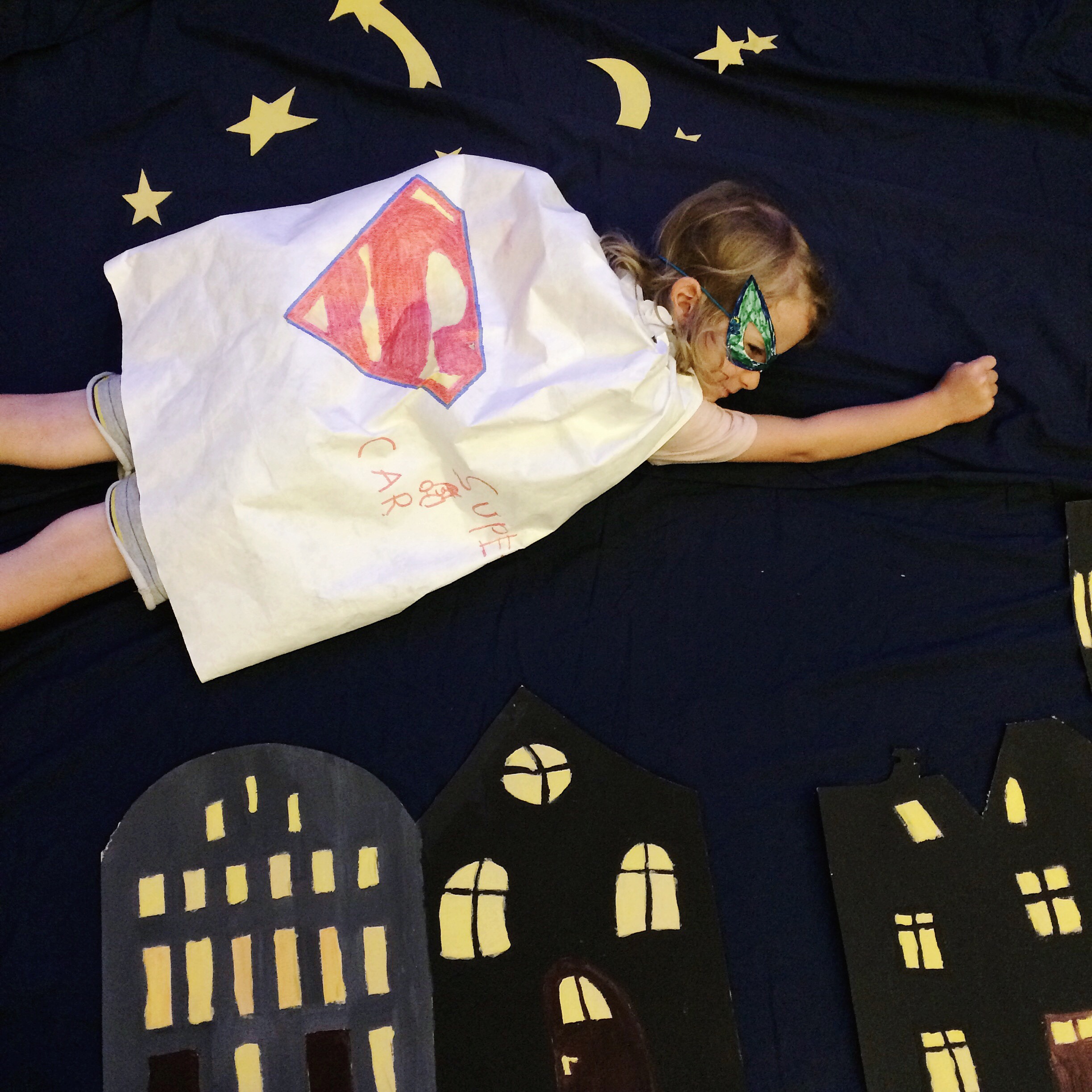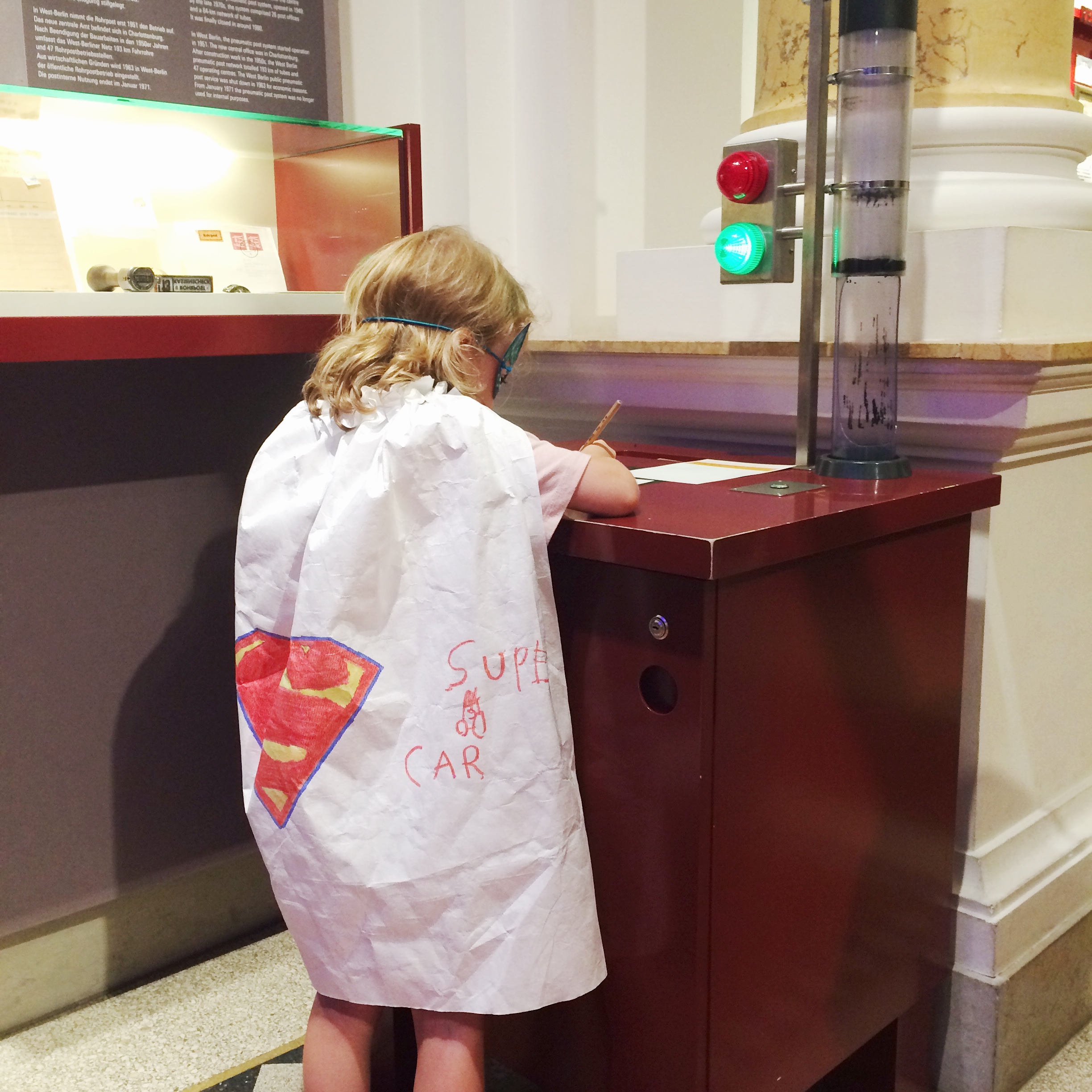 I think Oskar – sorry, 'Super Car' – would have stayed at the museum all night if I'd let him. Despite much yawning, he protested he was not tired. But I could tell my little museum geek was on his last legs, and since we had both a picnic and a birthday party to go to the next day, I convinced him – as we were approaching 11pm – that maybe it was time to go home. But not before sending a couple of messages back and forth via the pneumatic mail system at the museum, a favourite with kids.
And here's the final photo of the night – Oskar/'Super Car' on the train home, clutching his beloved, modified rocket. Despite the tears in the middle, we had a really lovely evening. If you are ever visiting Berlin when there is a 'Lange Nacht der Museeen' happening, it's definitely an experience I would recommend taking your kids to! They have a website, which includes information in English, so you can check it out for up to date details.