Coconut & Chocolate Cream Cake (GF)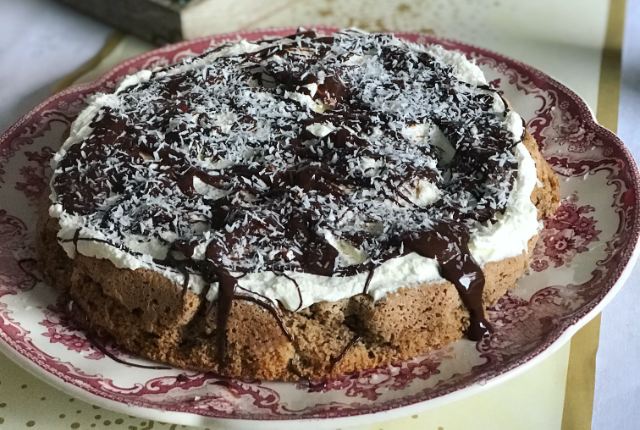 Author:
Jenni Fuchs | The Bear & The Fox
3 eggs
120g light brown sugar
2 tsp vanilla essence
200g ground almonds
1 tsp GF baking powder
1 tsp ground cinnamon
400ml double cream
100g dark chocolate
1-2 Tbsp desiccated coconut
First you need to make the base and leave it to cool:
Preheat your oven to 200 C (or 180 C for a fan oven).
Separate the eggs, whisk the egg whites to stiff peaks and set aside.
Add the egg yolks, sugar and 1 tsp of vanilla essence to a separate bowl and whisk for 5 minutes until pale and creamy.
Next, mix in the ground almonds, baking powder and ground cinnamon. If the mixture seems too dry, add 2-4 Tbsp water.
Fold the whisked egg whites in to the mixture, being careful not to over mix.
Grease and line a round springform cake tin (ca. 26cm diameter), pour in the mixture and spread out evenly.  Bake in the pre-heated oven for 20 minutes, then leave to cool.
Once the base has cooled:
Melt the chocolate in a bowl over a simmering pan of water, then leave to cool for ten minutes.
Combine the double cream with the other tsp of vanilla essence, and whisk in to stiff peaks.
Spread the whipped cream over the cooled down base, and drizzle over the melted chocolate.
Scatter over the coconut before the chocolate starts to set.
Recipe by
The Bear & The Fox
at https://www.thebearandthefox.com/2020/05/coconut-chocolate-cream-cake-gf/