Apple & Cinnamon Pancakes (GF)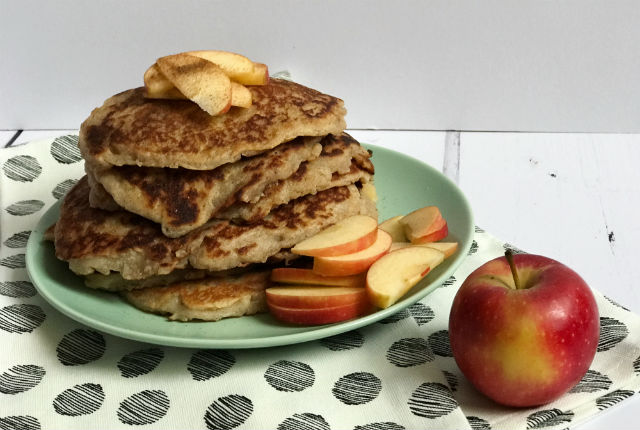 Author:
Jenni Fuchs | The Bear & The Fox
200g gluten free plain flour
2 heaped table spoons shredded psyllium husks
4 heaped teaspoons gluten free baking powder
1 teaspoon salt
1 heaped teaspoon ground cinnamon
2 eggs
300ml milk
100ml vegetable oil (plus extra for the pan)
2 tablespoons runny honey
2 small Gala apples (plus extra to serve)
Peel, core and grate the apples and set aside.
Mix the flour, psyllium husks, baking powder, salt and cinnamon in a bowl.
In another bowl, whisk the eggs and mix with the milk, vegetable oil and honey.
Pour the wet ingredients in to the dry ingredients and mix well until combined. I used a hand held whisk for this.
Once you have a smooth batter, mix in the grated apples.
Heat a little oil in a large frying pan over a medium heat - too high and the pancakes will start to burn before they are cooked through.
Spoon two to three small pools of batter in to your pan. They will try to run in to each other, but as long as the batter hasn't fully set you can push it back with a spatula to separate them. You can see in the photo above how mine ended up. It that seems like too much faff, you could also just make one large pancake but then I'd recommend using a smaller pan as gluten free pancakes are hard to flip without breaking if they are too big.
Once the batter starts to bubble and set on top, it's time to carefully flip your pancakes to cook the other side. It should take about 2-3 minutes for each side.
Serve with extra slices of apple. You can also drizzle more honey on top if you like, but we found the pancakes sweet enough as they were.
Recipe by
The Bear & The Fox
at https://www.thebearandthefox.com/2020/02/apple-cinnamon-pancakes-gf/