Apricot & Blueberry Semolina Cake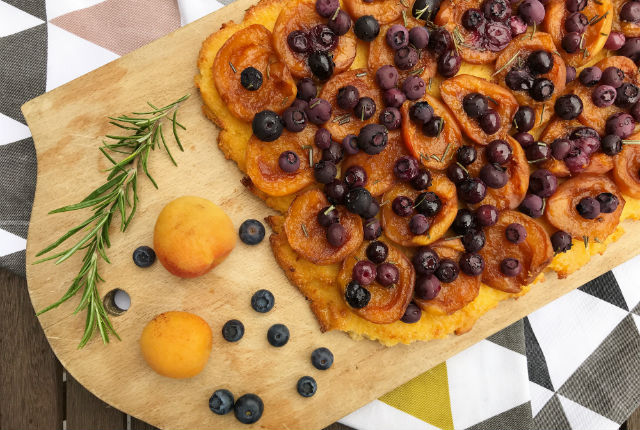 Author:
Jenni Fuchs | The Bear & The Fox
700ml almond milk
a pinch of salt
a grating of fresh nutmeg or a pinch of ground nutmeg
150g quick cook polenta
25g melted butter (unsalted)
2 Tbsp runny honey + extra to drizzle
50 g ground almonds
1 Tbsp vegetable oil
12 large apricots (or around 18-20 small apricots)
100g blueberries*
a sprig of rosemary, leaves picked
*you can use frozen blueberries if you let them defrost in advance
Preheat your oven to 180 C (fan oven 160 C).
Line a baking tray with grease proof paper.
Gently bring the milk to boil in a saucepan, being careful not to let it boil over.
Add the polenta, salt and nutmeg and whisk well. Continue whisking and cooking until the semolina starts to thicken.
Whisk in the butter, honey and ground almonds until well combined.
Pour the mixture on to your prepared baking sheet, shaping it in to a rectangle (ca 20cm x 30cm).
Bake in the oven for 25-30 mins until lightly golden.
While your semolina base is baking, prepare your apricots. Cut the apricots in half and remove the stones, then fry them for around 3-5 minutes in a pan with a little vegetable oil until starting to soften.
Once your base is ready, remove from the oven and increase the oven temperature to 200 C (fan oven 180 C).
arrange the apricot halves on top and scatter the blueberries in between.
Drizzle with the extra honey and sprinkle the rosemary leaves on top.
Return everything to the oven for another 10 minutes.
Leave to cool before serving. This tastes really yummy served with Greek yoghurt or mascarpone.
Recipe by
The Bear & The Fox
at https://www.thebearandthefox.com/2019/09/apricot-blueberry-semolina-cake-gf/