Happy Burns Night, everyone! So, I had this great blog post planned for this year's Burns Night*. I was going to do some more hand lettering and create some printables for you guys, to use for your Burns Supper. And maybe put together a new playlist. Oh, I had so many ideas. But the best laid plans of mice and men, and all that. The Winter has not been kind to us so far, and Mr Fox is currently on his second bout of bronchitis. So I spent most of the weekend trying to help him breathe, instead of finishing up my hand lettering and song selecting. So you'll just have to make do with some links to remind you of the great Burns Night posts from previous years ;) Maybe once everyone has stopped being ill, we'll throw a Scottish party just for the hell of it! Without further ado, these are my Burns Night essentials: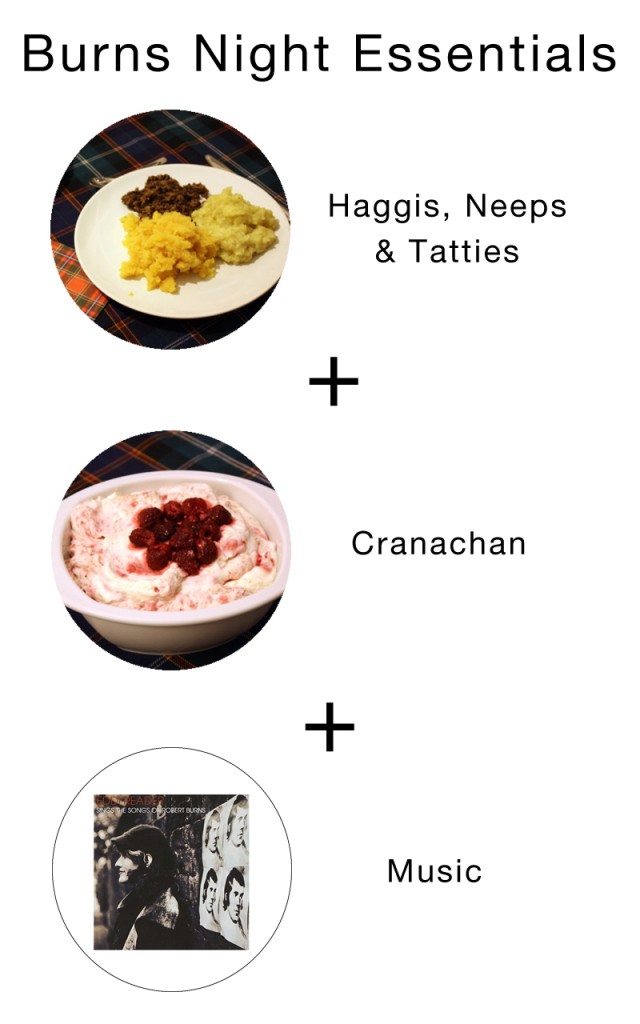 Haggis, Neeps & Tatties – Not much to say here. These are the main players of the evening! Get yourself some haggis, eat it. Simple. Or not, depending where you live. If you can get your hands on some Macsween's, well, you lucky devil! Alternatively, the tinned version from Grant's isn't too bad. We stock pile it every time we go to Scotland. It's what we've been living off here in Berlin for the past four years.
Cranachan – Hey, every good celebration deserves a tasty dessert, and Cranachan is up there with the best of them. Fluffy mounds of whipped cream, golden toasted oatmeal, sweet honey, juicy raspberries, and a wee cheeky drop of whisky, or two. What's not to like?
>> recipe
Music – It's Burns Night, so obviously you'll want to throw some of the bard's own tunes. I can highly recommend Eddi Reader's excellent 'Songs of Robert Burns'. One of my favourite Scottish albums. Or, if you'd prefer a mix of artists, check out my 'Burns Night Reel' playlist!
>> playlist
---
* For anyone yet unfamiliar with Burns Night, Robert Burns is considered Scotland's national bard. He was born on 25th January 1759, so on this day Scots around the world celebrate his life and works.