After sharing Mr Fox's nursery space a while back, a couple of you asked whether I would give a wee tour of The Boy's room too. We gave it a 'mini makeover' when Mr Fox was born, so that the baby wasn't the only one getting a new room, so I have a few before & after photos to share.
BEFORE: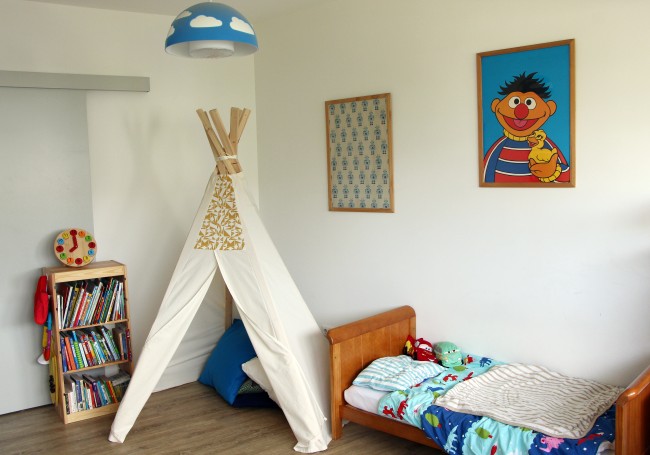 AFTER: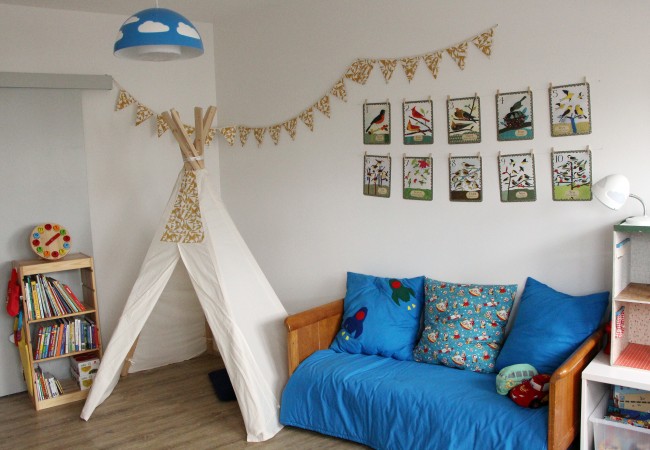 I exchanged the frames on the wall (some robot wrapping paper and an old Ernie poster my friends gave me for my 18th birthday), for a set of bird number cards. We had seen these in the holiday apartment we stayed at during our family holiday in Copenhagen, and The Boy couldn't stop talking about them so I was really happy to track them down. The teepee was a DIY Christmas gift a couple of years ago, and I sewed some bunting from matching fabric. Finally, we used to keep the cushions in the teepee, as the idea was to have it as a reading tent, but it never really worked, so now we use them to turn his bed in to a sofa during the day and he loves it.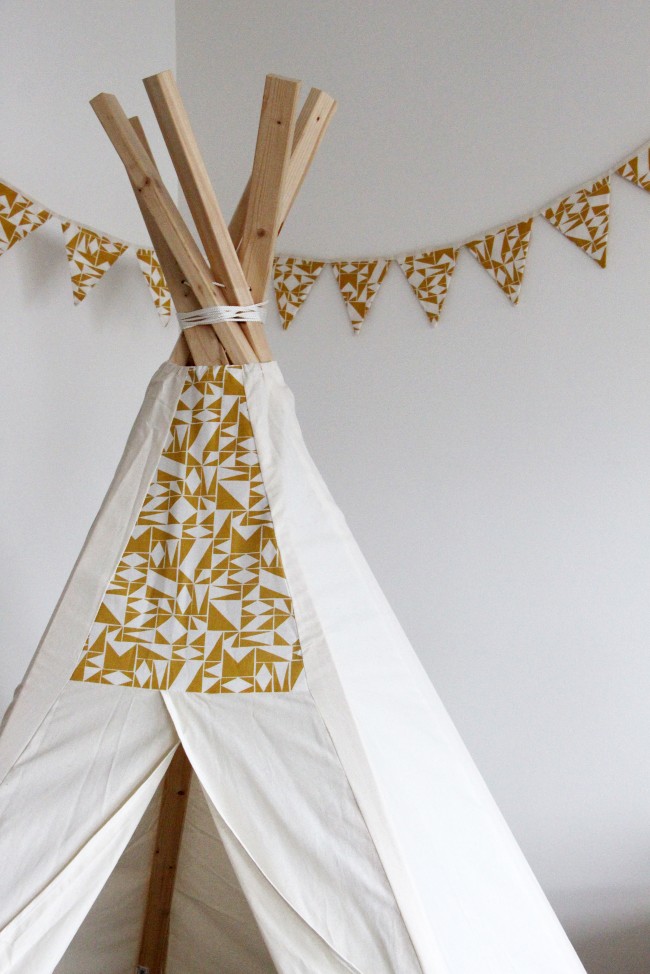 BEFORE: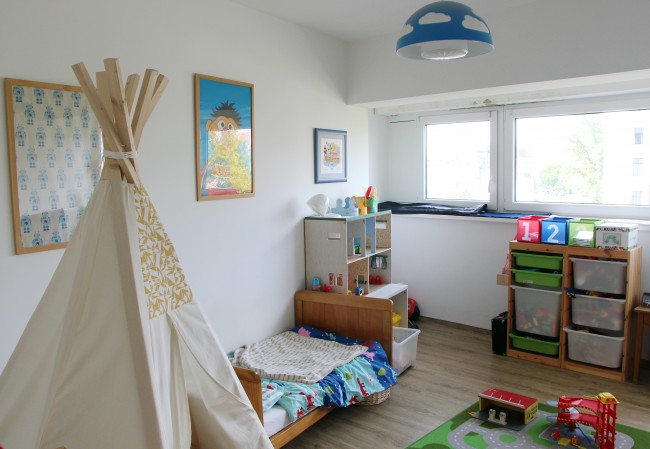 AFTER: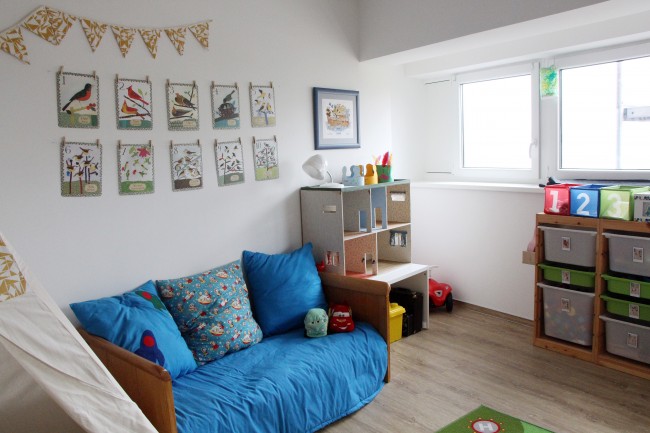 The same thing again, but from a different angle and much tidier in the second photo :) You can also see my old dollhouse in these photos, which is currently inhabited by Lego figures.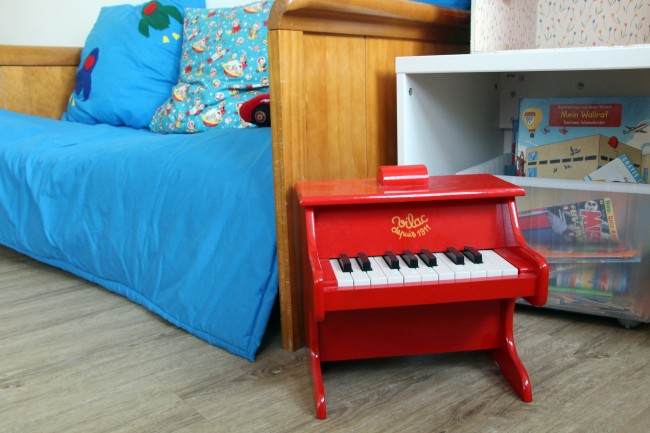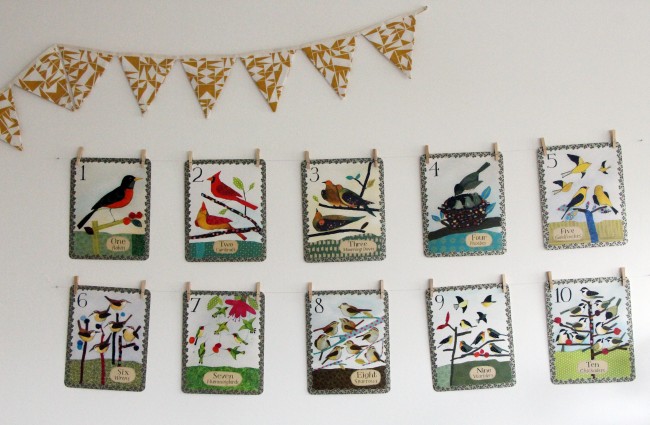 BEFORE: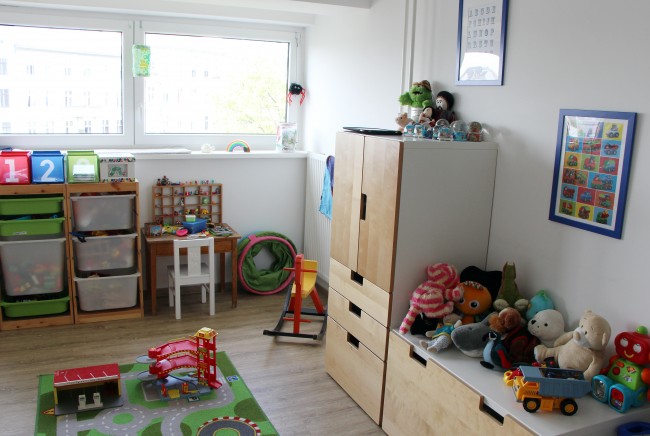 AFTER: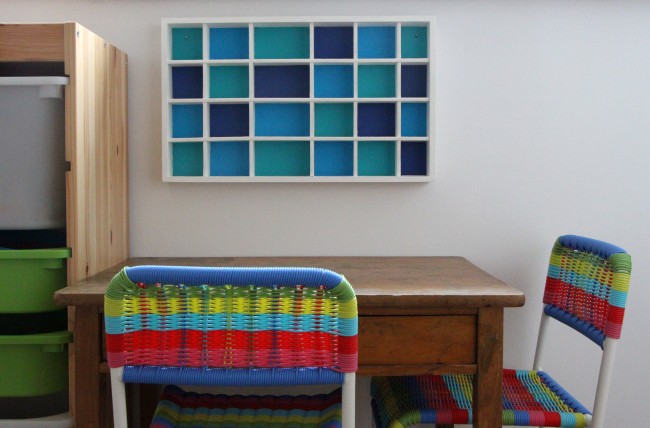 This little table belonged to my dad. Me and my siblings have sat at it over the years, and now it has passed in to yet another generation. I had wanted to sand it down and revarnish it, as it has quite a few water and other stains, but The Husband persuaded me to keep it as it is, as he thought it has more character this way. I didn't feel the bright white chair in the first photo really went with it though, so I replaced it with this set of rainbow coloured woven chairs, which are a much better match, I think. Ikea Germany doesn't sell them any more, but my parents tracked down a pair on their holiday in Scotland when they were over there with their car. Also, in the first photo you can see that the little display case was plain wood with a white background. It was pretty old and dirty, so I painted it white and cut out different shades of blue card for each compartment. Looks ten times better now, don't you think? The Boy couldn't wait to move all his little treasures back in.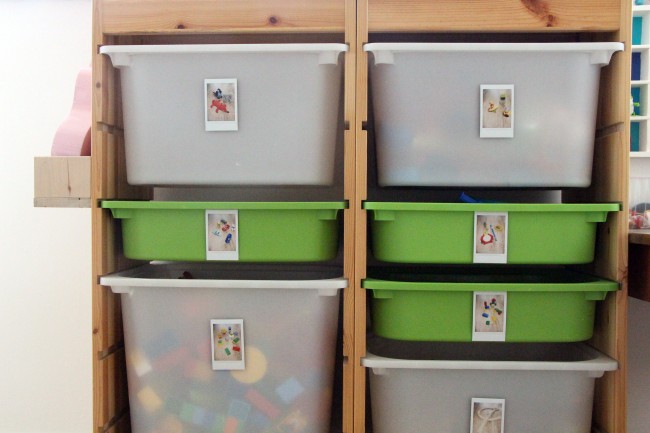 For his toy shelf, I just added a little extra – I photographed the contents of each drawer with my Instax Mini, and stuck them on the front of the drawers with large velcro dots. If we change around what's in the drawers, we can just change around the photos too, or take new photos and stick those on (I bought some spare velcro dots).
BEFORE: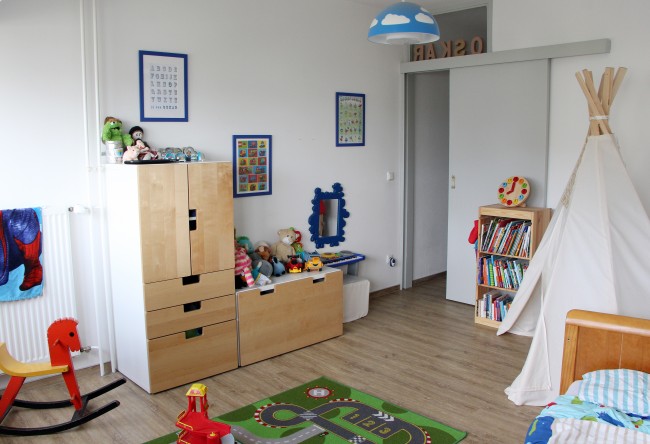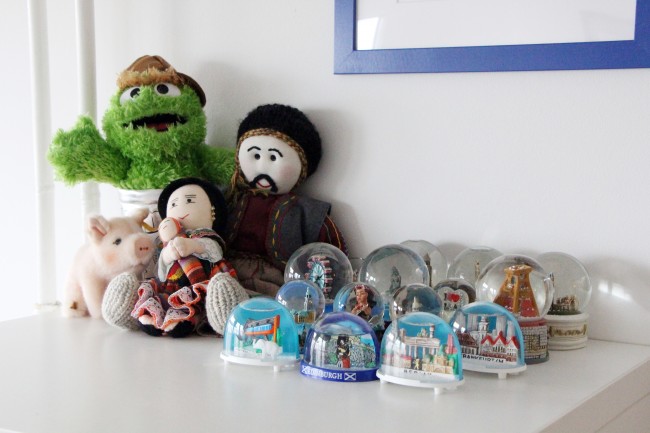 The Boy's collection of snow globes from places we have visited together or gifts brought back from places one of us adults have visited. The one from Amsterdam broke when we were having the building works done last year after all the water damage from the flat above :(
AFTER: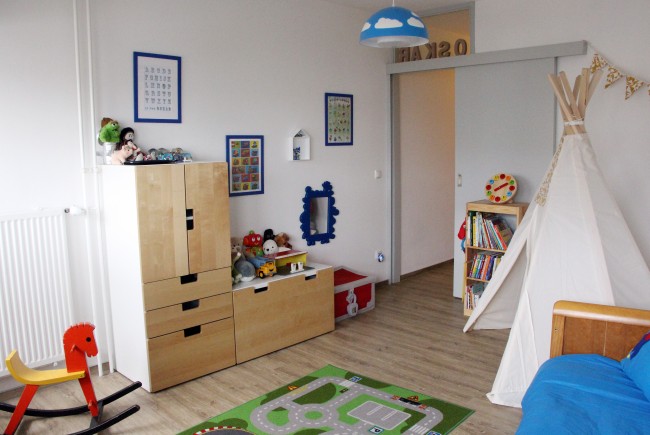 Again, just a minor little change here. The electric piano died, so I moved his dressing up box underneath the mirror – the perfect place for checking out his outfits ;) By the way, the Ikea kids mirror comes in a sickly green colour, so I spray painted in dark blue to match the picture frames. I also added one of those little house shaped display shelves to the wall, for more of his little treasures.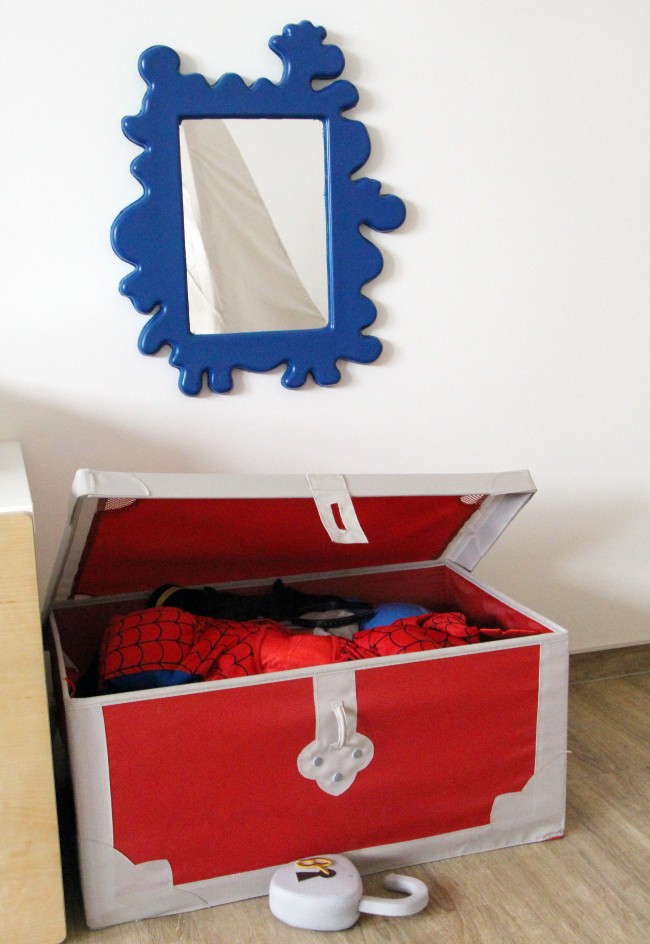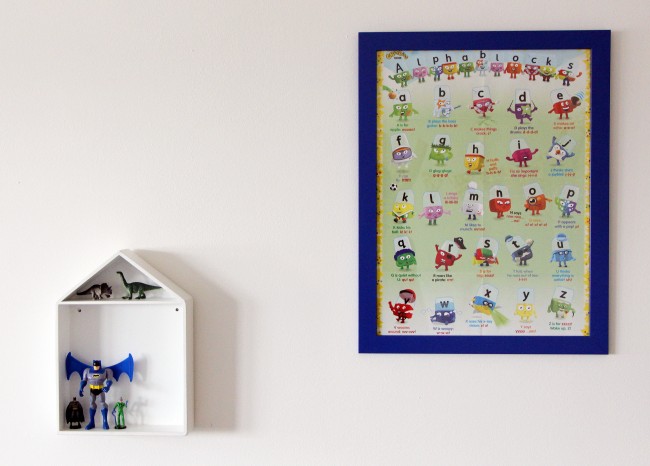 So, I hope you enjoyed this little tour of The Boy's room. When Mr Fox is a little bigger, they'll be moving in together, which will mean changing things round again, but in the mean time he's quite happy with his room. One last photo to share, to show you the fantastic little vintage wooden toy garage I picked up at a vintage store in Copenhagen last year – I was there on my own for The Hive conference, and had promised to find a special present to bring back home. Couldn't really get more special than this. Thankfully I had brought a mostly empty suitcase!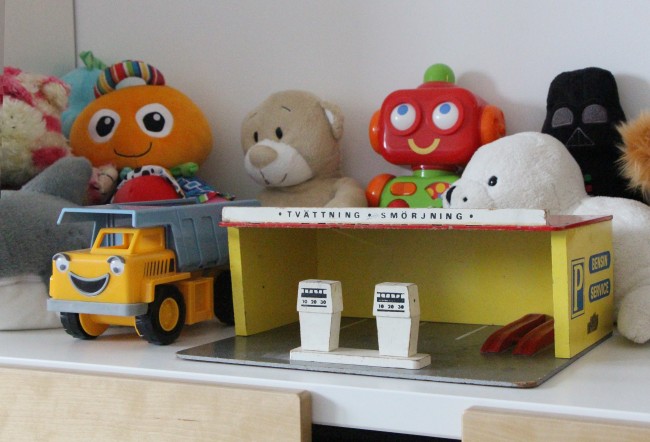 SOURCE LIST:
Furniture – Mostly Ikea, except for the vintage desk  and the Aspen bed, which is from Toys 'R' Us.
Teepee & Bunting – Hand made. You can find the teepee tutorial here on the blog. The patterned material is from Supercraft.
Counting Birds Wall Cards – via http://www.eeboo.com. They don't seem to be in stock anymore, but you can still find them on Amazon or Ebay, if you search for 'eeboo bird wall cards'.
Rocket cushions – Hand made. You can find the tutorial here on the blog.
Dollhouse – Vintage (hand made by my dad)
Toy Piano – Vilac, e.g. on Amazon.
House Display Case – H&M
Wooden Clock – Gift. You can find similar ones on Amazon.
Wooden toy garage – Vintage. Via Affär in Copenhagen.