So, screen time for kids. A much debated topic. As a very tech savvy family, our house is overrun with gadgets, and The Boy knows how to use most of them. While we try to limit screen time, as too much of a good thing can result in mood swings and bleary eyes, there's no denying that Apps and Videos can achieve great results too, whether it's helping us stay connected as an expat family, supporting us in our quest to raise our children bilingually, or simply being that much needed saviour to keeping a bored toddler occupied when waiting for two hours in a doctor's office, as seems to be the average waiting time here.
One of our favourite Apps of the moment, which I discovered per chance in the 'Editor's Choice' section of the Apple App Store, falls in to the latter category. The idea behind LOOPIMAL, created by YATATOY, is very simple: it's a first step in to the world of computer sequencing for children. The sequences are built around a set of animals: a pig, octopus, bird, sloth, gorilla, and bear.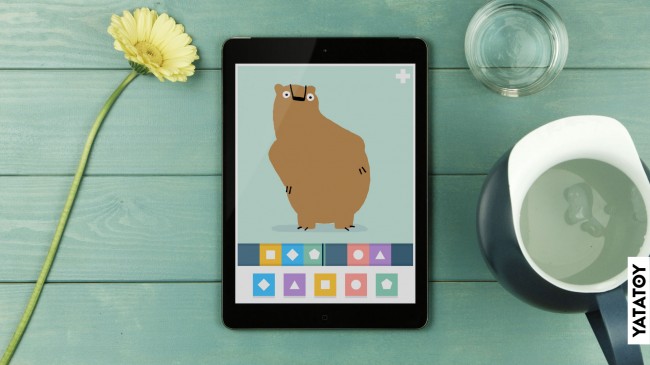 Each animal has its own basic rhythm, some more funky and upbeat, some more sedate and soothing. Five different building blocks – each with its own colour and shape – can then be pulled in to eight free slots to create the sequence. Each of the five building blocks make the different animals do different things, e.g. the gorilla will stamp his feet or bang his chest, or the bird will whistle or turn a pirouette.  The created sequence then loops (hence the name). Simple as that.You also have the choice between creating a sequence from just one animal, or combining two or four animals together to make a more advanced sequence.
There's no right or wrong, just endless possibilities for combinations and cute dancing animals. There's no reading required and there are no instructions to follow, the App relies entirely on intuition and my 4.5 year old figured it out pretty fast without me having to show him. The animations are simply adorable, and the music and sounds are not just tolerable (parents of kids with noisy toys will relate) but actually quite nice to listen too. I've got one of the soothing bird sequences playing on a loop in the background right now as I am sitting here typing this. And if that wasn't enough, everything is apparently composed in C-major, so if you can tolerate just a little more noise after all, you can get your kids to dig our their recorders, electric keyboards and xylophones and play along.
LOOPIMAL cost £2.49 in the UK App store, and is available for iPhone and iPad. I bought it on a whim, but I don't regret in one bit. It's quickly become a firm favourite. Just check out the official video to see the App in action >>
LOOPIMAL from Lucas Zanotto on Vimeo.
---
Image source: LOOPIMAL Press Kit on http://www.yatatoy.com