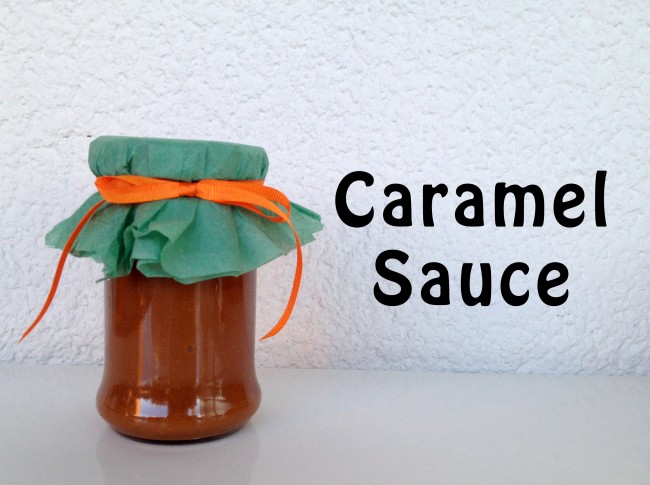 When I visited Copenhagen last year, I had what was possibly the best porridge I've ever eaten outside of Scotland, at Grød in Torvehallerne (they also have locations elsewhere in the city). It was so good, I went back another day to eat exactly the same again. Ever since, I've been craving porridge for breakfast with apples, roast almonds and home made caramel sauce. Luckily, there's something I could do about it – make some caramel sauce!
Ingredients (makes about 300ml of sauce)
120g sugar
200ml double cream
40g butter
1/4 tsp sea salt
Directions
Melt the sugar in a saucepan at medium heat until it begins to caramelise and turns into a golden brown liquid.
Lower the heat, and add the cream bit by bit. Don't add all the cream at once! The coldness of the cream will make your molten sugar turn into one big lump. Don't worry though if this happens, it will all melt back down again after a while (keep stirring!) but it's a pain. Better to add the cream slowly – you'll still get some lumps when the cold cream and hot sugar mix, but just keep stirring continuously each time until all the lumps have dissolved before you add any more cream.
Once all the cream has been successfully stirred in and you don't have any more lumps, add the butter and salt, then keep stirring it over a low heat until it thickens. It will thicken some more when it cools down, so don't let it get too thick. You're aiming for the consistency of runny custard.
Leave to cool and fill into a sterilised jar. It will keep in the fridge for 1 to 2 weeks (mine didn't even last a week, lol).
If your caramel sauce gets too thick in the fridge, just put how every much you need e.g. for breakfast into a small bowl and stick it in the microwave for 5 seconds before serving. The heat will make it more runny again. Careful you don't leave it in the microwave too long though!
And here it is, the sauce with apples and almonds atop of a steaming bowl of porridge: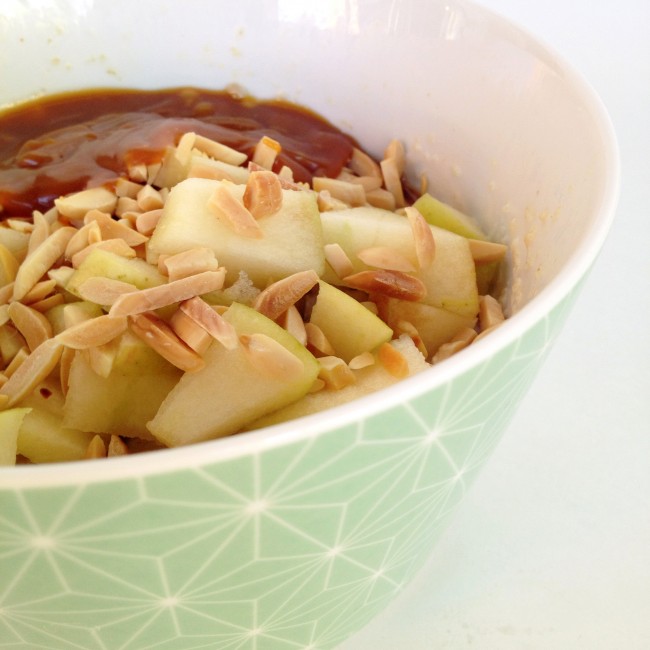 The whole ensemble tasted pretty good. No, in fact, it tasted pretty awesome. But I still need to go back to Copenhagen for another bowl full at Grød. I think they must have a secret ingredient, because theirs tasted even more awesome!