It's Shrove Tuesday today, also known as Pancake Day in the UK. Your last chance to stuff yourselves with treats – in the form of pancakes – before the austerity of Lent begins. Or, if you don't keep Lent, just a chance to stuff yourselves with pancakes. We love pancakes any day of the year, but as an Expat family we of course like to celebrate Pancake Day in style. This year we will be enjoying our current favourite – apple sauce & cinnamon. Well, when I say we, I mean the adults. The Boy's favourite of course remains chocolate spread ;)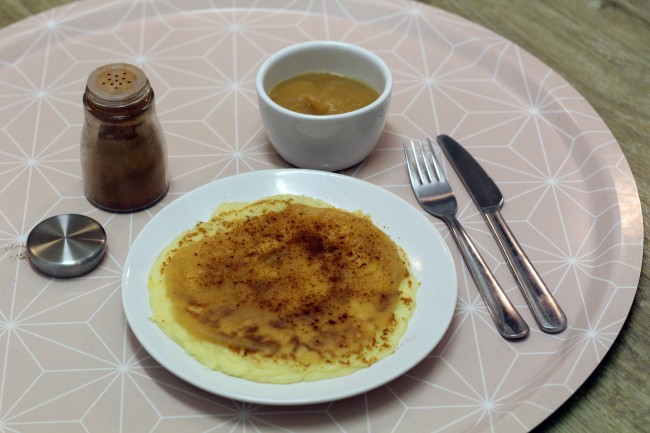 Ingredients
Makes 10 medium sized pancakes (ca. 15cm diameter) 
300g gluten free plain white flour (e.g. from Schär or Doves Farm)
1 heaped teaspoon gluten free baking powder
3 eggs, beaten
600ml milk
150ml sparking mineral water
a jar of apple sauce
ground cinnamon
brown sugar (optional)
Directions
Sieve the flour and baking powder in to a mixing bowl.
Make a well in the middle and add the eggs.
Add half the milk, and mix everything in to a batter – you'll need to beat the mixture hard to get rid of any lumps.
Mix in the rest of the milk and then the mineral water.
Leave the batter to rest for at least half an hour.
Lightly oil a frying pan and heat on a medium heat (our cooker goes up to 9 and I heat it on 6 for this)
Put a ladle of batter in to the hot pan, rolling it around the cover the surface.
Leave to cook until the top starts to set, then flip it over and cook on the other side.
Once cooked golden on both sides, repeat with the rest of the batter until you have a stack of tasty pancakes.
To serve, spread 1-2 generous tablespoons of apple sauce on to a pancake and sprinkle some cinnamon on top.
I could only find sweetened apple sauce, but if you use unsweetened you can also add a sprinkling of brown sugar on top along with the cinnamon.
Happy Pancake Day everyone!