As I was going through my recipe folder the other week, looking for inspiration of what to stick on our meal planner that we don't already eat every other week, I realised I have never cooked cauliflower since we moved to Berlin. I think this is a huge oversight, as personally I find cauliflower done right (i.e. not over boiled, mushy and tasteless as in school dinner days) very tasty. No sooner said than done, that 'cheesy flowers' found its way on to our dinner table.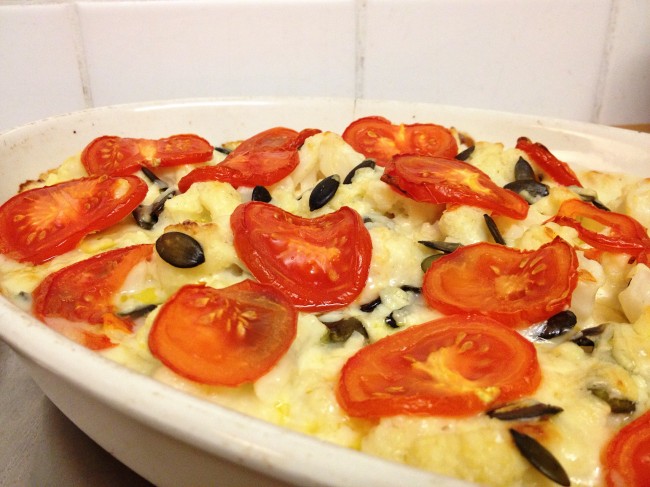 Ingredients:
1 head of cauliflower (about 800g once trimmed)*
2 tbsp butter
2 heaped tbsp maize flour
400ml full fat milk
200g grated cheddar – ideally mature cheddar, for extra cheesiness
salt and pepper
a pinch of nutmeg
a handful of pumpkin seeds
2-3 tomatoes, sliced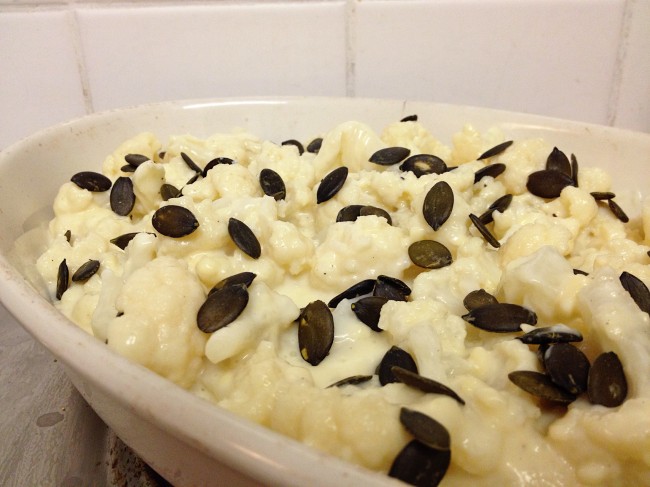 Directions:
Pre-heat your oven to 200°C (180° fan oven).
Remove the leaves and the stalk of the cauliflower, divide the florets in to smaller pieces and wash them. Our cauliflower weighed about 1,100g before trimming, yielding roughly 800g of florets.
Bring a large pan of water to the boil, add the cauliflower florets, turn down the heat to medium and cook for 5 minutes. You want the florets to still have a slight crunch (remember, no mushiness!)
Once cooked – but still a bit crunchy! – drain the cauliflower, rinse in cold water, and return to the pan.
To make the sauce, in another saucepan melt the butter then whisk in the flour. You need to work quickly and put some effort in to it, to make sure it doesn't burn of go lumpy.
Once the butter and flour have been mixed in to a smooth paste, slowly whisk in the milk bit by bit and bring to the boil. Again, you need to keep whisking vigorously to prevent it going lumpy or sticking to the bottom of the pan.
After about 2 minutes of whisking, the sauce should have become nice and thick. Take it off the heat, stir in half the grated cheese (i.e. 100g) and season with salt and pepper, and the pinch of nutmeg.
Add the sauce to the cauliflower, mix well, and transfer to a casserole dish.
Sprinkle the pumpkin seeds on top, then the rest of the cheese, and finally top it off with slices of tomato.
Bake in the oven for about 20 minutes, until the cheese starts to brown.
We had ours with rice and salad, but this would also work well as a side dish e.g. for roast chicken.