A couple of people have been asking if I'd do a post about Mr Fox's new room, after sharing a couple of snapshots on Instagram of things we'd bought for it. Well, he actually just has a corner in our room rather than a room of his own (when he's older he'll move in with The Boy), but I'm more than happy to share a few pics.
This is what the corner of our room looked like before: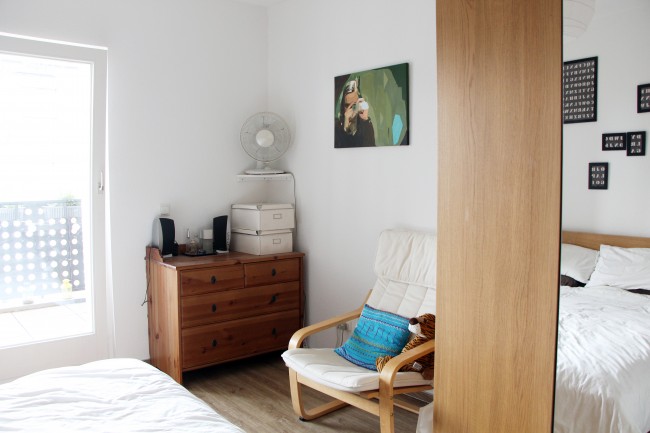 And this is what it looks like now: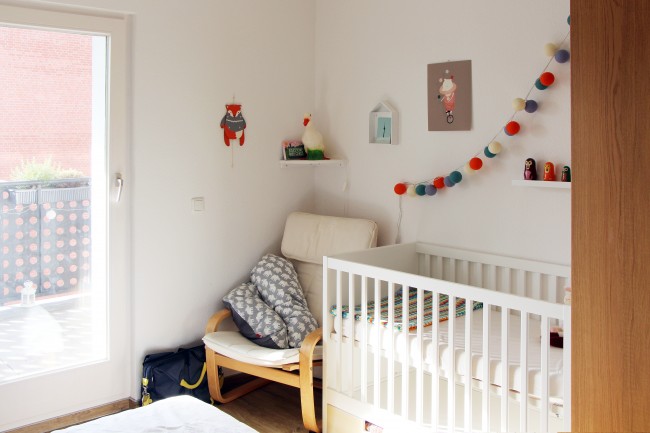 We kept the chair – it's perfect for nursing and has served me well for one baby already – and added the cot, which was a present from my parents, and a nursing pillow with cute elephant print, which was a present from my sister. The chest of drawers we sold, the fan had to make way for a nightlight (we'll figure out where to put the fan when summer comes around again), and the painting (a portrait of me done by The Husband) was rehung in the hallway.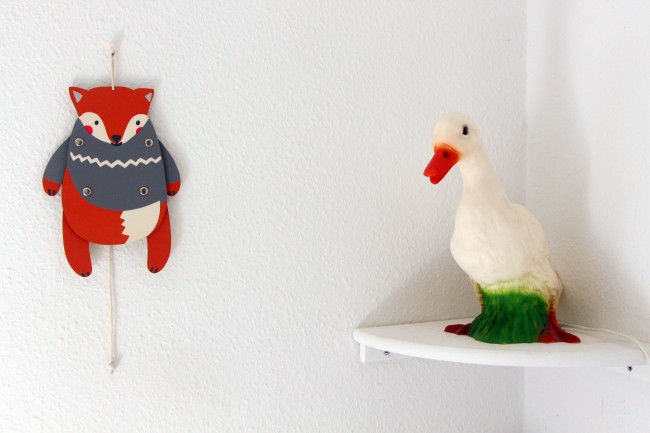 For the nightlight, I was torn between a rabbit and the goose, and I'm really glad we went for the goose in the end because it seems that every other kids room you see on Pinterest these days has that rabbit nightlight in it, so it's nice to have something a little different (or at least until the goose catches on too…). And since our little guy's middle name is Fox, the jumping jack fox toy from Zip Zap was a must.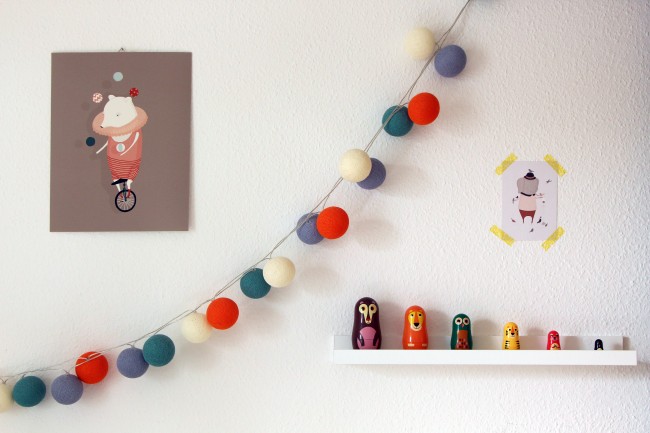 We thought long and hard about what prints to hang up. Again, many lovely prints out there that you see in every other nursery round up, but as much as I loved the smiling fruits and moons, I wanted something a little different. I've long been a fan of Ez Pudewa's blog Creature Comforts and her cuter than cute animal drawings, and thought this was the perfect opportunity to revisit her print shop. As soon as I saw 'Danika Puts on a Show' I knew our search was at an end – the Husband juggles and rides a uni-cycle, just like Danika (though not at the same time), so it was perfect. The print was delivered with a postcard version of 'Stanley Makes Friends', so we stuck that up too. Since we ordered our prints, Ez has launched a new online shop which now sells her animal prints alongside super cute animal soft toys – they sell like hot cakes, so you need to be quick when there's a restock!
The string lights are from Happy Lights. I first spotted them when my friend Nina shared pics of her little boy's nursery. You can order them in pre-arranged colour combinations, with enticing names such as marrakech, sahara or kingfisher, or you can create your own. So, since the lights reminded me of the balls Danika is juggling with in the print, I created my own combination to match the colour palette of Ez's print. By the way, you should check out Nina's blog too – she creates the most wonderful mood board and collages from her favourite Pinterest finds!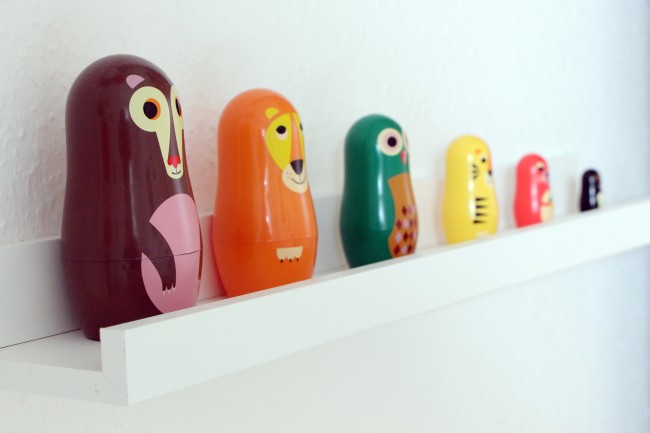 And here a few of Mr Fox's first toys, all of which were gifts either from friends or won in giveaways, with the exception of the pig which was our Christmas present to him.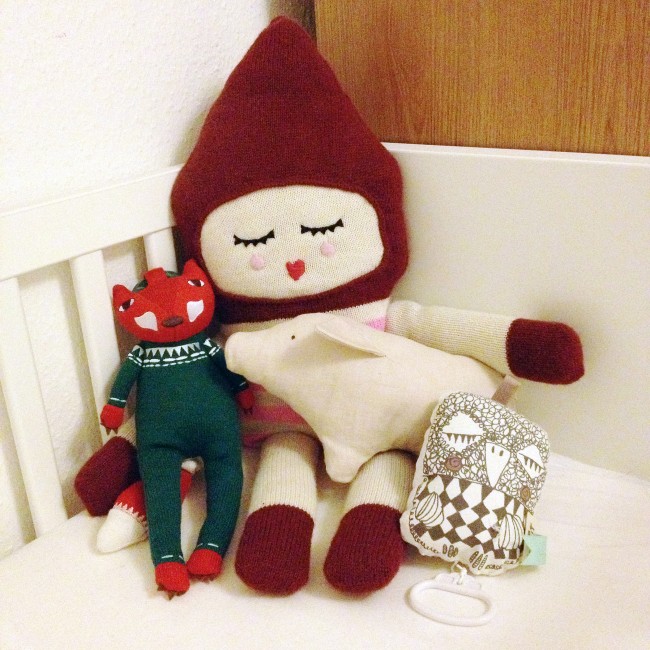 So, that is Mr Fox's corner, where he sleeps and I nurse him, and he keeps some of his first toys. But we also made some adjustments to another corner of our room, to accommodate a changing station. Here is what it looked like before: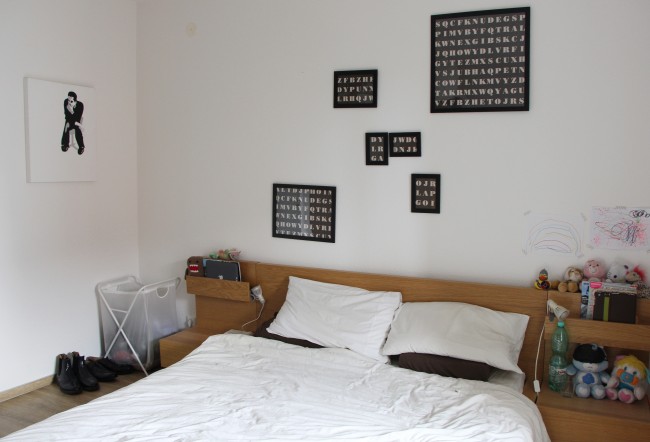 And this is what it looks like now: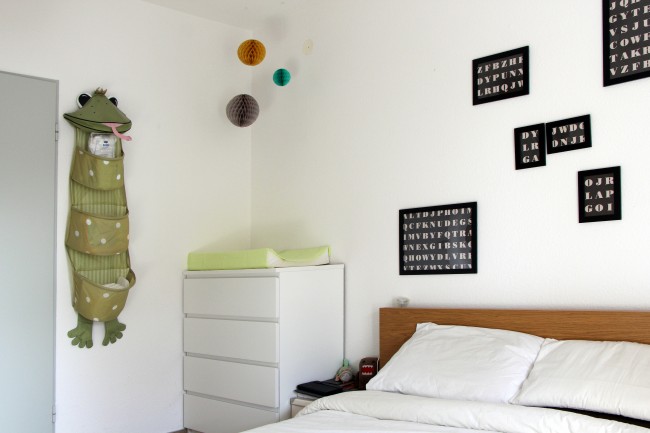 The painting (another artwork by The Husband) was moved to the hall along with the other one, and the washing basket now lives in a little storage space next to the bathroom. We removed one of the beside units and replaced it with a stack of white boxes (you'll seem them on the chest of drawers in the photo above) on that side of the bed, leaving just enough room to squeeze in a new chest of drawers that doubles up as a changing table. It's taller than the old chest of drawers – in fact, the perfect height for a changing table – and gives us some extra storage too for all those baby clothes! You can get or make a changing table attachment for those drawers, but we didn't bother as we're perfectly happy changing Mr Fox sideways. In fact, we did the same with The Boy, and changing a baby from the front instead of sideways just feels awkward now. The frog contraption is an old purchase from The Boy's baby days and holds all the nappies and changing supplies, and the honeycomb mobile works well at distracting him.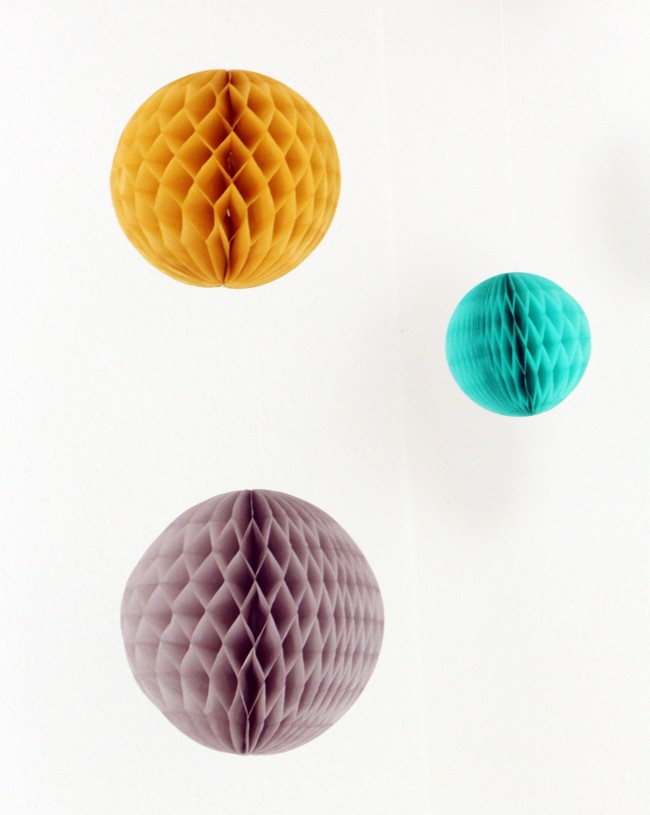 So, that's Mr Fox's little realm. I hope you enjoyed the photos. Here's a list of where we sourced everything:
Cot (Stuva), Nursing Chair (Poäng) and Chest of Drawers (Malm): all from IKEA
Elephant Nursing Pillow: Ideenreich, via Amazon
Goose Nightlight: Heico. We got ours from Engel & Bengel, though they don't seem to stock the goose at the moment.
Jumping Jack Fox: Zip Zap Hampeltier 'Fuchs'. We got ours at Tiny in Berlin, but also available online.
Juggling Bear Print: Petit Pippin
Stringed Ball Lights: Happy Lights
Matryoshka Dolls: Omm Design
Striped Cot Blanket: Little Bird by Jools Oliver
Large Doll: Lucky Boy Sunday
Fox Pushchair Toy: Donna Wilson for Mamas & Papas
Cuddly Pig: Maileg (we got ours at a children's boutique in Berlin, whose name I have sadly forgotten…)
Owl Music Box: Ferm Living
Honeycombs: Engel