The husband having worked in the kitchen of a Chinese takeaway in his younger years, and having spent a year in Japan at a later point in life, we cook quite a number of Chinese and Japanese inspired stir fries (and other meals) at our house. This recipe is one of our long term favourites for a quick midweek meal. It's great for days when the husband isn't sure what time he'll be home. I'll put the rice on to soak and cook in the afternoon and keep it warm in the rice cooker, then he'll let me know when he's about 20 minutes from home and I can throw the rest of the ingredients in the wok, ready for when he walks through the door.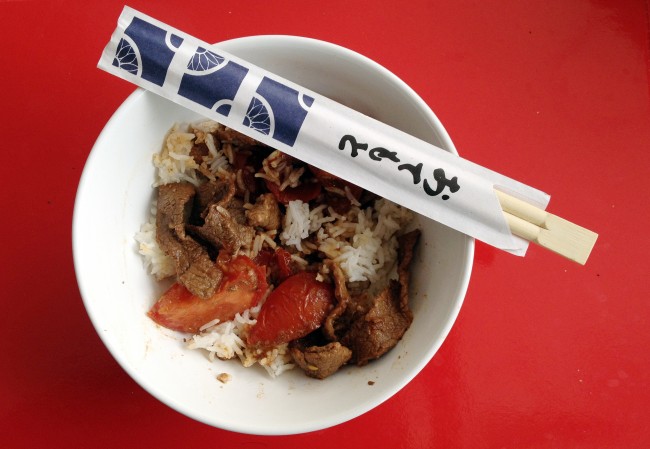 Ingredients:
(serves 4)
vegetable oil
500g thin slices of beef (if you can only get 400g or 600g packets, just go with that)
6 medium sized tomatoes
ground ginger
garlic powder
pinch of salt
rice wine vinegar
mirin
gluten free soy sauce
You'll notice that most of the ingredients don't have quantities. That's because this is the husband's recipe, and he tends to just cook 'by feeling' which I do now too. I'd say, for the ginger and garlic it's probably about 1 teaspoon each. For the vinegar, mirin and soy sauce it's just "a glug" of each to taste – a smaller glug for the vinegar, and slightly larger glugs for the mirin and soy sauce.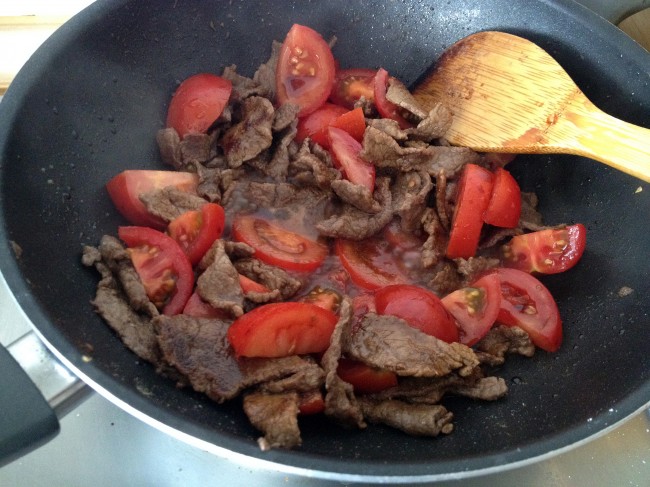 Directions:
heat the oil in a wok or large pan
cut the beef in to strips, sprinkle with the garlic and ginger and stir fry for a few minutes until cooked through
cut the tomatoes in to chunks and add to the pan along with a pinch of salt and a glug of rice wine vinegar, then stir fry for a couple of minutes
add glugs of mirin and soy sauce and stiry fry for another couple of minutes until everything has warmed through
serve with rice – sticky Japanese rice if you can get any
Variations:
The great thing about this recipe, is that it's really easy to vary just by swapping in different meat and veg. We've found the following work really well: chicken + mushroom, pork + red pepper, and for a vegetarian version, tofu + broccoli.