Following on from the post about the charity book store in Berlin earlier this week, I felt it appropriate that this month's Friday Five would also be about books. With Christmas just a few days away, I would like to share some of our favourite family Christmas books with you, perfect for cuddling up and reading together underneath the Christmas tree with a mug of hot cocoa.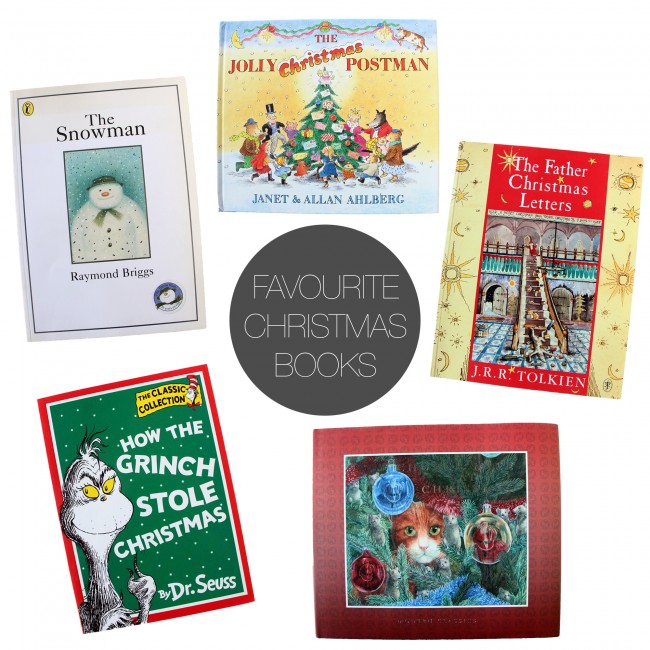 Clockwise from top left:
The Snowman (Raymond Briggs) – Okay, so this one doesn't have any words, but it's a classic. Instead of 'reading' it, you and your kids and look at the pictures and tell the story together.
The Jolly Christmas Postman (Janet & Allan Ahlberg) – Following on from the popular Jolly Postman by the same authors, this book follows the postman as he delivers Christmas mail to some of the most beloved fairytale characters. Children will love opening up the individual envelopes in the book to see what's inside.
The Father Christmas Letters (J.R.R. Tolkien) – Tolkien may be most well known for his Hobbit and Lord of the Rings novels, but he is also responsible for the fabulous Father Christmas Letters, a selection of letters he wrote his children each year at Christmas between 1920 and 1942, with stories about Father Christmas and his sidekick the polar bear.
The Church Mice at Christmas (Oakley Graham) – The Church Mice series has been around for a good while. In this Christmas story, the mice unsuccessfully try to raise money for a Christmas party. Little do they know this will lead to an exciting adventure to capture a burglar, which in turn saves their party. Beautifully illustrated.
How the Grinch Stole Christmas (Dr. Seuss) – The formidable Dr Seuss is always a favourite, and this story about the bitter Grinch with his heart "two sizes too small" is no exception. And I definitely prefer it to the movie version.
---
What are some of your favourite Christmas books? I would love to hear your recommendations!