A little over four years ago, I became a mum for the first time (Edit: and yesterday for the second time!). I remember being flooded with greetings and gifts for the baby, but what I most appreciated within all that were the thoughtful gestures aimed directly at me and not just the baby. Because even though you've become a mum, you're still your own person and let's face it – everyone loves getting gifts, not just kids. One of the best gifts? A bag full of all my favourite smelliest, mouldiest cheeses from a local cheesemonger that had been off limits during pregnancy! Whilst smelly cheese may not be everyone's thing, for this month's Friday Five, here are a few suggestions for other gifts that I myself received and loved, which I think would be perfect for a new mum.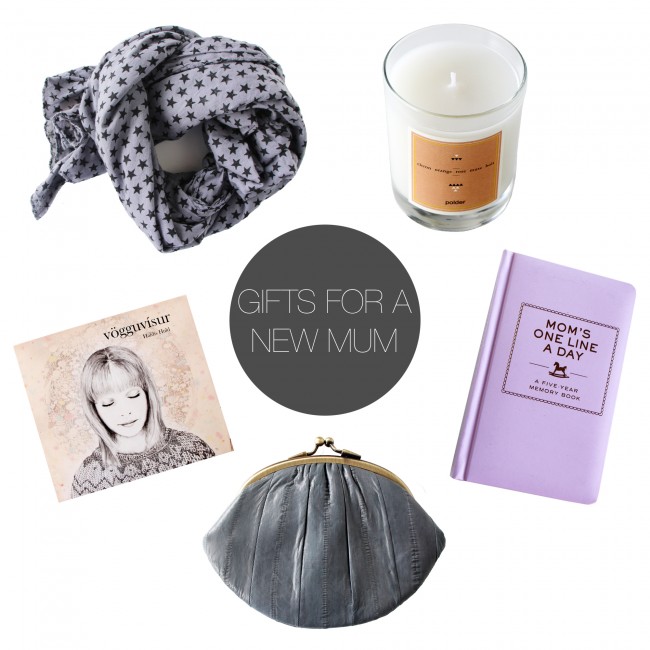 Clockwise from top left:
Scarf – When I was breastfeeding the boy, I liked to cover us up a little with a large pretty scarf instead of just a plain old muslin. And him being a winter baby, I just wore it the rest of the time, saving space in the changing bag. This lovely star scarf by Beck Söndergaard is 100% cotton and does the trick nicely.
Candle – New mums are recommended not to wear any perfume or perfumed products in the first couple of weeks or months, as it masks mummy's natural smell. So instead I would occasionally stick on a scented candle in the living room for a bit, while baby was asleep. This one from polder has a lovely smell of lemon, orange, rose and musk. Purchased at a botique in Berlin.
Diary – I've never been great at keeping up with writing diaries, and even less so since becoming a mum. This little diary is just perfect as it only requires to note down a sentence or two each day. It also covers up to five years, so you can look back and see what you noted down on the same day in the years before. I keep it next to my bed and try to make some notes in it last thing at night. Available e.g. via Amazon.
Purse – As a new mum, I found myself spending a LOT of time hanging out in cafes. I just had to get out of the house, and with a winter baby during one of the harshest winters in Scotland on record, walking around outside for too long was just not an option. So why not give a new mum a pretty purse to hold all those pennies for tea and cake. This one is also from Beck Söndergaard.
CD – And, finally, any mum who is sick to the back teeth of the same old lullabies over and over – Twinkle, Twinkle Little Star, anyone? – will love this beautiful collection of lullabies by Icelandic songstress Hafdis Huld. Available to order online via Red Grape Music.