This year, the boy wanted a superhero theme for his birthday party. We try not to go overboard where parties are concerned, but we do like to make the effort on a few themed decorations that are easy enough to put together. There are plenty of templates for superhero party decorations online to print off, but I wanted to find a solution that wouldn't drain the colour cartridge of my printer in the process. In the end, we decided to just cut the bunting triangles and the superhero 'noise shapes' out of coloured paper, and just print off the words in black and white to stick on top. It may not look as picture perfect as the examples you find on Pinterest, but the boy loved it!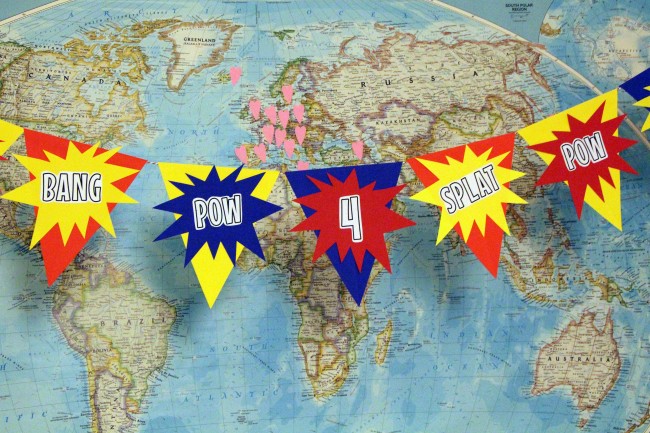 If you want to make your own 'cheat's version' of a superhero party bunting, I've included a download for you below, to be printed off on A4. If you print on to some card, you'll have a more sturdy template. For the triangles, fold coloured sheets of A4 paper in half then lay the triangle template along the fold and draw/ cut around the outside. That way you'll get a triangle with even sides. You then fold over the top bit – where indicated by the dotted line on the template – around a length of string and either glue or staple the flap in place.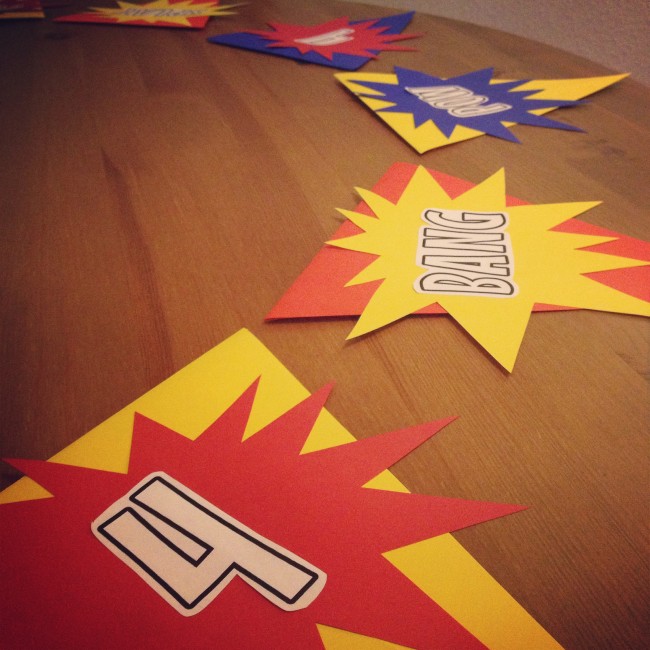 Then use the other template to cut out some 'noise shapes' in contrasting colours. Finally, print out some words (Pow, Bang, Boom, Bang etc) and perhaps numbers if it's for a birthday party in black and white, cut around the words and stick them on the shapes. Or, if you don't have access to a printer, you can just use a thick black pen and write them out neatly in capital letters on to white paper instead.
Download: Superhero Bunting Template (PDF)