This week's DIY is a must-have for any family with a play kitchen, and easy to accomplish in a weekend. There's plenty of toy food out there to be bought – plastic, felt, wooden – but it's often either expensive or looks really tacky (think plastic) and also it's much more satisfying and fun to make your own. And it's really not as difficult as it may look, unless you're aiming at some fancy 3D constellations. All you need is felt and felt scraps in different colours, corresponding thread, a sewing machine, and a little bit of toy stuffing (or, in our case, the insides of an old sofa cushion).  And some fabric glue for the cookie sprinkles. I didn't bother with templates for a lot of these and just free-handed them. The technique for most of these is the same: double layers to make the food more sturdy, mostly flat but with a little bit of stuffing in some food items – or parts of food items – for extra texture.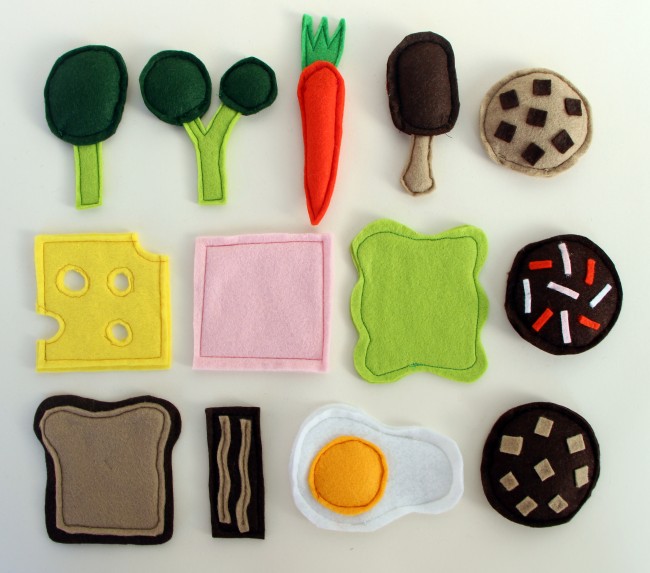 Since this is going to be the boy's main Christmas present this year, I decided to make enough different kinds of food for him to be able to cook and serve breakfast, lunch and dinner, as well as something for afternoon tea. And to make enough to have four portions of everything. You can of course pick, choose and adjust according to your time, patience and craft supplies.
Breakfast
So, for breakfast I decided to go with eggs and bacon. For this you will need:
white felt
yellow or orange felt
dark brown felt
light brown felt
some stuffing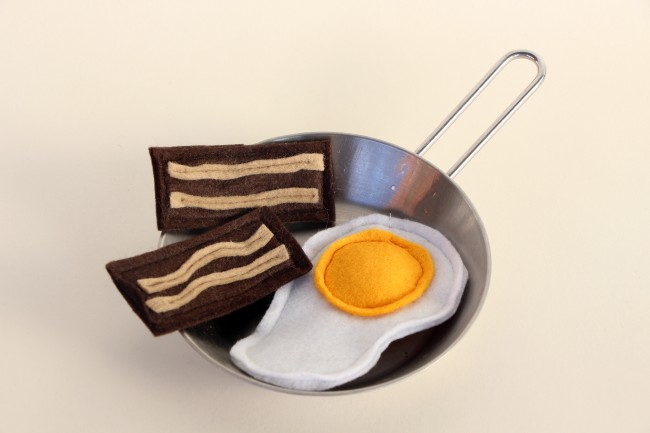 Bacon: For one rasher of bacon, I cut two rectangles of dark brown felt and two 'squiggles' of light brown felt. First, I sewed the squiggles to one rectangle, then I sewed both rectangles together which makes it not only sturdier but also hides the threads from sewing on the squiggles.
Egg: For one egg, you will need one yellow or orange circle, and two layers of white. I cut out my circles first, then cut the egg whites to fit around them, with one end being narrower than the other to give a classic fried egg shape. First, sew the circle on to one layer of white, pushing a little bit of stuffing underneath before you sew it shut. Then, as with the bacon, sew the two layers of white felt together to hide the threads on the back and make it sturdier.
Lunch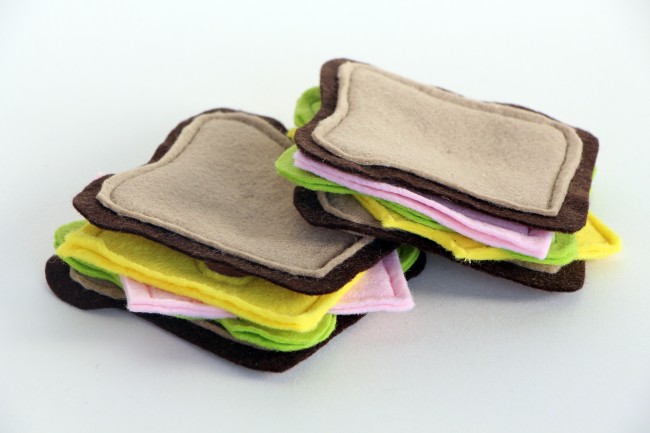 For lunch, I decided to go with everything you would need to make a good old sandwich – bread, cheese, ham and lettuce. If you want to keep it simpler, you can just go for cheese or ham and skip the lettuce. To make the whole lot, you will need:
dark brown felt
light brown felt
pink felt
yellow felt
light green felt
No stuffing involved in this, everything is just flat layers!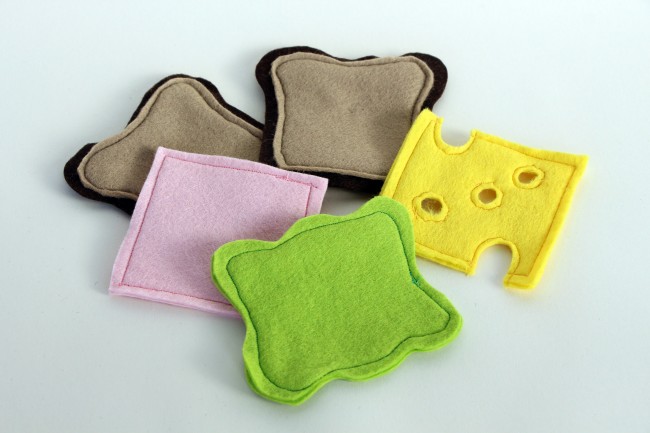 Ham: This has to be the most simple one of the whole lot. Sew together to squares of pink felt. Done!
Lettuce: Similar to the ham, sew together two squares of light green felt but with wavy instead of straight edges. Make them about 2cm bigger on each side than the ham, and sew about 2cm in from the edge. AFTER sewing the two layers together, trim the edges with your scissors to make them wavy too (the simpler version is to sew round the squares in straight lines if you don't care that much about the seams matching the wavy lines).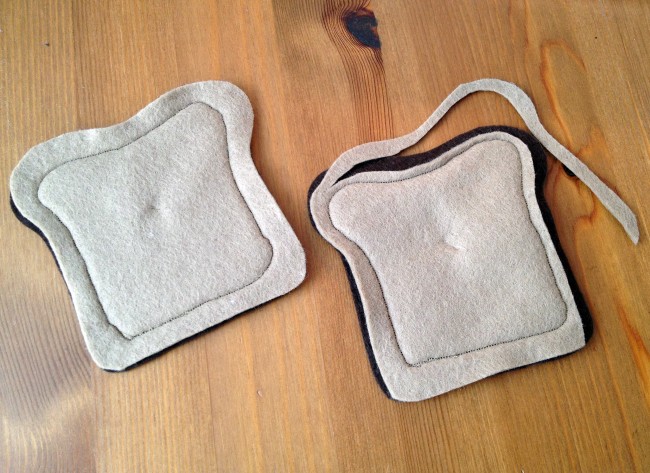 Bread: The base shape of this is again a square, to match your ham and lettuce in size, you just want to make the edges rounder and give it a bit of a curve at the top to make that classic bread loaf shape (see above). For this, you will need one dark brown and two light brown layers. Sew all three layers together, about 1.5 cm from the edge. AFTER sewing them, carefully trim the edges of the light brown layers to reveal the the dark brown in between, making it look like your slice of bread has a crust.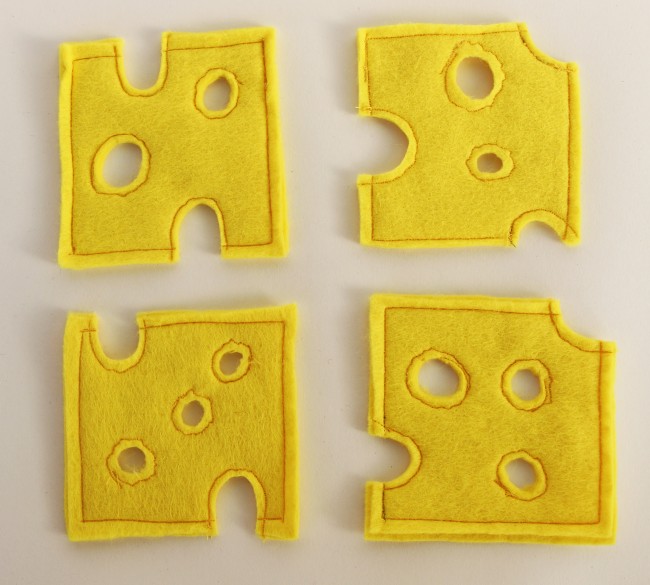 Cheese: This was both easy and hard. You start of just like with the ham, sewing together two squares of yellow felt. If you're not a very confident sewer, you can leave it at that! If you are feeling a bit more adventurous, you can go for the Swiss cheese approach. For this, I just sewed tiny circles and semi circles all over my cheese slices. AFTER sewing, I took a pair of sharp nail scissors to cut out the middle of the circles. Let me tell you, this was really fiddly and I nearly gave up after the first slice of cheese. But in the end I think it was worth it.
Dinner
Originally I just had carrots and broccoli down for this. Then, after searching online for further felt food ideas, I added some chicken drumsticks and another variation on the broccoli. To make the chicken drumsticks with veg for dinner, you will need:
dark brown felt
light brown felt
orange felt
dark green felt
light green gelt
(I was using up some felt I already had in the house, which is why I actually have three different shades of green here, but you could use one of the other greens for the carrot tops too)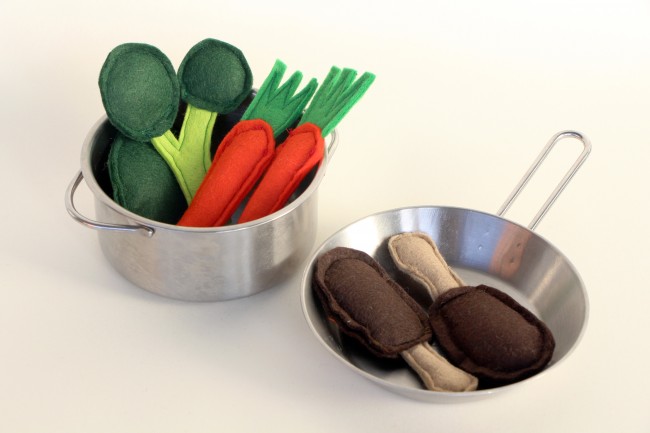 Drumsticks: I found the idea and instructions for this on the fabulous website http://www.danamadeit.com. She gives you a full step-by-step tutorial on how to make the drumsticks, so just follow the link and scroll to the end of the page.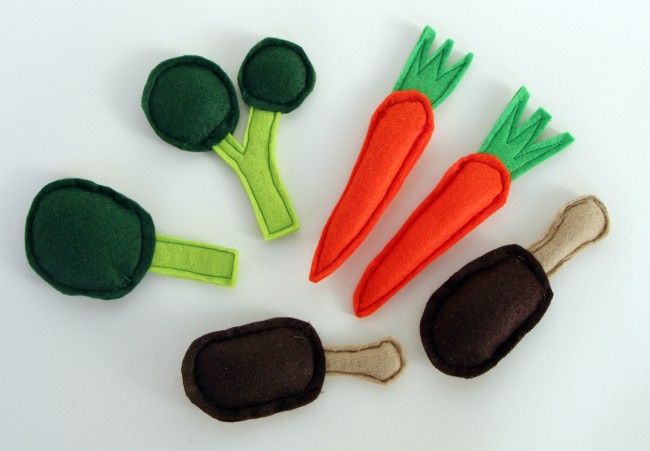 Broccoli: For my broccoli, I cut two light green thin rectangles for the stems and sewed them together. For the broccoli tops, I sewed together two dark green circles, leaving a small opening. I then filled them with a bit of stuffing, inserted the stems and sewed them shut. On Dana's website (see above), along with the drumsticks, I discovered a slightly more advanced version of broccoli with a split stem and two florets, so I made some of those as well. Dana's broccoli had wavy edges, but I played it safe and stuck to circles.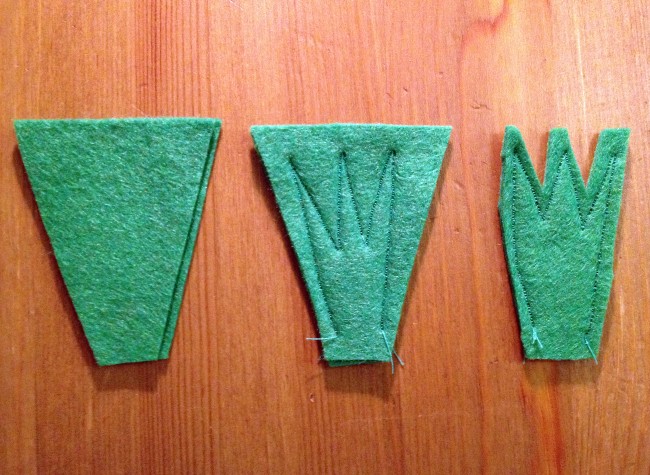 Carrots: For the carrot tops, I cut out two layers of green felt in a trapeze shape. I then sewed a crown shaped zig-zag on to them (see photo above). AFTER sewing, I cut the felt to match the zig-zag shape. For the rest of the carrots, I cut out two layers of orange felt in a carrot shape, and as with the broccoli left a small opening, stuffed them (using a pencil to push the stuffing right down in to the tips of the carrots). Then just insert the carrot tops and sew shut.
Afternoon Tea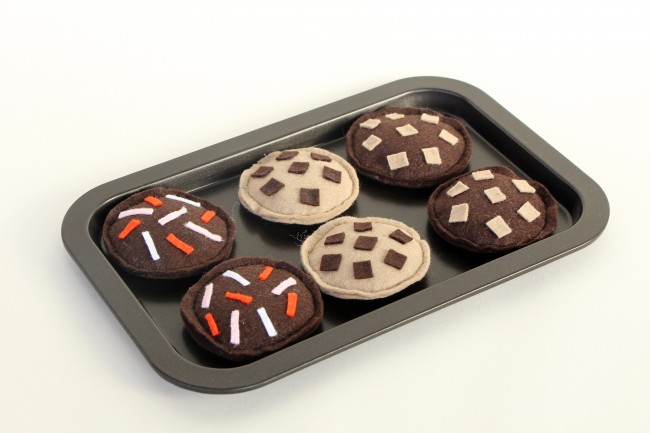 Finally, I thought we needed something sweet for the play kitchen, and since we already had a tray for the oven (like the pots and pans in the photos above, the tray comes from the Ikea kids range), a tray full of cookies seemed like the obvious choice. Next to the ham, these were probably the easiest to sew. You will need:
dark brown felt
light brown felt
felt scraps in different colours
For each cookie, I simply sewed together two circles of the same colour, filling each with a bit of stuffing before sewing them shut. Then I cut out chocolate chips and sugar sprinkles from scraps of felt and stuck them on with fabric glue.
The boy really loves his play kitchen, so I can't wait to see what his reaction to this will be. If you have any questions about the felt food, do feel free to get in touch. And check back for next week's DIY, where I'll be showing you how to whip up some cute little milk and juice bottles for your play kitchen, along with some free downloadable printables!