You may have noticed that the blog has received a bit of a makeover this week. This was long overdue and the result of finally moving the blog from Tumblr to WordPress. There are still a few hiccups to iron out that went along with the transition, but I hope you like it! Along with the new look, I've also been thinking about new features, and the first I would like to introduce is 'Friday Five' where I share some of my and our favourite things with you.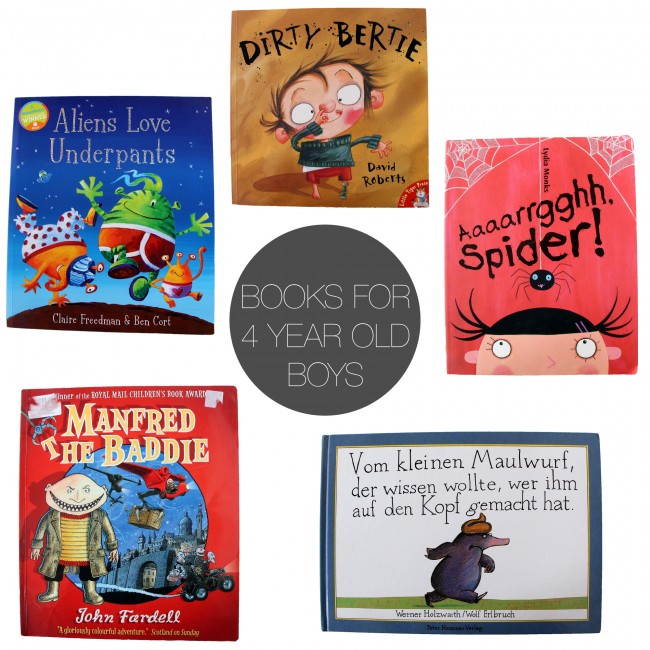 With the boy's birthday coming up, I thought I'd start by sharing some of his current favourite books with you in this month's Friday Five. And before anyone jumps in and starts a discussion on gender, of course girls can read any of these books too!! I chose the title because it's *my* 4 year old *boy* sharing them ;) And right now, my boy loves any books about poo and pants, bogeys and creep crawlies. And generally anything by Julia Donaldson, so I've left her out on this occasion. Here are some of his other top picks, clockwise from top left:
Aliens Love Underpants (Claire Freedman & Ben Cort) – Find out what aliens get up to with the underpants hanging out to dry in your back garden when you're not looking. Guaranteed to make your 4 year old laugh out loud!
Dirty Bertie (David Roberts) – Bertie has some rather disgusting habits, from licking the dog to eating his own bogeys. He eventually learns his lesson, but with a funny twist at the end.
Aaaarrgghh. Spider! (Lydia Monks) – Instead of seeing creepy crawlies as something to be scared of, this story is told from the perspective of a poor lonely spider who just wants to be accepted as a family pet. Also with a funny twist at the end.
The Story of the Little Mole who knew it was none of his business (Werner Holzwarth) – The original German title translates to as much as 'The Little Mole who wanted to know who had 'done the deed' on his head', which really sums up the whole book. Follow him along, as he visits various animals who demonstrate to him that it could not have been them. There's also a pop-up version available where yes, you've guessed it, the kids can make each of the animals poop. Hilarious if you're 4 years old!
Manfred the Baddie (John Fardell) – This book tells the story of Manfred and his dastardly deeds, and what happens to him when he falls ill and discovers he has no friends to look after him. Will be become a reformed character at the end or will he go back to his evil ways?